Safety and services under one roof
By Dean Kinley
Staff Writer
The Riverside Police Department encountered an all too familiar story: A woman was in the hospital after being severely beaten at her home. Her husband was in custody, held as a suspect in the battering.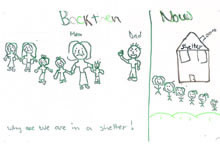 A Riverside Family Justice Center beneficiary illustrates the difference between the family's old life and their new life after Dad is gone.
In the past, the multitude of law enforcement and domestic violence services would have stood ready to help, each responding individually as they received word of the incident or were approached by the victim.
In this case, however, thanks in part to a challenge from Washington — and in much greater proportion to the vision of the county district attorney's office — the one-stop Family Justice Center swung into action, ensuring crucial support immediately, and consistently, to both the victim and the investigators.
Within hours, a victim witness advocate went to the hospital to provide information on services available. A little while later, a detective took the victim to the Family Justice Center in downtown Riverside, where she was assisted in securing the appropriate appointments, completing papers for a temporary restraining order and provided with options for shelter as well as a cell phone for future contact.
In the meantime, the police department's family violence unit served a search warrant at her home, which ultimately led to the suspect being charged with attempted murder and bail being set at a million dollars. And by the end of the day, the victim was escorted to her home where she could retrieve personal belongings for her protective stay in a shelter.
Martin
"This is a real partnership among many services," said center director Cheryl Martin as she pointed out the many different services offered through the new center in downtown Riverside. "What's nice is to have all of them onsite."
The building at 11th and Almond streets — once owned by Stella Atwood, a nationally renowned advocate for American Indians and whose home once served as a conference center for Indians to air and work to resolve inequities — seems a perfect setting for the new center.
With rooms adjoining each other, and hallways leading to many different parts of the house, some cozy and others more businesslike, Martin and her staff have developed offices for each of the partner representatives, including imperatives such as private lounges, interview rooms and the telltale sign that domestic violence affects many people — a large playroom with toys and other activities for children.
In one walkway, the graphic impact of family domestic violence stands out: A wall is adorned with children's drawings. One shows life before and after they found the center. "Back then," Mom and the five children are looking terrified as angry Dad confronts them with an upraised fist. "Now," Mom and the five children are standing in front of a building labeled "Shelter," all of them with happy faces. There is no sign of Dad.
This is only one of many. Another is titled "Why my family and I are at the shelter?" Even though the title bears a question mark, it doesn't have to. Dad is confronting the artist, his sister and a woman with a knife.
Down another hall can be found Riverside police investigators working on criminal cases in an out-of-the-way corner room. The DA, the center director and the investigators all note how great it is to have experienced criminal investigators on site and just a few seconds away if they need to talk to a victim about a case. "This brings a much closer relationship," said detective Bob Isaac.
And outside the building, just a short walk away, is the heart of Riverside's legal community — the DA's office, the criminal courthouse and other county and city services that come into play in so many cases of abuse.
Martin, who just retired as the director of the DA's Victim Witness Assistance Center, said that in the past, before the advent of the one-stop center, it was easy for a victim to get lost in the daunting array of services. While everyone stood ready to help, she said, "it was just all too easy for the victim to stop and not go on to the next step."
Now under one roof, the partners work together to ensure that it is easier for the victim to move on, taking advantage of all the services available, from getting immediate help for themselves and their children to making sure that a chronic abuser is stopped from hurting even more people.
A victim knows, or soon finds out, that he or she only has to come to one place to seek help, and only has to return to one place to keep the process going.
Trask
"Can you imagine?" asks Riverside District Attorney Grover Trask, referring to the trauma experienced by a victim of domestic abuse. "I can't begin to imagine the mindset when you're a victim of violence at home." Before the center opened, "many people didn't seek out the services because it was too cumbersome," the DA added.
The center can't stop the trauma, said Martin, but at least with having only one centralized place to come, the victims may face less stress as everyone works together to see that no one falls through the cracks.
The partners represented at the Family Justice Center are the River-side County District Attorney's Office, whose victim witness advocates lead victims through the criminal justice process; the city police department, whose detectives investigate domestic violence and related sexual assault crimes; Inland Counties Legal Services, which provides the legal assistance to build and pursue a case; Alternatives to Domestic Violence, which provides individual counseling to victims as well as their children; the Public Services Law Corporation, which recruits lawyers to provide free legal services to the indigent in civil cases; and Riverside Area Rape Crisis, which provides emotional support and services to victims of sexual assault.
On call are the Department of Social Services, whose adult and child protective services social workers respond to calls of those in imminent danger from abuse; the Riverside Probation Department, which monitors suspects in domestic violence cases; the county sheriff's department, whose deputies investigate and work toward filing a case, and, too, whose chaplain corps provides onsite non-denominational spiritual support; and the Agua Caliente Band of Cahuilla Indians and Morongo Band of Mission Indians, both key partners in the planning and development of the Family Justice Center and an ongoing part of Indian history in the Almond Street building.
The one-stop center is the third in California — the first is in San Diego and another will open in Alameda County this month — and will be joined by two more in sprawling Riverside County — a southwest center opening this fall to serve the Murrieta/Temecula area, and an eastern center in Indio opening next year to serve the Coachella Valley.
For Riverside, currently the fastest growing county in California, the idea for the one-stop centers was born from a presidential challenge to create 12 family justice centers across the nation. On a visit to Washington, the DA heard this challenge and, upon his return, immediately set about for the county to obtain a $1.5 million federal grant.
Plans were drawn; partnerships were formed; and the seed for the new center took shape.
But Trask and the center backers ran into a bit of a snag: They didn't get the federal money.
The district attorney, who is serving his sixth and, as he has already announced, final term, said by this time that the idea was so embedded and the enthusiasm was so great that their momentum never slowed. "We just said, 'We'll do it ourselves.'"
And so they did.
With grant money from phone giant Verizon and the Verizon Foundation, and cooperation from the center partners as well as the local bands of Indians who are major players in the Riverside County community, the center began offering its assistance this past spring. In the first month, more than 40 victims were assisted.
Trask, who in his two decades-plus as district attorney has placed much greater emphasis on stopping domestic abuse, says he expects that number to grow as more and more victims report incidents of violence. Five years ago, he noted, only 20 percent of reported incidents of domestic abuse ended with the filing of criminal cases.
Today, in comparison, more than 80 percent of reported incidents result in criminal cases being filed. With an emphasis on prosecution, and the Family Justice Center offering a less traumatic and more convenient means for seeking assistance, the DA believes victims of domestic violence will grow more comfortable in reporting abuse and seeking help.
That doesn't mean the number of abuse incidents will go down. It only means that more of what's going on in homes across the county will come to light.
"No matter how hard we try to be a one-stop shop, there is no way to meet every need," said Martin. She cites fear (of spouses as well as of the unknown), language barriers and the remoteness of some areas as major problems that always will present problems for stopping domestic abuse.
"For me, it's a process," said the retiring director. "We're always — and will always be — looking at how we can make it better."