Go West
Reprinted from the National Law Journal
---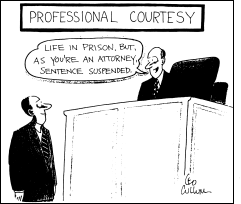 California often is in the vanguard of things, and that's no different when it comes to disbarment. After considerable debate and study, the State Bar of California's Board of Governors voted 18-2 in September to permit permanent disbarment in some cases. While that may sound unremarkable, sadly, it was not. As the National Law Journal's three-part study showed in August, disbarment in many states works more like a suspension. More than half of those who tried to get their licenses back after committing acts ranging from stealing from clients to bank robbery were able to do so in the five-year period we studied.
We urged California's lawyers back then to do what they had the courage to do this month. And while we are heartened they followed the course we recommended, we remain disturbed that so few others are even thinking about remedying such an embarrassing situation for the profession. After all, the vast majority of lawyers do not commit acts that would result in disbarment or even suspension. They have nothing to fear from tougher disciplinary rules. And even this change, which permits lifetime disbarment on a case-by-case basis under certain situations (such as a prior record of misconduct), is hardly draconian. It merely permits what most of the public thinks the profession does all the time when a lawyer is disbarred. It permanently takes away the privilege to practice the law.
There is still plenty of wiggle room for mitigating circumstances to be considered. The quality of mercy is not strained. The way things were in California -- and remain in many other jurisdictions -- a lawyer, no matter how heinous his or her transgression, only had to wait five years to request reinstatement. In fact, for "good cause," the unethical could line up in as little as three years. Under that sorry standard, California admitted 33 of 62 disbarred lawyers between 1991 and 1995 -- a shocking 53 percent approval rate.
We applaud the end of that era and toast the beginning of a new one.