Five new members of the State Bar Board of Gover-nors took their seats early this month, beginning three-year terms. Three were unopposed, and two were victorious in contested elections.

Taking a one-year seat on the board was San Diego attorney Paul W. Smigliani, who will represent the California Young Lawyers Associa-tion.

The new members of the board are:

District 4 (San Francisco and Marin counties): Scott H. McNutt, an insolvency attorney with Severson & Werson in San Francisco. McNutt, who ran unopposed, is co-chair of the bar's business law section.

District 6 (Santa Barbara, San Bernardino, Riverside, San Luis Obispo and Ventura counties): James Herman, former president of the Santa Barbara County Bar Association, defeated Brian Brandt, president of the San Bernardino County Bar Association, by 227 votes. A trial lawyer who concentrates on complex business disputes and commercial litigation, Herman is a partner in Rogers, Sheffield & Herman in Santa Barbara.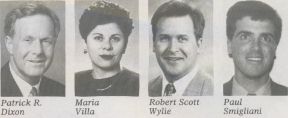 District 7, Office 1 (Los Angeles): Patrick R. Dixon, assistant head of the Los Angeles district attorney's major crimes division, defeated sole practitioner Joseph Federowsky by more than 2,000 votes. Dixon is special counsel to the bar's Committee of Bar Examiners.

District 7, Office 2 (Los Angeles): Maria Villa, a business litigator who practices with her husband, will take the second seat representing Los Angeles. Villa, who was unopposed, has a long record of involvement with a variety of bar activities, including the presidency of the Mexican American Bar Association of Los Angeles.

District 8 (Orange County): Robert Scott Wylie, executive director of the Orange County Public Law Center, also was unopposed. He currently serves as chair of the bar's legal services section.

CYLA representative Paul Smigliani practices with Ault, Davis & Schon-feld in San Diego. He was admitted to the bar in 1994.