When Gov. Pete Wilson left office, some declared any serious effort to reform the State Bar dead on arrival. Without a harsh critic holding lawmakers' feet to the fire, they claimed, this year's debate over bar legislation would begin and end with a discussion of how much members should pay in annual dues. Steps proposed last year to reform the bar, they were sure, would be quickly forgotten.

Our measure, Senate Bill 144 - recently signed into law by Gov. Gray Davis - proved these critics wrong.

Not only does the bill provide the bar with the means to carry out its core consumer protection functions, it also enacts significant structural reforms to the bar itself. These provisions will make the organization more accountable both to the legal community and to the public at large.

Among them:

Dues Reform. Our bill reduces annual dues to $395 - approximately 20 percent below the level set by law before former Gov. Wilson's veto. In addition, attorneys earning less than $40,000 a year will pay 25 percent less. Those making less than $25,000 will receive a 50 percent dues discount.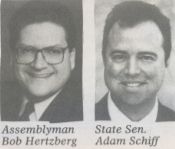 Conference of Delegates Reform. The legislation specifically states that mandatory dues should not be used to support the activities of the Conference of Delegates and the State Bar sections.

Lobbying Reform. The measure establishes a prospective deduction system that allows members to reduce their dues by $5 if they do not wish to support lobbying efforts not directly related to the practice of law.

Fiscal Reform. The bill requires an annual fiscal audit of the bar, as well as a performance audit every two years.

Continuing Education Reform. SB 144 reduces mandatory continuing legal education (MCLE) requirements to 25 hours every three years and requires the bar to offer low-cost programs and materials to members.
For those who followed last year's debate over the State Bar, several of these reforms should have a familiar ring. Indeed, provisions to reduce dues, provide independent funding of the Confer-ence of Delegates and reform the bar's fiscal operations were all incorporated into the legislation Assemblymember Hertzberg proposed last year.
To be sure, there are significant differences between this year's legislation and the demands made last year by the bar's harshest critics.
Just as we did last year, we again rejected calls to cut dues below the level needed to fund the bar's consumer protection programs. We again refused to impose unconscionable restrictions on legal services programs funded by interest on trust accounts.
There was another important contrast between the debate this year and last: This year, we managed to sidestep the political gamesmanship that last year left consumers and bar employees in the lurch.
Instead, the debate focused on sound policy meant to put the bar on a sound financial footing, restore the confidence of consumers and enact meaningful reform. We accomplished those goals with SB 144.
We would be asking too much to expect the sound-bite cynics to eat their words. Instead, we'll gladly settle for something far more important: results.

Assemblymember Robert Hertzberg of Van Nuys and state Sen. Adam Schiff of Pasadena carried the State Bar's fee bill.