A budget for a leaner State Bar
By KAREN NOBUMOTO
President, State Bar of California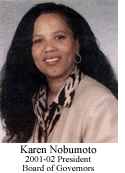 Over the past year, the State Bar board has taken a long, hard look at the many important things we do. In the course of this critical assessment, we have adopted a more workable governance structure and created a long-range strategic plan. Integral to these functions are changes to our budgeting process and a concerted effort on behalf of the board to be involved in budget preparation and budget monitoring on an ongoing basis, not just for one or two months of the year.
The State Bar faces some special challenges in its budgeting process. Currently, the State Bar is operating under a two-year fee bill in which the legislature set the maximum amount of dues that the bar can assess its members. However, this is the first multi-year dues bill since the mid-1990s.
In almost every year in recent history, the fee bill was approved by the legislature in late summer and signed by the governor in early fall (or, as in 1997, not signed by the governor).
While the bar could devise a budget based on projected revenue, we are hoping that with a long-range strategic plan in place, and by earning a solid record on fiscal responsibility through biannual state audits, we will be able to attain multi-year dues bills that will enable the bar to operate on more solid ground.
With that in mind, it is important to take a few moments periodically to review the bar's budget and understand its various components. One look at the adjacent pie chart reveals that 79 percent of our unrestricted General Fund budget is used to fund the attorney discipline and adjudication system, enabling us to carry out our all-important public protection function.
This leaves only a fifth of the General Fund budget to support all of our other important unrestricted activities: administration of justice, legal services outreach, professional administration and communications.
As we have worked in these past few years to become more accountable to our members, we have developed more specific categories so that state auditors, legislators, members and other interested parties can track every dollar we spend. In addition to the unrestricted General Fund, we now have 18 restricted funds, which means these funds can be used only for specifically restricted purposes.
(Please see below for the list of restricted funds.)
As we set up some of these new funds and redefined others that already existed, we also eliminated any General Fund subsidies to these restricted funds. This means that any previous General Fund dollars used to support these programs are off limits and that no mandatory dues dollars are directed into these funds.
For instance, in 1996, the bar's General Fund subsidized the Conference of Delegates for its total annual cost of $29,000. In 2001, no member dues money was used to subsidize the conference, which is now paid for totally by voluntary contributions. The same is true of the bar sections: In 1996, member dues subsidized the sections by $430,000. In 2001, that figure was zero.
We also have taken steps, which the state auditor has lauded, to ensure that all indirect administrative costs to the bar are accounted for and allocated to the appropriate funds. For instance, administrative costs for the operation of the bar's sections are allocated to the Sections Fund, while administrative costs for programs operated by the General Fund are allocated to that particular program which incurred the cost.
By taking these steps, we are able to account for the money spent by the bar for specific programs and assess better ourselves, as board members, whether that money is being spent effectively.
This year we also are re-examining the Client Security Fund, which reimburses members of the public up to $50,000 for losses they sustained because of their lawyers' dishonesty. (See Client Security Fund story) This fund is vital to our public protection efforts and it is imperative that it remains on stable footing so that we can alleviate some of the losses caused by the handful of unethical and dishonest lawyers in our ranks.
Perhaps one of the most significant changes we have made is the timing of our review of the budget. In past years, the proposed budget has been finalized over the summer and presented to the board for adoption at its first meeting of a new board year in the fall.
This year, budget preparations have been ongoing for months and a budgeting process overview was presented to the board at its last meeting. We will be voting on the budget at our meeting this month in Los Angeles, the last meeting of our board year, when all of the members of the board have served for at least one full year and have a better understanding of the bar and its programs.
All of these steps have been taken not only for budget clarity among our constituencies, but also so that our staff and our programs can operate as effectively and efficiently as possible, and that we may be in a better position to evaluate their performance.
This is a major ingredient to our leaner, more efficient bar. The new governance structure will allow continual monitoring by future boards so they may evaluate and update the bar's service to its members and the public.
EDITOR'S NOTE: The board planning committee received the proposed budget at its July 26 meeting and will make its recommendations to the full board at the August meeting. The bar is authorized by the legislature to collect up to $390 in dues for 2003. The board will set the dues as part of the budget approval process.
STATE BAR RESTRICTED FUNDS
Admissions Fund - Fees and expenses related to administering the bar exam and other requirements for the admission to practice law in California.
Annual Meeting Fund - Established in 2000 for a strict accounting of Annual Meeting registration fees and expenses. This fund allocates its revenue and expenses among itself, the Conference of Delegates Fund and the Sections Fund.
Lawyer Assistance Program Fund - Provides education, remedial and rehabilitative programs to bar members in need of assistance as a result of disability related to substance abuse or mental illness.
Building Fund - Used to account for the State Bar's physical facilities.
Certification Fund - Regulates programs related to the practice of law: MCLE, Lawyer Referral Services, Law Corporations, Practical Training of Law Students, Limited Liability Partnerships, Counsel Pro Hac Vice.
Client Security Fund - Maintains funds from which members' clients may be reimbursed for pecuniary losses resulting from dishonest conduct on the part of their attorneys.
Conference of Delegates Fund - Accounts for voluntary fees and other funds raised through the activities of the Conference of Delegates and other voluntary sources.
Education Foundation Fund - Accounts for activities of the State Bar Education Foundation, which includes organizing and administering certain educational programs and activities conducted by the bar.
Equal Access Fund - Administers funds received in connection with the Equal Access Fund established initially in the 1999 Budget Act and distributed by the California Judicial Council through the State Bar's Legal Services Trust Fund Commission.
Grants Fund - Accounts for various grants received and special projects undertaken by the State Bar.
Legal Services Trust Fund - Distributes funds (based on 1981 California legislation) to expand the availability and improve the quality of existing free legal services in civil matters to indigent persons, as well as to initiate new programs.
Legal Specialization Fund - Accounts for the certification of legal specialists in eight areas of law: family; criminal; taxation; immigration and nationality; workers' compensation; personal and small business bankruptcy; estate planning, trust and probate; and appellate.
Legislative Activities Fund - Established in 2000 to account for the consideration of measures that are outside the parameters established in Keller v. State Bar, the purview determination and any litigation in support or defense of that lobbying.
Sections Fund - Accounts for the activities of 16 sections consisting of specific practice areas or areas of professional interest and provides members with a vehicle for communicating with each other, educating themselves and commenting on relevant legislation.
Special Master Fund - Established in 1999 with specific discipline assessment approved by the Supreme Court, used primarily to equip the bar with the latest technology.
Public Protection Reserve Fund - Established to assure continuity of the State Bar's disciplinary system and its other essential public protection programs.
Technology Improvement and Reserve Fund - Established to fund technology projects that the State Bar previously funded through the unrestricted General Fund.
Fixed Assets Fund - Accounts for all completed fixed assets. Fixed assets financed by debt or capital leases remain in the fund carrying the related obligations.