Client Security Fund comes to the rescue when 'bad apples' steal from clients
By KRISTINA HORTON FLAHERTY
Staff Writer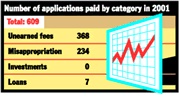 (Click to enlarge)
Johnny Saldivia didn't want a divorce lawyer in the first place. But when his estranged wife hired one some five years ago, he went straight to the Yellow Pages and found his own, reluctantly running up $3,535 in credit card debt to pay the fees. What he got, he says, was an attorney who didn't return calls, who failed to notify him about a canceled court hearing, who never paid him back in spite of a fee arbitration award and who eventually filed for bankruptcy.
And money was not all that Saldivia lost. The San Jose man lost faith in the system as well.
But then the State Bar's Client Security Fund entered the picture. And after an investigation, the fund - supported by annual fees from all active California attorneys - reimbursed Saldivia for $3,535 in losses.
"Honestly, I wasn't expecting this," said Saldivia, a social services supervisor. "I feel like I won. Lawyers that work like this give lawyers a good name."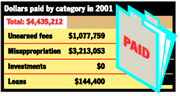 (Click to enlarge)
As of this year - the Client Security Fund's 30th anniversary - the fund has reimbursed some $50 million to thousands of attorney theft victims. Last year alone, 609 victimized clients received more than $4.4 million in reimbursement.
"California has the absolute right to be proud of what its lawyers are doing in terms of client protection," says Bill Ricker, president of the National Client Protection Organiza-tion. "It is a leading state. No question about it."
Ricker, who has served on the Florida State Bar Clients' Security Fund for more than 20 years, casts California's fund as one of the four best in the country, along with such funds in New York, New Jersey and Pennsylvania. These funds, which exist in every state and other countries as well, vary dramatically in their resources, reimbursement caps and overall effectiveness.
(Click to enlarge)
California attorneys currently pay $35 a year into the Client Security Fund. Attorney theft victims may seek up to $50,000 in fund reimbursement. For a payout, the attorney in question generally must have voluntarily resigned, been disciplined, been found mentally incompetent or been judged guilty of a crime that involved the loss, or must be deceased. The majority of claims involve misappropriated settlements or unearned fees. Attorney-client issues other than theft, such as malpractice claims, do not qualify for reimbursement.
"We're not dealing with fee disputes; we're dealing with the really bad apples," says Martha Gonzales, director of California's Client Security Fund. "It's a cost-effective way of covering theft, and it's really a strong statement that the profession isn't going to tolerate bad apples ruining the reputation of the membership."
Gonzales and others stress that while such reimbursement amounts to millions of dollars annually, very few attorneys - less than 1 percent in California - are the subjects of such payouts. Last year, for example, just 185 of some 134,000 practicing attorneys were responsible for conduct that led to reimbursement. But while just a small minority is to blame, she says, "that minority causes tremendous damage."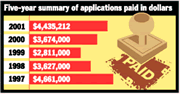 (Click to enlarge)
When an attorney steals settlement funds or pockets fees without doing the legal work, clients can wind up losing their life savings, their homes, crucial medical treatment or simply a small amount of money and all belief in the legal system. In addition, attorneys often victimize more than one client, administrators say. And without a client protection fund, many clients would never recoup any of their losses.
Take the case of Saldivia, who managed to hire a second attorney at a discounted rate to complete his divorce. When his first attorney filed for bankruptcy and failed to list him as a debtor, a financially strapped Saldivia all but gave up hope of ever getting his money back.
"I felt very unprotected and vulnerable," he said. "I thought, 'This is not right. Something is wrong with the system.'"
For Saldivia and many others, however, the Client Security Fund has made a difference.
Says Edna Padua, an Oakland nurse: "It really helped me a lot. They listened to me. I found out that there is an agency that really helps."
Padua recalls feeling powerless, disillusioned and "kind of angry at the whole system" during her struggle to obtain insurance settlement funds - stemming from a 1999 car accident - from her attorney. Padua, a working mother of two grown children, had discontinued treatment for hip pain, because she had no medical insurance; she wanted to settle the case. But when she discovered that the settlement had gone to her attorney, she could not reach him to collect her share.
Padua eventually found her way to the State Bar and, in turn, the Client Security Fund. And after an investigation, she received a check for $6,266. "I felt so relieved," she recalls. "It was a very grateful time in my life."
Client protection funds are not new - with roots stretching back to a New Zealand fund created in 1931. Vermont was the first American state to follow suit in 1959. California's fund was created in 1972 through State Bar-sponsored legislation.
In its early years, California's fund operated with a skeleton staff of no more than three. A disciplinary board, and later the State Bar Court's Review Department, decided claims. In its first 13 years of existence, the fund distributed less money to fewer claimants than it now does in a single, typical year.
In the mid-1980s, a key Supreme Court opinion (Saleeby v. State Bar) mandated due process requirements for the fund and triggered the creation of new procedural rules and a Client Security Fund Commission. The seven-member volunteer commission is appointed by the State Bar's governing board. A staff of nine investigates and presents the cases to the commission.
Then, with the overhaul of the State Bar's discipline system in the late 1980s and a policy change to automatically inform all potential claimants about the Client Security Fund, the number of claims shot up.
With the exception of the bar's virtual shutdown in 1998 and 1999, the fund has received more than 1,000 claims a year for more than a decade. During the near shutdown, the steady stream of new claims dwindled and the fund saw a build-up of revenue. As a result, attorneys' Client Security Fund fees were dropped from $40 to $35 for 2002 and 2003.
In the meantime, California also has taken early prevention measures to try to cut down on attorney theft. For example, per 1988 legislation, banks must alert the State Bar any time that an attorney's trust account is overdrawn. In addition, California is one of just a few states that now requires insurance companies to notify the claimant about any settlement over $100.
The Client Security Fund, however, has not been without controversy. Questions have been raised about the fund's administrative costs of roughly $1 million a year. But fund administrators note that a recent survey of funds in states with the largest attorney populations indicated that California's costs per claim in the year 2000 were less than such costs in all but one of seven other states that could provide data.
Administrators point out that California's fund handles far more claims than any other state fund. (Of the claims filed, slightly more than half typically result in reimbursement.) Key court decisions have built a significant amount of due process for both the claimant and the attorney into the handling of such claims, which increases the cost per claim.
Another issue for some is the fund's low rate of cost recovery. Administrators, however, point out that many of the attorneys whose conduct leads to reimbursement have gotten into some kind of trouble and are in financial ruin. In short, says Gonzales, most are judgment proof.
The Client Security Fund has recovered some costs by suing banks for forged endorsements. And in California, the fund payout (plus interest and processing costs) is tacked onto the membership dues bill of the errant attorney if he or she is still in practice or seeks reinstatement. But since 87 percent of the attorneys whose conduct results in a fund payout have been disbarred, have resigned from practice or are deceased, there is little or no incentive for most to pay up.
Other states have had similar problems recouping such costs. Some with higher cost-recovery rates have means of collection unavailable in California. For example, in New Jersey, community service, suspension of driving privileges and other sanctions can be imposed for failure to repay the client protection fund. And in New York, disciplinary restitution orders can be entered as civil monetary judgments.
Another group of critics questions the rationale for the fund itself, arguing that honest lawyers should not have to pay for the dishonest behavior of a few bad attorneys. And in some instances, attorneys who do not deal with clients feel that they should not have to pay fund fees.
Such arguments surface in other states as well. But Lynda Shely, current chair of the American Bar Association's (ABA) Standing Com-mittee on Client Protection, argues that the benefits of providing such public protection far outweigh any "de minimis" financial burden. She sees the client protection fund as part of the safety net afforded clients who hire an attorney. It is, she says, "part of maintaining the integrity of the profession."
Shely, the director of lawyer ethics for Arizona's state bar, notes that Canadian attorneys pay far more for their client security funds and for malpractice insurance as well. A 1998 ABA survey indicated that Canadian attorneys in four jurisdictions pay at least $100 annually (more than $200 in one jurisdiction) in client protection fund fees alone.
In recent years, American attorneys have paid anything from a voluntary contribution to $50 or more in annual assessments to their particular state's client protection fund. And the maximum reimbursement in any individual case has ranged from less than $2,000 in at least one state, to $300,000 in New York, to no cap at all in several other states.
Dean Haskell, who received a reimbursement check from California's Client Security Fund, applauds attorneys for collectively helping those who have been "screwed" by the profession.
"Lawyers get a bad rap," he said, "and here's something that's good that they do."
Haskell, chief executive officer of Bistecca SF, Inc., said he first discovered he had a problem with an attorney when Bistecca's plans to build a new restaurant collapsed for lack of funds. The company had already been awarded the liquor license, he said, and had paid an escrow attorney $13,000 to complete the transaction. "We actually went to sell the license because we thought we owned it," he said.
But it turned out that the transaction had never taken place. And in the meantime, Haskell says, both the seller and the lawyer had died. After hiring another attorney on contingency and eventually receiving a little money back from the first lawyer's estate, Haskell heard about the Client Security Fund. His application led to nearly $8,000 in reimbursement.
"I think that it is an interesting structure in that good lawyers all have to pay in and compensate victims for bad lawyers," he said. "It makes all lawyers look better because they're chipping into this fund."