Legal Heritage Institute: Students experience law and courts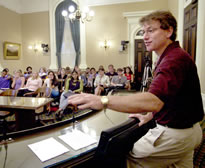 Assembly Judiciary Committee Chief Counsel Drew Leibert makes a point as he explains how laws are made and how they impact the court in a discussion of the roles of the legislature and the courts
Twenty-four high school juniors from throughout California spent a week last month studying law and government in the courtroom and in the Capitol as part of the Legal Heritage Institute, sponsored by the Foundation of the State Bar. The students were selected on the basis of their submissions to a statewide essay contest on "The Law: My Role and Responsibilities." The winners received a one-week, all-expenses-paid trip to historic gold country sites and the state capital, meeting with local attorneys, judges and government officials. Each also received partial college scholarships of up to $4,000.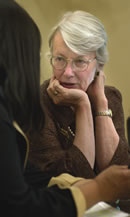 Above, McGeorge Law School Dean Elizabeth Rindskopf-Parker pays close attention to a question about legal issues raised since the Sept. 11 terrorist attacks.
McGeorge Law School Dean Elizabeth Rindskopf-Parker addressed the impact of terrorism on the rule of law and military tribunals, and Drew Liebert, chief counsel of the Assembly Judiciary Committee, gave the youngsters an overview of how laws are made.
In addition, the students heard from Burt Pines, Gov. Davis' judicial appointments secretary, former Supreme Court Justice Cruz Reynoso and several judges and lawyers. They also attended a trial, learned how federal courts are different from state courts, and toured the Placer County courthouse.
"The goal of the Legal Heritage Institute is to promote legal literacy; it is a very different kind of 'summer camp' for students interested in law and government," said foundation president Pauline Gee.
The institute is a second-year program endorsed by the state Department of Education, which worked with the foundation to develop curriculum standards.
| | |
| --- | --- |
| | In the gallery of the Senate chambers, the students listen intently to a docent's lecture about the history of the state Capitol |
| | |
| --- | --- |
| | Students peer at the rotunda of the State Capitol during their tour of the building before meeting with judges and government officials as part of the Legal Heritage Institute. Each student received a partial scholarship at the conclusion of the program. Photos by Kim Komenich |