Four vie for District 3 seats
By Nancy McCarthy
For the second time in less than a year, four candidates are running to fill a vacant seat on the State Bar Board of Governors, all having taken very different paths to the election and each bringing widely divergent agendas to the race.
Three are sole practitioners who have run before and the fourth is a frequent bar critic who sued the bar earlier this year.
Barnett
Stephen Barnett, a professor at Boalt Hall in Berkeley and a longtime foe of the bar, is running against Michael Lynn Gabriel of San Mateo, Vivian Kral of Redwood City, and Mike Schmier of Emeryville. They are vying to represent District 3, which includes Alameda, Contra Costa, San Mateo and Santa Clara counties. Burlin-game attorney Marie Weiner vacated the seat when she joined the San Mateo County bench last month.
Barnett, 66, said he "feels almost an obligation to put my money where my mouth is" and seek a board seat, but insists he wants "to improve the bar, not sink it." Two years ago, he threatened to sue the bar over its election procedures, settling the matter when the organization agreed to permit candidates for the board to include policy statements in addition to their biographical information and bar activities on the ballot. Earlier this year, he acted as co-counsel in a federal action against the bar by an out-of-state lawyer who is a member of the California bar and wants to vote and run for its board.
Barnett is skeptical of the bar's dual role of both regulating and representing lawyers, which he believes presents an inherent conflict of interest. "I'm willing to give the present system a chance under new management, but if in the long run the bar can't justify its existence under the present scheme, I would say the two roles ought to be split," he said. The regulatory functions could be assumed by the Judicial Council or the Supreme Court, he suggested.
Barnett also believes the bar ought to streamline its operations by reducing dues and lightening the burden of MCLE, which he calls too expensive and patronizing.
Although they have never met, Barnett and board of governors gadfly Matt Cavanaugh of Los Angeles have worked together and consulted about bar-related matters, Barnett said. Cavanaugh has campaigned actively to help elect lawyers he calls "outsiders" to the board.
Barnett has taught at Boalt since 1967 and has for 10 years been the Elizabeth J. Boalt Professor of Law, teaching intellectual property and torts.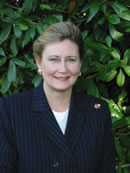 Kral
Vivian Kral is almost the antithesis of Barnett, a lawyer with an extensive history of bar-related activities who has won the endorsement of the four county bar associations in District 3.
That does not mean, Kral is quick to point out, that she endorses "business as usual" at the bar. On the other hand, she adds, "I don't have an exclusively negative approach to bar associations, which offer a tremendous benefit."
Kral is a past president of California Woman Lawyers and presently serves on the executive committee of the Conference of Delegates. Four years as a judge pro tem on the State Bar Court provided a first-hand look at how the bar's discipline system operates. Kral said she appreciated the operation's effective public protection role, but at the same time is concerned that it is sometimes overzealous.
"I think all members want to make sure the discipline process maintains a level of ethics in the bar association but they also want to make sure the bar is not their adversary," she said. "I think I'm in a unique position to do that."
Kral said she does not know if dues are too high, but "if there's any fluff," she wants to see the dues reduced.
A longtime civil litigator, Kral, 48, now practices family law and handles alternative dispute resolution.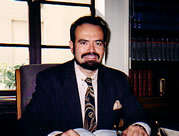 Gabriel
Michael Lynn Gabriel wants to use the board of governors as a bully pulpit for federal legislation he has written to amend the tax code so people could use their IRAs to purchase a home. "Republicans liked it so much they're going to give me a gold medal for coming up with the idea," Gabriel said.
"It won't cost the government one dime in taxes." So far, he admitted, he hasn't found a sponsor for the proposal, but he thinks State Bar backing would go a long way toward getting the idea through Congress.
Gabriel, who offers continuing education through attorneysetal.com, wants the bar to create an online bulletin board for lawyers to submit legal questions which could be answered by other lawyers. He has designed and created such a bulletin board, which would be particularly helpful to sole practitioners, he said.
The 48-year-old Gabriel also proposes a website where attorneys could post queries to their representative on the board and he favors amnesty for lawyers who seek help with office management problems before they are disciplined.
He has written 22 legal books, primarily dealing with tax, business and estate planning, and his continuing education programs have been approved in four states in addition to California.

Schmier
Emeryville labor and employment lawyer Mike Schmier has run unsuccessfully for the U.S. Senate and California attorney general, and focuses almost exclusively on the issue of unpublished and uncited court decisions. They cause unpredictability in the law, he said, and have created an issue of openness in government.
"I think the bar needs to make sure the legal system is predictable and reliable and dependable," said Schmier, 57. "It's an overriding issue because unpublished and uncited rules make (predictability) not so."
He said the American Bar Association has endorsed the notion of published decisions and "I'm hard-pressed to understand why California would have a different position." Schmier said 94 percent of the California state court decisions are not published every year, and he thinks once the public becomes aware of that statistic, there would be an immediate outcry and the practice would end.
He also believes bar dues are too high, the discipline system needs improvement, and MCLE should be far more computerized and offered exclusively by the State Bar, paid for by bar dues. In addition, he would like to see the bar "regarded not as something that happens to lawyers but rather something for lawyers."