Pride in the legal profession drives the bar's new leader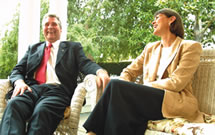 (Click to Enlarge)
By NANCY McCARTHY
When his friends and colleagues are asked to describe Santa Barbara lawyer James Herman, virtually to a person they talk about his sense of humor.
And they offer a few stories as evidence: In a 5-K run at a State Bar Annual Meeting two years ago, Herman took first place in the "Women Over 50" category, in which he had mysteriously been entered. When he stepped forward to claim the trophy, it was denied "on mere looks alone!" he recalled with mock horror.
Or there's the time a local judge who had a thing for frogs retired. Herman, one of the featured speakers at the retirement party, showed up in full frog regalia and gave a speech replete with references to Kermit, Calaveras County, lily pads and transforming into a prince.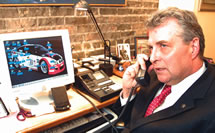 (Click to Enlarge)
At his induction as president of the Santa Barbara County Bar Association, his buddies presented him with a scepter, and a robe and crown.
When Herman takes the reins as 78th president of the State Bar of California this month, there will be no ermine (rhymes with Herman) robes and certainly no crown or scepter. And while that sense of humor will present itself from time to time, the state's lawyers are more likely to find a serious leader ready to get down to business as the bar's ambassador to its members and the public.
Admitting that he finds the prospect somewhat daunting, Herman said he will focus more on what he calls "values issues" than a specific agenda. He talks often of instilling pride in the legal profession by its members, and of the "big three" goals of the State Bar - public protection, public access to the court system and service to its members.
"This really will be a year of outreach," Herman said. "We've spent the last couple of years rebuilding the best discipline system in the world and remodeling our governance structure and now it's time to look outward and reach out to the courts, to our members and to the public."
(Click to Enlarge)
"If anybody can bring enthusiasm to the job (of president), Jim can," said Santa Barbara Superior Court Judge Thomas Anderle, who has known Herman for 10 years. "It's a job that takes a very special person and I think the bar will benefit from his long years of experience and his background."
Longtime partner Alan A. Blakeboro predicted Herman will make "an outstanding president. He has a knack for building consensus that will serve him well."
A successful litigator in what he calls a "humble fishing village on the central coast," the 57-year-old Herman brings to his new post a background, forged in midwestern values, that spans a wide range of interests including acting, driving race cars, trekking in Nepal, near-fluency in Mandarin, six years as host of a radio legal talk show and extensive volunteerism.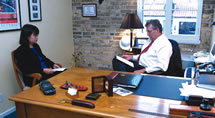 (Click to Enlarge)
His brick-walled office at Reicker, Clough, Pfau, Pyle, McRoy & Herman LLP offers up a microcosm of those interests. A half dozen framed photos and posters of race cars, and a framed copy of a 1999 Los Angeles Times article about weekend racers, grace one wall. Oil paintings of Santa Barbara by local artist Richard Schloss, a member of the Oak Group of plein air landscape artists, hang on other walls.
A small collection of fountain pens (another interest), a book on the Himalayas and a dramatic photo of Anapurna sit on his bookshelf. Against one wall rests a gold shovel from a groundbreaking for California Western Law School, where he served as a trustee, and an antique Peking carpet is on the floor.
On his expansive French walnut desk sit a model of a green BMW M3, mementoes of visits to China, photos of his wife and a small model train on a track, a replica of a Rock Island Railroad car. Herman's father, Paul, was an engineer for the railroad and rode its last run from Lyman, Colo., to Chicago in 1981.
Mother Virginia became a tax preparer for H&R Block. The oldest of four children, Herman was raised in Kansas City, where he said growing up was like a chapter out of Prairie Home Companion-
"Don't take yourself too seriously, do good work and contribute to your community."
He remembers huddling in the corner of his home's basement during tornado warnings, his mother praying the Litany of the Saints while the winds howled outside. Herman ran track, played basketball and acted in plays during high school, and then was drafted for service during the Vietnam war.
He joined the Air Force and passed a series of language exams that landed him at the Defense Language Institute in Monterey, where he learned to speak Mandarin and to love California. After four and a half years in the service, he enrolled in San Diego City College, then the University of California at Santa Barbara, graduating with a degree in dramatic art.
Although offered an apprenticeship at the Arena Stage in Washington, D.C., Herman had had taken an interest in social issues during the late 1960s and early '70s and found that lawyers were in the forefront of the profound societal changes that were occurring. "I didn't lose interest in the theater, but I became interested in law," he said. "It seemed like lawyers were doing good things and accomplishing a lot. It's work I wanted to be involved in." And, he added, "I was realistic enough to recognize the limits of my acting talent."
A law degree from California Western Law School was followed by two fellowships at New York University, culminating with an LL.M. The lure of adventure ended seven years as a public defender in Riverside, San Diego and Santa Barbara, but just before leaving for six months of travel through Asia, a partner at a Santa Barbara firm offered Herman a job and was willing to wait for his return.
He has worked at three local firms in the past two decades, honing his skills in business and commercial litigation, including banking, real estate, securities and corporate governance. The practice is a busy one, with an incessantly ringing cell phone that provides text and phone messaging and a computer dinging constantly with notices that a new e-mail has arrived.
A typical day begins at the crack of dawn with some kind of exercise - three days a week, for example, it's spinning at the gym. On a day last month, he consulted with clients, put in a brief appearance at an Inns of Court meeting, met with a local legal committee, threw together a last-minute lunch for six, went to court, met a client at Hope Ranch, posed for pictures for a Los Angeles legal paper and squeezed in 15 minutes with his Chinese language tutor.
At one point, he peered into the mail cart in the firm's lobby and was pleased to find a new muffler for his ARX7 Mazda, a race car which these days spends more time in his driveway than on the track.
"He has a very busy schedule yet he still has that curiosity to learn another language and find out about other cultures," said Peggy Chen, who was tutoring Herman daily in preparation for a visit to China last month to establish relationships between California lawyers and practitioners in China.
"That's something I admire." Herman said he talks "baby talk" Mandarin, but he's skilled enough to tell jokes in Chinese and he peppers his conversations with Chinese phrases, telling a fellow lawyer "buhao," meaning "not good," when she can't make lunch.
Blakeboro, who has worked with Herman since 1986, described his partner as a superb lawyer with "outstanding talents in and out of the courtroom. He's a strong advocate in the courtroom but he also offers a strong voice of reason. He's a good settler of cases."
He added that Herman's partners admire his integrity and respect his ability to balance his professional duties with his commitment to the bar.
Cyndi Hitsman Williams, Herman's secretary and paralegal for five years, also talked about her boss' integrity, noting that he "doesn't lie on cases or ever fudge anything." And despite that storied sense of humor, he doesn't like bad lawyer jokes and he doesn't laugh at racist or sexist jokes, she said.
As for his legal abilities, Hitsman Williams, who often sits at the counsel table with Herman in court, said, "As great as he is at strategizing, that's nothing compared to how he is in court." She described a case that dragged on for four years before going to trial, but when the jury was empaneled, it settled on the courthouse steps. After watching Herman charm the jury, she said, the other side thought, "we're toast."
Local lawyer Tim Metzinger said Herman has "an outstanding ability to bring people to consensus and that's a real rare knack."
Herman said he finds trials exhilarating and "probably my favorite part" of practice. He didn't come to bar activities until he put his acting talents to work teaching trial practice courses.
In fact, he met his wife, Denise deBellefeuille, now a Superior Court judge, at an acting seminar in 1985, when she was a public defender. "He was teaching classes in forensic acting," she recalled, and the case was Goldilocks v. the Three Bears.
Herman has for years run the Mason C. Brown Trial Skills Workshop, co-sponsored by the local bar and the University of Southern California Law School. The "faculty" includes Hollywood directors, actors, trial consultants and lawyers. "It's really about honest communication, and transferring an emotion from yourself to a listener," Herman said. "A friend of mine likes to call what I do 'stating the obvious.' "
The trial skills courses just skim the surface of Herman's local activities. He became chair of the local bar's litigation section and went on to serve as its president. The list goes on: founding member and judge for teen court, longtime supporter of the county Legal Aid Society and the Environmental Defense Fund, a member of the board of Santa Barbara Women Lawyers, and co-founder and moderator of Santa Barbara Law, a public service legal call - in program that has featured guests such as author Sue Grafton and well-known lawyer Gerry Spence.
Herman's generosity to the local legal community is well known, and he often loans out his 1902 house for parties and fundraisers. It's a sprawling place with five fireplaces that he and deBellefeuille share with their bull terriers Lily and Cosmo. He tools around town in a new gray BMW M3 with red leather interior. Its speed is limited to 155 mph, and Herman swears he's never taken it faster than 135. Although it's state of the art, the car is without a navigation system or electric seats because Herman says, "I don't like a lot of gizmos."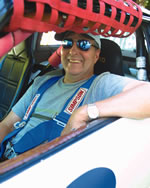 (Click to Enlarge)
His mostly idle race car, on the other hand, is from what he calls "the everyman racing series" and he chose it because a shop in town does repairs.
In 1999, Herman was elected to the State Bar Board of Governors, where he has concentrated on the bar's finances and governance. Santa Barbara lawyer Mark Wietstock believes Herman has a comprehensive understanding of the bar and what he called "a universal vision" of what's its role should be - "that it's fair and that it has a reasonable relationship between regulating lawyers while leaving them free to do what they need to do."
The biggest item on his to-do list for the coming year will be winning a multi-year dues bill in Sacramento. He also wants the bar to communicate better with members through a beefed up speakers' bureau and improved public information services. Herman himself hopes to match Chief Justice Ronald George's first year as the state's top judge when he visited all 58 counties in California.
Asked about several board members who may take on the role of dissidents, Herman said he welcomes differences of opinion as a valuable asset. "We may not agree with our critics but we always learn from our critics," he said.
"To a person, the people on the board are thoughtful, sincere and interested in improving the bar. We are all on the same page in terms of making this a better organization." Herman also plans to continue his longterm commitment to legal services for the poor, which he sees as a central mission of the legal profession.
"What separates us from most occupations is that we support access and the idea that we are hosts and caretakers of an important public service," he says. "We make sure that service is available to everyone. We have access as a core value. You don't hear about access to plumbing, or access to electricity."
Indeed, Herman's pride in his profession is evident and he often describes the important role lawyers play in their communities, where no volunteer board is without an attorney member. He wants to rekindle the pride all lawyers felt when they received their first bar card, which reminds the holder that the bar's mission is to improve the justice system and ensure a fair and just society under law.
"I think lawyers take justice seriously," he said. "Almost to a person, lawyers in this state practice law not just to serve the client but to serve the public. I find that lawyers are grateful to be lawyers and are grateful for what being a lawyer brings to them."
It's not about thanks, he added, taking issue with a colleague who called the bar president's job a thankless one. He thinks lawyers who roll up their sleeves and volunteer do so to give something back.
"It's not about thanks," he said. "It's about making the bar better serve the public, the membership and the court system."