Gov. Davis signs bar-backed bill to crack down on UPL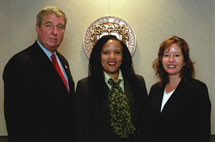 (Click to Enlarge)
By Nancy McCarthy
A State Bar-supported bill to increase the penalty for the unauthorized practice of law (UPL) by non-lawyers was signed into law by Gov. Davis last month.
SB 1459, authored by Sen. Gloria Romero, D-Los Angeles, provides that UPL is punishable by up to one year in county jail or a $1,000 fine or both. Subsequent convictions require a 90-day jail sentence and would require that the court state on the record the reasons for a lesser sentencing. The previous maximum penalty was six months in jail.
"I am extremely gratified that the legislature passed, and the governor signed, this very important measure," said State Bar President Karen Nobumoto, who made increased penalties for unauthorized law practice a cornerstone of her presidency. "It is way past the time for cracking down on non-lawyers who hold themselves out as attorneys and provide inadequate services to consumers."
The unauthorized practice of law is a problem particularly in immigrant communities, where unsuspecting individuals hire non-lawyers to handle their legal affairs. The illegitimate businesses promise results and often claim to have inside connections with the Immigration and Naturalizatin Service.
Nobumoto, a deputy district attorney in Los Angeles, said the Latino and Asian communities are especially vulnerable to individuals who hold themselves out to be lawyers but cannot deliver the services they promise, such as obtaining green cards for their clients.
Nobumoto, who herself has prosecuted UPL cases, described the case of a Chinese woman who had endured terrible hardships in her homeland, including forced sterilization, and then was victimized by an unlicensed "legal services" operation which guaranteed her a green card for $5,000.
The woman gave the operation her life savings plus several hundred dollars borrowed from friends, Nobumoto said, but "of course the green card never came. She was left broke and faced deportion to China."
Both the California attorney general and the Los Angeles district attorney have established programs to target phony practitioners.
The mandatory jail time contained in the Romero bill is important because the cost of a fine often is seen simply as the cost of doing business, Nobumoto said.
The measure also closes a loophole in existing law under which disbarred lawyers could receive a lighter punishment for practicing without a license. Previously, a lawyer who had lost his or her license could be prosecuted only if he or she advertised or held themselves out to be a lawyer.
The new provision also applies to attorneys who are suspended, resign with charges pending or have been involuntarily enrolled inactive. If they practice, they "commit a crime punishable by imprisonment in the state prison or county jail."
The new law, which enjoyed the support of virtually every bar association in the state and Attorney General Bill Lockyer, takes effect Jan. 1.
A new law which took effect last year strengthened consumer protection by requiring immigration consultants to disclose in advertising that they are not lawyers.