Hufstedlers join Witkin pantheon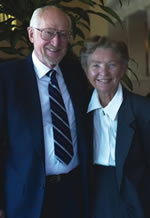 (Click to Enlarge)
Seth and Shirley Hufstedler make up one of California's most legendary legal couples. Graduates of Stanford Law School's class of 1949 with consecutive bar numbers, both went on to achieve success in the courtroom and in more public lives.
For their careers of extraordinary service and their contributions to the quality of justice and legal scholarship in California, the Hufstedlers are this year's recipients of the Bernard E. Witkin Medal. They join a small but impressive pantheon of Witkin medal recipients, including such legal luminaries as California Appellate Justice Norman L. Epstein, trial lawyer Joseph A. Ball, constitutional law scholar Gerald Gunther and Witkin himself. The medal is presented to "the legal giants among us who have altered the landscape of California jurisprudence."
One of the top trial and appellate lawyers in California, Seth Hufstedler, who turned 80 in September, is currently senior of counsel to Morrison & Foerster in Los Angeles. In a career spanning more than four decades, he had an illustrious business, trial and appellate practice, representing a broad range of clients in complex business disputes in various state and federal courts. Two of his cases, Lewis v. Anderson (1979) and Gaines v. Haughton (1981) are the leading Ninth Circuit cases on the role of independent special litigation committees in derivative lawsuits.
He also broke down the walls of discrimination early in his career by naming one of the first African-American partners, Sam Williams, to a major law firm. Williams went on to become president of the State Bar, a post Hufstedler also held in 1973-74.
Shirley Hufstedler, 77, has a resume as impressive as her husband's, including 10 years in private practice, serving as a superior court judge in Los Angeles, an appellate justice on both the state and federal benches, and a two-year stint as the secretary of education under Presi-dent Jimmy Carter.
Mrs. Hufstedler has written prolifically for professional journals, newspapers and magazines in the fields of law, education, government and national and international affairs, and has lectured extensively both in the U.S. and overseas. The recipient of numerous honorary doctorates from prestigious universities and the holder of a string of "firsts," Mrs. Hufstedler also has received the Margaret Brent Award from the women's division of the ABA and an ABA Gold Medal in 1995, and was the Los Angeles Times' "Woman of the Year."
Both Hufstedlers' influence on young lawyers whom they have inspired to bar and community service and pro bono work is legendary.
The couple were honored for their commitment to the justice system in California, dedication to social justice and equal opportunity and long rec-ords of accomplishment in the law.