Neglect wears down courthouses
By KRISTINA HORTON FLAHERTY
Staff Writer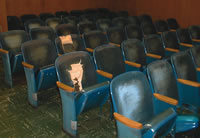 (Click to Enlarge)
One prisoner escaped through a window on his way up a courthouse stairway. Another scrambled to temporary freedom over a court's chain-link fence. And yet another broke a bailiff's arm while trying to escape down a public court hallway. The incidents occurred at different times at three separate Placer County courthouses, but all reflect problems with the facilities, the court executive officer says.
And an extensive study of California's 451 court buildings suggests that Placer County is not the only county with problems. More than half of the state's court space is in buildings rated functionally marginal or deficient.
Courts can be found stashed in cramped trailers with no running water, an old department store and a former military hospital. At one, a mop closet serves as a judge's chambers. In another, sewage seeps through the ceiling. And in still another, a children's waiting room was closed due to extremely high levels of mold.
"Our judicial system does not need, want or expect palaces," Chief Justice Ronald George told legislators last spring. "But it does deserve facilities that are secure, well-maintained and adequate to serve the public's needs."
And with recently signed legislation — the Trial Court Facilities Act of 2002 (SB 1732) — paving the way for the state to assume financial responsibility for California's court facilities, a massive renovation and rebuilding plan is currently in the works.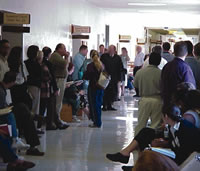 (Click to Enlarge)
"It's going to be comprehensive and statewide and based on real workload and facilities requirements," says Orange County Superior Court chief executive officer Alan Slater, who also serves on the Judicial Council. "It's a major, major step forward."
Nobody expects the changes to come quickly. Some have voiced concerns about the hike in fees earmarked to help finance the undertaking. And some wonder how the Judicial Council will prioritize repair work. But many also see this as an opportunity to help put California's courts on more equal footing — and, in turn, to improve equal access to justice statewide.
Too often, competing county interests and a lack of resources have pushed courthouse construction projects and maintenance to the back burner for years or even decades. In the meantime, some county courts have accumulated a hodgepodge of trailers and other makeshift quarters — from an old insurance office to a converted bank building — just to make do.
"Unfortunately, far from being temples of justice, many of the courthouses in our state pose dangers to those who come to them for justice," the chief justice told legislators earlier this year. "Security is inadequate, sometimes making a court appearance a hazardous experience for litigants and witnesses."
In signing SB 1732 (Escutia, D-Montebello) this fall, Gov. Gray Davis capped a string of landmark structural changes that have in recent years transformed California's courts from primarily county-supported operations into a single system funded and operated by the state.
First came the Trial Court Funding Act of 1997, which made the state responsible for funding trial court operations. It also called for a task force to evaluate court facilities statewide and make recommendations.
Then a voter-approved constitutional amendment led to the unification of California's municipal and superior courts into 58 superior courts - one in each county. Additional legislation shifted local court employees off the county payroll.
What the task force discovered was that most of the state's court facilities are in need of significant repair, maintenance or renovation. Many need safety improvements and better accessibility for the disabled. One in five courtrooms was rated deficient for its current use, primarily due to security problems. And a total of 187 buildings were flagged as potentially needing seismic improvements.
In late 2001, the task force recommended that the state assume full responsibility for the facilities. Steve Szalay, executive director of the California State Association of Counties (CSAC), points out that counties have "virtually no responsibility" for court operations anymore. "So there's no reason for the county to have responsibility for the facilities," he said. "Those should be tied together." Some see California's new court structure as a "model" for other states. The trend in courts across the nation has clearly been toward state funding, said Patti Tobias, Idaho's administrative director of courts and current president of the Conference of State Court Administrators. But, she says, "only a few courts are as advanced and progressive as California in moving toward a state assumption of court facilities."
In California, counties had become more reluctant in recent years to spend funds on court facilities that now house state-funded programs.
Kyle Christopherson, deputy public information officer for the Los Angeles Superior Court, says court officials are looking forward to faster attention to court maintenance once the facilities transfer to the state.
However, the transfer alone will be a daunting task. "The challenge of this bill is that there are 58 different counties and 58 very different sets of facilities issues," said Yolo County court executive officer Kathleen White. "There is no one-size-fits-all."
The facilities legislation, co-sponsored by the Judicial Council and CSAC, lays out a process in which each county will negotiate the transfer of its facilities, building by building, between 2004 and 2007.
Officials hope to see renovation begin during that transition as well. Currently, consultants are working with local committees in every county to develop 58 detailed, long-term "master" plans. Projected population growth, demographic shifts, facility assessments and local issues will all figure into the plans.
Officials in the state's Administrative Office of the Courts (AOC) hope to have a single, consolidated five-year plan approved by the Judicial Council in early 2004, and to break ground on the first major construction by 2006.
The undertaking could cost an estimated $3.4 billion just to meet current needs. California would get 96 new court buildings with 724 courtrooms, and wind up with fewer facilities overall. To expand facilities for two decades of growth would cost an estimated $2.1 billion more.
"Nobody has an expectation that we're going to build everything new," said Kim Davis, assistant director of the AOC's Office of Capital Planning, Design and Construction. But renovation is expensive, she added, and may not address space needs. In addition, fewer facilities would mean less in operations and maintenance costs. Under the new structure, counties will remain responsible for existing facility debt. Counties also will continue paying maintenance costs to the state - based on certain local historic payments — but that amount will not increase with inflation. To help finance future construction and renovation, increased penalty assessments and parking offense penalties, as well as new civil filing fee surcharges, will begin flowing into a new state courthouse construction fund in January. Officials also expect to seek a bond measure in 2004.
Even the Consumer Attorneys of California, which generally opposes such fee increases, found reason enough to support the legislation. When it became evident that fees would be raised, the organization wanted the increases earmarked for courthouse construction — not the general fund, said president Robert Cartwright Jr. "The courthouses are in terrible shape in California," he said.
For now, officials are preparing for the shift in ownership. Some questions remain unanswered: Which repairs will take priority? What will happen if the state rejects a facility and the county will not — or cannot — bring it up to minimum standards? Early next year, Davis says, working groups will examine such issues and begin setting criteria to help ensure a fair process.
While some problems will be open to negotiation, the state will reject seriously deficient buildings that fail to meet certain standards, Davis said. Recently, the facilities task force flagged five physically deficient buildings and some 90 functionally deficient facilities statewide. And buildings must still undergo inspections for seismic safety.
Davis, however, points out that the "threshold" for transfer is low. And counties have until 2007, if necessary, to use local courthouse funds to make their buildings "passable." Some counties, she says, are already making the necessary changes.
"If they don't fix it and it is rejected, then we're basically back to square one with facilities that don't meet the court's needs," Davis said. "And the county will continue to have to be responsible. I don't think anyone wants that."
Across the state, court administrators seem to welcome the shift in landlords. Some have never had a long-range "master" plan. Some have been competing unsuccessfully for years for resources and watching their quarters deteriorate. They believe that moving under the state umbrella will eventually pay off.
Take Merced County, for example. Court executive officer Tim Dickson recalls plans for a new courthouse spanning as far back as the 1970s. In the early 1990s, a block and a half of land was cleared for a new facility and a parking lot was installed. But then, as the county teetered on the brink of bankruptcy, construction came to a standstill.
Today, Merced's main court complex consists of three buildings and three trailers, including one without running water. There are 19 court entrances — too many to monitor. And lines of prisoners are regularly led in chains across parking lots and down public sidewalks to court. "My worry is that someone is going to lay in wait for one of these people and shoot them," Dickson said. "Who knows what danger others are in."
The good news for Dickson, now nearing retirement, is that the county is once again close to breaking ground on a new courthouse. "It has not been a quick process," he said.
But even with the new facility, which will consolidate the 19 entrances into one, the county's long-neglected court complex will fall short of meeting current needs, he says.
Master planning consultants recently concluded in an early report that, to meet current needs, the county would need nearly twice as many judges and, in two decades, will need almost four times as many. That is where Dixon hopes the state will "see fit" to step in.
In Yolo County, court employees actually squeeze into less space now than they did more than a decade ago. "I've got people crammed into every possible corner,""says court executive officer Kathleen White.
A cash crunch in the early 1990s led to the shutdown the court's only two branches, White says. Today, the courts operate only in Woodland. They make do with too few holding cells. And they, too, transport prisoners down public hallways.
But space and security are not the only challenges. "We have a magnificent marble historical courthouse, beloved by the population and not conducive for security and modern technology needs," White says. "Ever try to put computer wiring through marble walls? It's a functional and aesthetic challenge."
The recommendation has been to build new court facilities, possibly keeping the historic courthouse for low security work, White said. She believes that, in a few years, "it will happen."
Mary Beth Todd, Calaveras County's court executive officer, is waiting to see how priorities will be set in the massive fix-it plan. "At this point, it's hard to get too concerned, excited or otherwise," she said.
But she is "cautiously optimistic" as to how her county's cramped court will stack up. Recently, she has helped design a new multi-use facility. But county officials have indicated, she says, that the county cannot finance a new building. So, she, too, is finding ways to make do.
Long pressing for a new courthouse in the state's fastest growing area, Placer County court executive officer John Mendes may finally see one replace a hodgepodge of other facilities. He and others were able, he said, to give "compelling reasons" why county court construction should go forward in spite of the pending transfer.
One of Mendes' greatest concerns is security, he says. But he has also noticed another downside of inadequate, makeshift facilities — their influence on behavior.
In Placer County, court is held in a beautiful historic building in Auburn and, across town, in a converted military hospital where jurors must wait outside, sometimes in the rain, for lack of space.
What Mendes has found, he'really interesting to see the difference in how people respond," he said. "We don't want to be put in trailers." The courts in California's larger counties, too, have seen hard times. Just ask Orange County Superior Court chief executive officer Alan Slater. In his 30 years as a court administrator, he has seen major construction projects abandoned well into the design process.
He has weathered a recession, a county bankruptcy and a court lawsuit against the county for lack of adequate funding.
Today, with a population of nearly 3 million, Orange County's court, too, has some trailers and even a couple of courtrooms in an old department store. Two facilities, with seven courtrooms in all, serve some 650,000 residents living in the southern part of the county, Slater says.
A 10-courtroom facility is in the works. But the facilities task force concluded that South Orange County alone will need two 20-courtroom facilities to keep up with the growth over the next two decades, he said.
Many credit Chief Justice Ronald George for his leadership in bringing California's courts completely under the state's wing. Just imagine "He has a real gift for bringing people together." Court administrators have begun to see some benefits in the shift to state-funded court operations — even with the drastic state budget crisis. But they also compare the challenges of the new structure to those of a start-up company trying to absorb 58 separate corporations at the same time.
And the mammoth tasks ahead, many agree, will require extensive teamwork. But it is "absolutely the right thing to do," White says. "And it's hard," she said. "But the right thing to do is usually hard."