Conservative San Diego elects a lesbian D.A.
By Adam Kaye
Corruption. Sex discrimination. Anti-Semitism. The charges traded in the recent race for San Diego district attorney were as vocal and venomous as those exchanged by World Wrestling Federation rivals.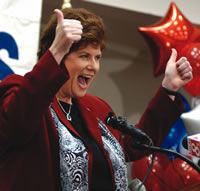 (Click to Enlarge)
It took officials a full week after election day to break the hammerlock and confirm that Superior Court Judge Bonnie Dumanis had prevailed over incumbent Paul Pfingst.
She won by seven-tenths of 1 percent.
When Dumanis takes her oath of office this month, she will become the first open lesbian elected as district attorney in the United States, according to the Gay and Lesbian Victory Fund, an organization that promotes the advancement of gay and lesbian public officials, including Dumanis.
The office Dumanis is set to lead has a $90 million annual budget and employs 1,100 people, including 300 prosecutors.
As Dumanis prepared to take office, some political junkies continued to scratch their heads over how and why she won.
Consider: San Diego County's voters usually vote conservative. Republican Bill Simon Jr. beat Gov. Gray Davis by more than 11 percentage points.
Incumbency is important in district attorney races. In the last 56 years, only three men have had the non-partisan job in San Diego.
Pfingst, who took office in 1994, ran unopposed in 1998. His predecessor, Ed Miller, was district attorney for 24 years and before losing to Pfingst, was challenged only once. Miller's predecessor, James Don Keller, also held the office for 24 years.
Both Pfingst and Dumanis are Republicans.
Still, how did a lesbian, Jewish woman beat a white male Roman Catholic incumbent?
A Pfingst campaign official said the district attorney ordered the issues of Dumanis' gender and sexual orientation off-limits during the election.
"Neither of those factors had anything to do with the race," said Larry Remer, Pfingst's campaign manager.
Dumanis believes the main reason she won was the damaging no-confidence vote cast by deputy district attorneys last year. "When two-thirds of the attorneys of the major law firm of the community say 'We don't trust our boss,' I think the public trusts them," she said.
Prosecutors accused Pfingst of ignoring ethics codes within his own office. One deputy prosecutor eventually faced charges for conducting personal business on county time. Two female prosecutors alleged sex discrimination when they were demoted upon returning from maternity leaves.
"In my view," Miller said, "Pfingst made his bed. He was intensely disliked by a lot of the prosecutors."
A Pfingst supporter said dissension was rife from the moment Pfingst took office in 1995.
Nancy Chase, Pfingst's lead consultant in 1994, said she supported him as a friend, fund-raiser and "kitchen cabinet member" in 2002.
"The Miller loyalists were plotting to get (Pfingst) from the moment he walked into that door," Chase said, "and it took them eight years. There's been an undercurrent of 'Get rid of Paul Pfingst' for a long time and they finally found their hero in Bonnie Dumanis."
Who promptly stubbed her toe.
After winning the bitter election, Dumanis took heat for inviting many deputy district attorneys to help retire her campaign debt of $60,000 at a fund-raiser.
Dumanis was on vacation when the invitations arrived at prosecutors' offices and later took the blame for including the attorneys in her mass mailing. She apologized and pledged to return any contributions made by her subordinates or their spouses.
The episode reminded Miller of 1995. "When Paul Pfingst took office, he put the arm on everyone," Miller said. "As far as I can tell the papers never wrote a thing about that."
Pfingst went on to gain national recognition for the high rate of felony convictions won by his office. Both of San Diego's daily newspapers reported the impressive figures and went on to endorse Pfingst editorially.
But he also faced criticism for his handling of the stabbing death case of 12-year-old Stephanie Crowe more than four years ago in the girl's Escondido home.
Prosecutors charged Stephanie's teenage brother and two friends in the crime but later dropped the charges when evidence suggested a drifter was the culprit. The drifter faces charges and the Crowes have filed a lawsuit against the county.
But Pfingst scored political points in another high-profile case. During the campaign, his office won a death sentence in prosecuting David Westerfield for kidnapping and killing 7-year-old Danielle van Dam.
During the election, sparks flew over a prosecutor's accusation that Pfingst made anti-Semitic comments when he was a deputy district attorney 17 years ago.
Deputy District Attorney James Atkins made the allegations during a Sept. 3 deposition in a lawsuit against Pfingst and the county.
Dumanis claimed her campaign was not responsible for the allegations.
Chase, the political consultant, had her doubts. "(Anti-Semitic) is just a lousy, crummy label to put on you," she said. "Even though the Dumanis campaign said they didn't create it, we all know they did."
"(Pfingst) was saluted in many ways but he's not a warm, touchy-feely kind of guy," Chase continued. "He pissed off a lot of people because he wasn't a warm, touch-feely guy."
Dumanis, 51, said she will make herself available to her large staff. The district attorney's office "will be a place where people can feel free to bring issues to me as a boss and know they will be addressed," she said. "We can be a proud team, where everyone is treated with dignity and respect."
Dumanis said she operates on a first-name basis with all kinds of people, from her colleagues to the valets at a restaurant she frequents.
She said she was not prepared to talk about the direction she is setting for her office.
"We need to see where the strengths and weaknesses are in the programs and in the people," she said, "to look at what the priorities ought to be based on what the crimes are, what the people want, and what the best practices are throughout the nation."
Her first job at the district attorney's office was as a typist. "She came up the hard way," said Miller, who was her boss at the time. "She worked her way up by her bootstraps."
Dumanis attended law school while working as clerk. She became a deputy district attorney in 1978. During 12 years as a prosecutor, she led the multi-agency Metropolitan Homicide Task Force, which investigated the deaths of 46 women in San Diego County from 1988 to 1992. The panel declared 26 of the cases solved.
In 1991, Dumanis left the district attorney's office and joined the Superior Court as a Juvenile Court referee. She was elected Municipal Court judge in 1994 and Superior Court judge in 1998.
* Adam Kaye is a staff writer for the North County Times in San Diego.