Alleged abuses prompt review of consumer law
By NANCY McCARTHY
Staff Writer
A California law enacted years ago as the cornerstone of consumer protection is being abused by a handful of lawyers who are targeting small business owners in a kind of legal shakedown, several state legislators charged last month.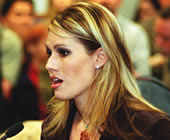 Jasmine Bilamjian
But although the lawmakers agreed the Unfair Competition Act (§17200 of the Business & Professions Code) is ripe for reform, they want to finesse any changes to the law to avoid 'throwing the baby out with the bathwater,' said Assemblyman Lou Correa, D-Santa Ana. Correa called a hearing last month to hear allegations of what he called 'frivolous lawsuits and tactics that border on extortion. . . 17200 was designed to protect consumers and it shouldn't be used as a sword to go after innocent people.'
At a later joint hearing held by the Assembly and Senate judiciary committees in Sacramento, Sen. Bill Morrow, R-Oceanside, denounced two plaintiff attorneys in attendance as 'nothing but a couple of two-bit legal whores looking for cashola.'
A handful of southern California lawyers has filed thousands of lawsuits since last April against owners of auto repair shops, nail salons, restaurants and mortgage brokerages, accusing them of minor violations. Shortly after serving the defendants, many of whom are immigrants or speak limited English, with lawsuits about 200 pages long, the lawyers typically offer to settle the case for anywhere from $500 to $8,000, according to both the targets of the complaints and their lawyers.
Failure to respond within 30 days could lead to an automatic judgment, regardless of how frivolous or unjust the allegations.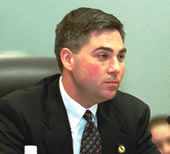 Assemblyman Ken Maddox
'I believe lawsuit abuse is one of the most important issues the legislature must address,' said Assemblyman Ken Maddox, R-Garden Grove. 'I find this behavior reprehensible. This is banana republic-style corruption and it's legalized extortion. We must put an end to it.'
Several hundred defendants who packed a Santa Ana hearing room agreed, with speaker after speaker detailing experiences. John Dunlap, president of the California Restaurant Association, said of his members who have been sued: 'They really are seeking a piece of the American dream and instead they got a slice of an American nightmare.'
Trevor Law Group, a Beverly Hills firm, has filed the majority of recent cases against approximately 1,000 Los Angeles area restaurants and 2,000 auto repair shops. Attorneys Damian Trevor, Shane Han and Allan Hendrickson, who are under investigation by the State Bar, sued the restaurants on behalf of a charity for the blind, which has disavowed the actions, citing health code violations issued by the county.
The auto shops were sued in the name of Consumer Enforcement Watch Corporation, whom Assemblywoman Judy Chu, D-Monterey Park, says is headed by Trevor's wife. The suits charge that the shops have routinely lied to customers about the condition of auto parts, billing and other matters.
According to Correa chief of staff Chris Leo, Brar & Gamulin, a Long Beach firm, has sued more than 400 nail salon owners in Orange, San Bernardino and Riverside counties, charging violations of health and safety laws for using the same bottle of nail polish on more than one customer. The firm also sued 140 ethnic grocery stores in Santa Clara County, charging them with video piracy for not labeling videotapes correctly.
The bar is investigating Harpreet Brar and Martin Gamulin.
Leo said Tustin-based Callahan McCune & Willis has sued more than 100 mortgage brokers for advertising violations and the law offices of Brian Kindsvater of Mather Field sued 224 travel agents in the Sacramento area because their license numbers do not appear on their web sites.
Jackie Fletcher
At the Sacramento hearing, Han and Hendrickson said the suits are designed to 'level the playing field" for consumers, and they accused lawmakers of holding a 'slanted' hearing. Jackie Fletcher, the owner of a Los Angeles auto repair shop, called the lawsuit filed against her "a wholesale rape of small businesses under the guise of consumer protection.' Fletcher said her business is 'hemorrhaging' money as a result of the lawsuit, and she blamed 'unscrupulous lawyers supported by inattentive legislators' for the abuse of 17200.
'We can't afford to defend ourselves and the plaintiff is a sham,' Fletcher said. 'How can this happen in the state of California?'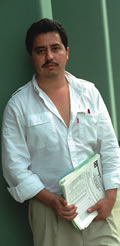 Ignacio Coronado
Ignacio Coronado, the owner of a restaurant in south central Los Angeles, said lawyers from Trevor originally asked for $3,000 to dismiss him from its complaint and later upped the demand to $8,000. 'When I call, they say all they want is money,' Coronado said. Taking a different tack from the other witnesses, he added, 'I want to say thank you to Trevor Group. They opened my eyes and they want to open my wallet.'
Originally enacted as part of the Civil Code in the 1930s to stop businesses from using unfair practices to gain an advantage in the marketplace, the statute moved into the B&P code in 1977. Commonly known as '17200,' it generally is viewed as a powerful tool for consumer groups to protect members of the public from a variety of unsavory business practices.
17200 empowers both district attorneys and private individuals to file suit, and the plaintiff need only show that members of the public are likely to be deceived. No damages need be sustained or alleged and attorney's fees may be awarded.
Supporters of the law, ranging from the powerful Consumer Attorneys of California to Consumers Union to legal services providers, have successfully used 17200 to sue slumlords, to stop health maintenance organizations from deceptive door-to-door marketing practices and to enjoin a nursing home from using practices which resulted in relatives signing documents making them liable for residents expenses.
But critics of the law, particularly the Civil Justice Association of California (CJAC), say it is abused by attorneys who, motivated by the prospect of court-ordered attorney's fees, file suit where no consumer or competitor has been harmed.
Eight attempts in recent years to reform the law have failed, primarily due to opposition from the Consumer Attorneys, who argue that 17200 is a good law being misused by unethical attorneys.
At the Santa Ana hearing, there was no shortage of suggestions on how to tweak the statute. CJAC President John H. Sullivan, who said change will only come about with bipartisan support, proposed 10 solutions, including making it a felony for private attorneys to communicate with a potential defendant in a 17200 action before a court has approved a lawsuit and the suit has been filed and served, prohibiting a private attorney from filing a 17200 action unless the activity involves an actual transaction with a consumer and actual loss has occurred, and requiring that unless the action is dismissed, every settlement must be reviewed and approved by a judge.
Robert C. Fellmeth, director of the Center for Public Interest Law at the University of San Diego, who worked with former Sen. Quentin Kopp to amend 17200 in 1997, also proposed a variety of changes, while warning lawmakers to 'not fall into the common legislative trap of unintended consequences – focusing on one set of abuses and fashioning a solution that does not resolve or exacerbates others.'
The dilemma, he said, is to distinguish cases with merit from those without. He suggested court approval of all settlements and judgments in 17200 cases, requiring any action by a private attorney general claim to be filed with the attorney general, establishing finality so a plaintiff cannot be sued numerous times for the same violation, and forming a defendant class when more than 20 defendants are served.
The last proposal would prevent the plaintiff attorney from demanding $2,000 from 300 different defendants and would instead create a defendant class in which each defendant contributes $100, setting up a sizable defense fund.
Other proposals ranged from requiring the plaintiff attorney to post a bond prior to filing suit to declaring the attorneys in question vexatious litigants. Correa even suggested that the filing of such suits, in and of itself, constitutes an unfair business practice.
But lawyers who often use 17200 to protect consumers objected to some of the proposed changes. A bond requirement, for instance, might prevent nonprofits from filing some actions, and other consumer groups want to preserve the ability to file suit before harm occurs.
At least two measures already have been introduced in this session – Correa, who chairs the Assembly Business and Professions Committee, introduced AB69, a spot bill whose details will be written later, and Republicans Robert Pacheco and Tom Harman, both members of the Assembly Judiciary Committee, introduced AB102, which would require that the plaintiff in 17200 cases sustain 'distinct and palpable injury' and prohibit any other attorney from commencing a similar action with the same defendant.
Correa said he expects between six and 12 measures to be introduced and thinks "there will be a solution' this session. But he said he will not support any legislation that undermines the core intent of 17200.
'I have absolutely no intention of dismantling this law or diluting its power to protect consumers from truly unlawful or unfair business practices,' he said.
Attorney General Bill Lockyer asked the State Bar to investigate Trevor and Hendrickson, likening their tactics to extortion. Lockyer has subpoenaed records from Trevor and other firms. Bar attorney Jayne Kim, who attended the Santa Ana hearing, told witnesses the bar has assembled the largest task force in its history - two lawyers and 20 investigators - to investigate complaints about the 17200 lawsuits. She declined to say how many lawyers are being investigated or to provide a timeframe for the probe.
'We're doing everything we can to investigate this matter quickly,' Kim said. 'It's a top priority.'
Correa said he is frustrated by what he called the bar's 'slow movement' on the case and he told the bar to 'step up.'
He believes lawyers who abuse the law should be disbarred. 'These are not people who you would trust,' he said. 'They're unethical. They should be held to a certain set of ethical standards.'