Online law school faces a long road to respectability
By NANCY McCARTHY
Staff Writer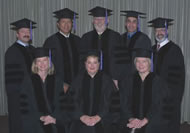 Click to Enlarge
As the first graduates of the world's first online law school prepared to take the California bar exam last month, it appeared that their success on the test eventually may play a part in the acceptability of cyber legal education.
A task force appointed by the State Bar Committee of Bar Examiners is to release a recommendation soon on whether such online efforts should be accredited, and although panel members declined to offer specifics, the group is expected to take a wait-and-see approach.
"Generally what I expect the task force to recommend is that some additional time be taken, before standards might be developed, to continue to gather and analyze information," said Alameda County Superior Court Judge Robert B. Freedman, who chaired the task force.
"The majority of the task force did feel there was not enough usable data to make a good assessment."
Freedman and others on the panel said the bar pass rate is not the only criterion to be taken into consideration for online schools to win accreditation. Other factors might include curriculum, selection criteria, face-to-face interaction between students and professors as well as among students themselves, and success in the marketplace.
And bar officials said any accreditation standards should be crafted for a class of schools, not just for the single online law school — Concord University School of Law — now in existence.
Concord opened its cyber portals in 1998 with 33 students. Five years later, 1,100 are enrolled in the part-time four-year program.
Only two types of law schools exist under the California Business & Professions Code — fixed facility and correspondence. Since Concord's courses are not taught at a fixed facility, the State Bar treats it as a correspondence school, whose students are required to take the First-Year Law Students' Examination, otherwise known as the baby bar, in order to continue their legal education.
But the well-financed Concord, operated as part of Kaplan Higher Education, a division of Kaplan Inc., is the Cadillac of correspondence schools, and is actively seeking respectability. "If we're deserving," says Concord Dean Jack Goetz, "we would like to see the baby bar eliminated."

Goetz
Beyond that, Goetz is looking for full accreditation for online schools, a goal he acknowledges is long range. "We still have some proving to do," he says. "We understand that. We're asking that someone look at us with the same rigorous standards used to accredit law schools.
"We're saying we've got something special and unique here, producing the same kinds of learning outcomes and skills development that exist in traditional law schools. We want (the bar) to think about how to accommodate online accreditation."
In four meetings, the task force heard from representatives of the American Bar Association, which uses the most rigorous standards for accreditation, as well as law professors from fixed facility schools. Debate among panel members addressed a variety of issues, Freedman said.
What is unique or different about legal education in comparison to any other form of higher education which utilizes online or so-called distance learning techniques?
Do students lose something by not being in a classroom that cannot be replicated online? Does that, in turn, affect the soundness of a legal education and the quality of legal minds produced in that process?
Is there something about the social interaction that exists between or among law students and faculty members in a traditional law school environment that contributes in some meaningful way to a legal education?
How important or necessary is hands-on clinical experience?
Hastings Law School Dean Mary Kay Kane added that she wondered how an online school could insure the examination process. And she said a key question "is if we think there's an important value in the legal education process that is more than the transmission of knowledge, things like skills and how to handle clients."
The task force's recommendation, she said, will not be a statement about "whether Concord is good or not good enough. Part of the dilemma is we don't know how others might do it."
Indeed, the whole issue of accrediting online schools offers a chicken-and-egg proposition, said Freedman. Other online schools may be reluctant to enter the field if there is no accreditation, but if only one such school exists, "we have to ask if there's a need and whether the State Bar should have accreditation standards" for a single school, he said.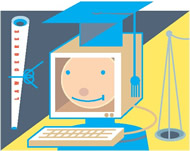 Click to Enlarge
The question of accreditation has come to California because it is the only state to permit graduates from a wide variety of law schools to sit for the bar exam. Those who do not attend an ABA- or State Bar-accredited law school also must take the baby bar.
Concord's pass rate for the baby bar has been on a par with other schools. The success rate among first-time test takers has ranged from 42.2 percent to 45.3 percent in the three exams administered since June 2001.
Among the 10 who took the full bar exam last month, six are from California. About a quarter of the student body are California residents.
The average age of Concord students is 40 to 45 and most are well-established in another career. The largest percentage are doctors, and others include accountants, engineers, small business owners, dentists, retired and active military officers and consultants. Some are stay-at-home parents and family caregivers.
Some hope to practice law; others want a law degree to enhance their careers.
Prospective students, who are expected to have a 3.0 grade point average in college, undergo an extensive admissions process. Once admitted, students have four years to complete the program, which costs $7,000 per year.
The school offers tremendous flexibility, allowing students to take courses according to their schedule.
Coursework includes video lectures, available 24 hours a day, and the same reading students at a traditional law school wade through, self-administered quizzes before a student moves on, assigned papers and weekly or regular online chat discussions. The students receive extensive feedback from professors and have their own message boards to share information with each other. Every student also has an advisor, who monitors academic progress.
Faculty teaches from 20 states and includes Harvard's Arthur R. Miller and well-known criminal law lecturer Rafael Guzman.
Fourth-year student Floyd Chapman, a 44-year-old compliance officer for New York Life in Woodland Hills, hopes to practice law, but says future career plans depend on the opportunities presented. Chapman enrolled at Whittier Law School in 1994 but the press of his work demands forced him to quit. When he decided several years ago to give it another try, he was accepted again at Whittier, but thought Concord would fit in to his life better.
"Its curriculum, teaching methods and the ability to sit for the bar all prompted me to sign up," he says. "I chose it because of its convenience."
Chapman spends 25-30 hours a week on coursework, which he describes as "absolutely challenging. We have the same rigors one would have in any good law school, the same books, the same substantive law."
Goetz notes that Concord has created access for students for whom law school would otherwise be impractical or impossible because of job or family responsibilities or geographic location.
The concern about human interaction is misplaced, he says, because in fact there often is more interaction at Concord than at fixed facility schools. It's just online instead of in person. Goetz believes there is a "myth of contact" about the give and take process at fixed facility schools that "really does not comport at all with the experience most of us had."
As for clinical work, Goetz said the school is collaborating with William Mitchell Law school in Minneapolis, where students can attend an online trial advocacy course and as a sequel, may enroll for an advanced class during the summer.
In addition, an externship program has enabled some Concord students to be placed in local communities and has included work for a Brooklyn legal aid clinic, a district attorney in California and a judge in Virginia.
While the ABA seems unlikely to accredit full online education any time soon, it recently decided to allow for partial credit for online classes. "We've amended our standards to accommodate this fairly new phenomenon," said spokeswoman Nancy Slonim. "Who knows what will happen down the road?"
Jerry Braun, the State Bar's director of admissions, sees hope for eventual accreditation of online schools. "Let's see how they perform on the bar exam for five or six years so we get a track record. Let's see how they're thought of in practice, if they're thought of as equal to people who have a traditional education.
"If you have people practicing successfully and are well thought of, who received their legal education at an online law school, that validates the school," Braun added.
Goetz thinks it's only a matter of time. "Our students have to prove themselves in the community and on the bar exam," he says. "The internet is here and it offers exciting opportunities. The train has already left the station."