A legal career aimed at ending elder abuse
By NANCY McCARTHY
Staff Writer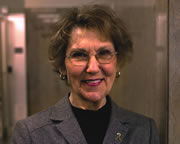 Karr
Helen Karr spent 25 years working for a company that managed beauty salons in department stores, where she heard the complaints of older women whose children or caregivers stole their money. She tucked those stories into a corner of her mind, until she read an article about two women lawyers in southern California who offered free legal services to women who needed their advice.
"I thought I could do that," Karr says. "In my mind, I thought, 'I'll help that older woman.'"
So at the age of 60, a year before retiring from her career as a supervisor, account executive and human resources executive, Karr enrolled in San Francisco Law School and was sworn in as an attorney on her 64th birthday.
"I'll never forget that day," she says. "It was like it was supposed to be."
Karr's mother wanted to be a lawyer but had a career as a legal secretary, and Karr herself never thought about a legal career until she was older. When she joined the bar, she thought, "Maybe Mom's telling me something."
But Karr didn't become a practicing lawyer. Instead, she donates two days a week to the elder abuse unit of the San Francisco district attorney's office and devotes the rest of her time to raising awareness of elder abuse.
A senior citizen advocate at the local and state level, Karr, now 68, recently was appointed by Speaker of the Assembly Herb Wesson to the California Commission on Aging. She is a member of the California Senior Legislative Assembly, belongs to local and county senior advisory councils and writes a monthly column for her hometown Pacifica Tribune about elder issues. She makes television appearances, speaks to community groups, testifies before the legislature and lectures at colleges.
She initiated the use of gold, in recognition of seniors' "golden years," as the color for the elder abuse awareness ribbon that is worn nationally and internationally.
"Helen is a person who is dedicated with every fiber of her being to combating elder abuse," says Diane Knoles, San Francisco assistant district attorney who supervises the department's elder abuse unit.
"She does it in small ways and large ways, working at the local level, the state level, working on policy and legislation and working with me on individual cases. She's really phenomenal and has an ability to be flexible in looking at large- and small-scale problems."
Karr's most recent project has been serving as an advisor for the State Bar's publication of "Seniors & the Law," its newest consumer guide, scheduled for publication next month (See page 3). The guide is the third in a trilogy which includes "Kids & the Law: An A-to-Z Guide for Parents" and "When You Become 18: A Survival Guide for Teenagers."
The 16-page "Seniors" guide, written by Kristina Horton-Flaherty and funded with a $50,000 grant from the Foundation of the State Bar, will be published as a supplement to the May California Bar Journal. It also will be available in Spanish.
"It was needed, it's timely, it's for every background and it covers all the issues," Karr said.
Born and raised in Colorado, Karr became a flight attendant, married and had three children before moving with her family to Fresno. She worked full-time for Seligman and Latz, a New York company which operated beauty salons in department stores.
When her children began school, she decided to return to school herself, enrolling in Fresno State. It took her 10 years to earn a bachelor's degree in English, all the while climbing the ladder at her business.
Karr, whose husband had died, transferred to San Francisco in 1984.
She never forgot the stories of those senior citizens in the beauty salons. "I had a little goal to help older women who couldn't afford to hire an attorney, so they could be a little protected," Karr said. She interned at the district attorney's consumer fraud office and began to volunteer for the new elder abuse unit.
Her work there now entails research and helping Knoles with the nuts and bolts of cases.
Although there's no reliable data on the extent of elder abuse nationally, Karr said experts in the field estimate one of every 20 seniors will be abused in one way or another in their old age, most by their adult children or caregivers. Between 500,000 and 5 million seniors are abused annually throughout the U.S., she said, and about 60 percent of the cases involve financial abuse. Many cases are not reported because the victims are ashamed, afraid or don't know where to turn, Karr says.
Like child abuse and domestic violence, it has taken years for elder abuse to win the notice of the public. In 1984, California legislators modeled the first elder abuse laws on child abuse laws that focused on physical abuse and neglect. Elder financial abuse was added in 1998.
Although all 50 states have some elder abuse laws, there are no national laws addressing the problem. However, pending federal legislation - SB 333, the Elder Justice Act - would give elder abuse national recognition.
Karr is now working to have the Commission on Aging stage a state-wide conference on elder abuse awareness. "I want a public hearing," she said. "It's a big issue."