Bar publishes comprehensive elder guide
To celebrate Law Day and to launch Older Americans Month, the State Bar of California is releasing its newest public education guide, Seniors & the Law: A Guide for Maturing Californians.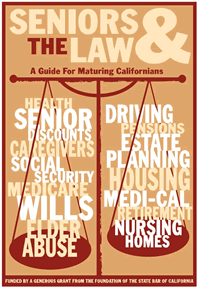 (Click to Enlarge)
The comprehensive guide, the third in a series of consumer education publications, has been printed in both English and Spanish and is being distributed statewide via senior agencies and organizations, legal services and this newspaper. In addition, the State Bar is participating in 14 events around the state to unveil Seniors & the Law and to raise awareness of a host of issues confronting seniors, from making ends meet, to applying for Social Security, to avoiding wily scam artists (see related trust mill story under Attorney Discipline>Feature), to granting power of attorney, to purchasing long-term care insurance, to elder abuse, or even to issues surrounding remarriage or custody of grandchildren.
"This is a great way to reach a growing and vitally important segment of our population," said Nancy Hoffmeier Zamora, chair of the bar's stakeholders committee that has spearheaded the public education projects. "With its publication, Seniors & the Law puts in one comprehensive guide all kinds of relevant information which every Californian needs to know as they face the prospect of their golden years."
The publication - as with Kids & the Law: An A-to-Z Guide for Parents in 2001 and When You Become 18: A Survival Guide for Teenagers in 2000 - is funded by a $50,000 grant from the Foundation of the State Bar of California.
"Seniors & the Law is especially important to us," said Herbert Rosenthal, president of the foundation, "because seniors comprise a significant portion of our society, and the number of seniors living in California is rising steadily." Rosenthal noted that the bar foundation has continuously provided funding for programs that serve seniors and said providing support for Seniors & the Law is a natural outgrowth of those earlier commitments.
In addition to the foundation, the bar has developed partnerships with a number of agencies and organizations - most notably the California Agency on Aging, the California Retired Teachers Association, the California Law Advocates and individual AARP chapters - in launching this new public education guide. Seniors & the Law was written and designed by bar publications specialist Kristina Horton Flaherty; researched by attorney Helen Karr; and illustrated by artist Don Asmussen. The statewide events were coordinated by the bar's public information office.
The bar expects to distribute nearly a million copies of Seniors and the Law by the close of the year. In addition, the guide will be available on the State Bar's website, www.calbar.ca. gov, in both English and Spanish, and plans are underway for additional translations in the near future.
To order copies of Seniors & the Law: A Guide for Maturing Californians, please send an e-mail to barcomm@calbar.ca.gov and state your name, complete mailing address (P.O. Boxes are not acceptable), the number of copies ordered and choice of "English" or "Spanish" version for each number, and a daytime phone number. If you do not have access to e-mail, please include the required information above and send to The State Bar of California, Attn: Seniors & the Law, 180 Howard St., San Francisco, CA 94105-1639.
The guide is free, but any contributions via check made payable to The State Bar of California and sent to the above address will be gratefully accepted.