24 groups win foundation grants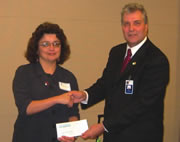 (Click to Enlarge)
Twenty-four community organizations and four State Bar entities have received grants totaling more than $164,000 from the Foundation of the State Bar.
The foundation, supported by voluntary donations from California's lawyers, provides scholarships for law students and educational programs for high school students in addition to the grants for law-related programs run by community organizations.
The grants went to:
Family Law Center, San Rafael, $3,000, for a Fatherhood Initiative;



Multicultural Education, Training & Advocacy Inc. (META), San Francisco, $5,000, Retention Rights Handbook;



Positive Resource Center, San Francisco, $4,500, HIV provider training;



Lawyers' Committee for Civil Rights, San Francisco, $4,498, legal services for interpreters;



Volunteers in Parole, San Francisco, $15,000, Mentoring Plus program;



Family Violence Law Center, Oakland, $5,000, violence prevention project;



Recourse Mediation Services, Santa Rosa, $3,000, family mediation training program;



Western Law Center for Disability Rights, Los Angeles, $5,000, learning rights project;



Los Angeles Center for Law and Justice, $5,000, minor parent project;


Orange County Bar Association, Santa Ana, $5,000, parents' legal rights and responsibilities workshop;



Disability Rights Education and Defense Fund, Berkeley, $6,775, minority and low-income parent training project;



Legal Services of Northern California, Sacramento, $3,500, "Busting the Trust Mills" project;



Earl B. Gilliam Bar Association, San Diego, $3,500, Neighborhood Law School;



Korean American Bar Association, Los Angeles and Orange County, $1,600, monthly pro bono legal clinic;



Public Law Center, Santa Ana, $6,000, Southeast Asian Legal Outreach Project;



East Bay Community Law Center, Berkeley, $1,680, Tenant Language Access Project;



Children's Rights Clinic of Whittier Law School, Costa Mesa, $4,654, production and distribution of a guide for self-represented litigants;



Asian Pacific American Bar Association of Los Angeles County, $4,375, to celebrate Asian Pacific American Heritage Month;



Central California Legal Services, Fresno, $5,000, urban/rural pro bono project;



Lesbian and Gay Bar Associa-tion, Los Angeles, $1,522, for its website;



Los Angeles County Bar Association, Dispute Resolution Services, $8,996, for a peer mediation program;



Santa Barbara Teen Legal Clinic, $4,300, Street Law Program;



Ventura Superior Court, $5,800, schools outreach coordinator; and



The Boys & Girls Club of Humboldt County, Eureka, $6,455, for teen court.
The State Bar entities which received funding are:
Office of Legal Services, $12,500, Center for Access & Fairness;



Environmental Law Section, $15,000, student outreach program;



Office of Certification, $7,500, outreach campaign of special master's program; and



Office of Legal Services, $10,000, anti-predatory lending training.