Attorney-pilot is a top flight volunteer
By Adam Kaye
The medical clinic in Jesus Maria, Mexico, does not offer valet parking, nor is it the kind of place where patients discuss their care on cellular phones. The afternoon wind sandblasts the block building, and villagers' dreams of gold in the surrounding hills swirl with each gust.
North of all this — about four hours north by way of a twin-engine Beechcraft Barron — is the Newport Center, glass and steel towers that command views of a country club and harbor. Upscale shopping and restaurants are aplenty. So are cell phones and parking valets.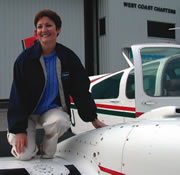 (Click to Enlarge)
Julie McCoy Akins, 44, knows both of these worlds, as a volunteer pilot who flies medical missions into Mexico and as an attorney specializing in business torts and intellectual property in Newport Beach.
Akins' employer, Stradling Yocca Carlson & Rauth, is a top firm in bustling Orange County and occupies four floors of the Newport Center.
In the legal world, Akins is a lead pilot in the Orange County and federal bar associations.
In rural Mexico, her command of the Beechcraft benefits villagers served by two charitable groups — the Flying Samaritans, Orange County Chapter, and Liga International, the Flying Doctors of Mercy. Both organizations provide free medical and dental care in remote villages.
Akins is Liga's president.
"She seems to end up as president of damn near everything," said Jim Riddet, a criminal law attorney and former colleague of Akins' in the Orange County chapter of the Federal Bar Association.
The Newport Center, where Akins' legal business culminates, is a quick commute from her Irvine home, traffic permitting. Also nearby is John Wayne Airport. That's where the Beechcraft lives.
On the first weekend of the month, Akins welcomes medical workers and their equipment onto the 12-seater. On a recent trip, Akins also accommodated armsful of prosthetic limbs.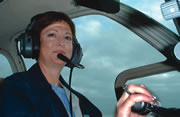 (Click to Enlarge)
Liga is in its 65th year. Based out of Hangar 2 at Rialto Municipal Airport near San Bernardino, the outfit serves up to 1,000 patients at three clinics monthly. Doctors and dentists treat all kinds of ailments, from cleft palates to root canals.
Jim Ott, executive director, takes particular pride in the group having delivered $7.5 million in services and supplies on last year's $75,000 budget.
The organization is more efficient than ever, volunteers are feeling re-energized and behind it all is Akins, Ott said.
"She's certainly a very dynamic leader that is making major changes in Liga and getting things rolling and exciting people," he said.
Akins has refreshed Liga's dated documents, including its bylaws. As a pilot, she and the Beechcraft haul clinicians and their gear deep into Mexico. And she doesn't sit idle once she gets there.
"When she's down in Mexico," Ott said, "she's likely to be sitting on the floor of the pharmacy taking inventory of the meds. No job is too low for her to do. She does what needs to be done, whether that's in the boardroom or on the floor of the pharmacy."
The flights aren't always easy.
Three years ago, shortly after takeoff from Ciudad Obregon, Akins and two passengers — a doctor and a chiropractor — heard a loud and unsettling bang.
"The whole thing started to shake," Akins said. "It made a whole lot of racket."
A passenger asked what the hell was going on. Akins didn't know.
But she kept her cool and marshaled the underpowered Cessna back to the runway. There, an Aeromexico mechanic discovered a blown spark plug and dug up a replacement.
Compelled to disclose the problem, Akins called the Cessna's owner. "He was very upset and never let met take another one of his planes into Mexico again," Akins said. "But that actually was a good thing. It led me to buy the Beechcraft."
As Akins reflected on all this, she said the payoff comes from sincere and appreciative patients.
One of them was a sun-beaten campesino with leathery hands, graying hair and a missing leg. Akins had delivered a prosthetic limb to him.
"He was sitting in a wheelchair, wearing that leg, with tears of gratitude running down his face," she said.
In interviews, legal colleagues are less emotional but quick to point out Akins' contributions to the profession, such as her service in Orange County's chapter of the Federal Bar Association.
She has served on that association's board of directors since 1993 and in 1999 was its president. She is the Orange County Bar Association's secretary and is in line to become president in 2006. In 2001, she chaired the organization's judiciary committee. She also has been a board member in charge of the association's charitable fund.
Hers is a familiar face on the board of Orange County's chapter of the Association of Business Trial Lawyers.
She is a lawyer representative in the Ninth Circuit Judicial Conference and in 2001 chaired the Orange County Bar Association's judiciary committee.
"I find the connection to other prominent professionals in the legal community as invaluable to me on both the personal and professional levels," Akins said. "The practice of law has become more of a business in recent years. The only way to plug into that feeling of 'We're part of a noble profession' is to connect with others in the legal community, particularly those of the stature who I'm privileged to associate with in the bar leadership."
Akins says she is grateful for many positive influences in her own life, namely that of her father, an attorney who enrolled in Southern Methodist University Law School the year she was born.
Years later, like her father, Akins attended the same university and earned a law degree in 1983.
Another influence was a woman Akins never met. Her grandmother's cousin, Edith MacGillis, is the only other pilot in the family. MacGillis flew alongside the likes of Amelia Earhart and her sidekicks and won the Powderpuff Derby in 1927.
Akins was inspired, but she said her father was "very, very opposed" to his daughter's interest in flying.
"Maybe that's my little rebellion," she said.
• Adam Kaye is a staff writer for the North County Times in San Diego.