Annual Meeting beckons participants to Anaheim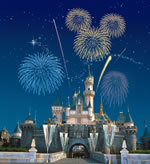 (Click to Enlarge)
No longer known as just the home of Disneyland, the city of Anaheim has grown to become the 10th largest in California. The world champion California Angels play at Edison Field, the Anaheim Convention Center hosts groups as diverse as school employees and a pet supply association and the California Adventure theme park now shares Disneyland's audience.
In short, the place is a resort destination.
And it's where the State Bar will hold its Annual Meeting next month. Several thousand lawyers are expected to attend this year's Sept. 4-7 convention, marking the bar's 76th year.

Kennedy
Highlights include addresses by Ted Kennedy Jr. and radio talk show host Larry Elder, as well as Chief Justice Ronald George's annual State of the Judiciary address and the inauguration of Fresno lawyer Anthony P. Capozzi as the bar's new president.

Elder
New members of the board of governors and the California Young Lawyers Association also will be sworn in, attorneys who perform extraordinary good works will be honored and the new Conference of Delegates of California Bar Associations will hold its first meeting.
Participants can earn up to 20 hours of MCLE credit for a single low price tag, have access to an Internet Cafe in the Convention Center's exhibition hall, and those with an artistic bent will exhibit their work at the 76th art show. The rescheduled bar leaders conference, designed for bar associations' presidents-elect, incoming presidents and executive directors, will be held Thursday.
Complete information about meeting events and courses, as well as hotel and travel arrangements, is available at http:// www.calbar.ca.gov/archive/calbar/annualmeeting. Early registration ends Aug. 6 and the pre-registration deadline is Aug. 22. A single registration fee entitles participants to entry to everything but ticketed events.
Discounted Disneyland tickets also are available to registrants.
The four-day event kicks off Thursday, with a luncheon featuring Ted Kennedy Jr., who will discuss how the disability rights movement unites diverse political philosophies and interest groups in efforts to win passage of legislation. Kennedy, who lost a leg to cancer when he was 12, is an attorney practicing disability and health law.
The bar leaders' conference will last most of the day and address issues such as governance, fiduciary responsibilities and communicating with members and the media.
An opening night complimentary reception hosted by incoming President Anthony Capozzi will be held Thursday at the exhibit hall, where scores of vendors will display their products.

Wertheimer
Also that evening is the annual California Women Lawyers dinner which this year features National Public Radio senior correspondent Linda Wertheimer, who will offer an insider's view on how the war in Iraq has changed the political landscape and how it might influence the 2004 presidential race. Tickets to the event are $95.

Boutris
Friday gets off to an early start with a breakfast, co-sponsored by the bar's Business Law Section, featuring California Corporations Commissioner Demetrios A. Boutris.
The bar luncheon that day features nationally syndicated radio talk show host Larry Elder, who will speak about "The Constitution, Yesterday and Today." Elder, known to his listeners as the "sage from South Central," will discuss the Founding Fathers' vision of limited government, the growth in scope and obtrusiveness of the welfare state, and the federal regulation of businesses, the workplace and hiring in what Elder says is in violation of the Founding Fathers' principles of federalism.
The day wraps up with the presentation of the President's Pro Bono Service Awards and the prestigious Loren Miller Legal Services Award.
Capozzi will be sworn in as the bar's 79th president Saturday morning, and six new members of the bar's board of governors and the new CYLA board members also will begin their terms.
Judge Patricia M. Wald, retired Circuit Judge of the D.C. Circuit, will deliver the annual Morrison Address Saturday, examining the topic, "Terrorists, War Criminals and the New International Criminal Court: Finding the Right Fit."
Attorney General Bill Lockyer will deliver his annual address that afternoon at 3 p.m. to meeting participants.
The Office of Legal Services, Access & Fairness Programs will hold its annual diversity program Saturday afternoon, to be followed by a reception with a keynote address delivered by U.S. Magistrate Fernando Olguin. Bar President James Herman and Olguin will present diversity awards to an individual attorney and to a bar association for their exemplary contributions and significant impact on furthering diversity in the legal profession.
Both events are open to the public and are funded entirely by voluntary contributions.
The day ends with the annual dinner dance and Monte Carlo night. Cost of the event is $65 per person.
The extra calories from the banquet can be dealt with the following morning at a 5K fun run/2K power walk along Convention Way, the new "front entrance" to the Anaheim Convention Center. The $30 entry fee includes a t-shirt, light refreshments and awards.
The new independent Conference of Delegates of California Bar Associations convenes Friday through Sunday at the Convention Center to debate resolutions affecting all areas of law and legal practice in California. The group's new status enables it to lobby without restriction, independent of the bar.
For most attendees, MCLE credit is the draw, and the Annual Meeting offers low-cost, one-stop shopping for those in the market. Some 200 courses will be offered, beginning Thursday morning and continuing until noon Sunday.
Attorneys whose last names begin with the letters A-G might be particularly interested since they face a compliance deadline of Feb. 1, 2004.
Offerings cover the full spectrum of legal practice, from disability rights to elder law, from ethics to rainmaking, from taxes to trusts. There are courses on office and time management, technology, retirement planning, attorney's fees and conquering paper clutter and e-mail overload. Timely topics like mold litigation, cyberspace law, World War II reparations and homeland security will be the subject of sessions.
"Two Smart Guys Talking About the U.S. Supreme Court" (Friday, 10 a.m. - noon) features law professors Erwin Chemerinsky and John Eastman. A course on the USA Patriot Act and civil liberties (Saturday, 4:45 - 5:45 p.m.) offers one hour of MCLE credit.
If you like toys, you can sit in on "Sixty Scintillating Sites, Tips and Gadgets in Sixty Minutes" (Thursday, 4:45 - 5:45 p.m.) and learn what techno gadgets are on the market and how to use them. "The Pinocchio Response: How to Spot a Liar" (Saturday, 8:30 - 10:30 a.m.) will teach you about 30 behavior mannerisms that give most liars away and give you two hours of MCLE credit.
Meetings and classes will be held at the both the Anaheim Hilton and the Anaheim Convention Center. A single registration fee admits participants to all educational programs.
The Annual Meeting Preview, containing a complete listing of continuing education programs, registration and housing information and descriptions of all events, is available at http://www.calbar.ca.gov/archive/calbar/annualmeeting.