Quiet but determined, new bar chief Capozzi
rolls up his sleeves
By Nancy McCarthy
Staff Writer
When Anthony Capozzi was growing up in Buffalo, he loved visits from an uncle who was an attorney with the Department of Justice. "He'd tell me about his cases," Capozzi recalled recently. "I loved the way he dressed, with a great topcoat. I said, 'God, what an image.' I thought it would be exciting to be a lawyer and try a case."

(Click to Enlarge)
Little did the humble Capozzi think that not only would he become a successful lawyer, he would live out his dream in sunny California and highlight his career — thus far — by becoming president of the State Bar.
"To this day," he says, "I get a thrill with a new case. It is so exciting."
Now a fixture in Fresno, Capozzi has come a long way. Active in Democratic politics, he's a successful fundraiser, acquainted with political figures throughout California. As a white collar criminal defense attorney, he's a familiar face in the Fresno federal court building. And as a local bar activist, he's known to many of the city's nearly 2,000 lawyers.
"Tony's competent, he's qualified, he's a consensus-builder, he'll take a common sense approach and he'll work hard," said Donald Fischbach, the only former State Bar president from Fresno.

(Click to Enlarge)
Capozzi, 58, likely will need those qualities once he's sworn in as the bar's 79th president this month, taking the reins from Santa Barbara attorney James Herman. Declining income and increasing expenses continue to pressure bar operations, and it faces ongoing issues such as its relationship with the legislature, providing adequate access to the courts and service to members.
Capozzi has spent the last couple of months learning at Herman's elbow and is anxious to roll up his sleeves and get to work. "My motto is, 'where there's a will, there's a way,' and I'm trying to come up with some new and innovative ideas," he said.
Capozzi lists several priorities for the coming year:
He hopes to improve the bar's relationship with the legislature by working with lawmakers throughout the year and enlisting help from members of the legal community who are not active with the bar.



He wants to ensure access to justice by encouraging pro bono work and doing what he can to keep court funding stable.



He will search for non-dues revenue to ease the bar's finances and will work to increase the annual fee for inactive lawyers as a way to raise revenue. "It's too early to tell what we can do for 2005," he said. "If need be, we'll ask to raise dues, but I think $390 (the current fee for active attorneys) is reasonable."



He is considering asking for an efficiency study of the bar's discipline operation and he wants to look at the idea of introducing mediation into the process. "I want to see if we can make discipline more effective, efficient and economical," he said.



He wants to focus the board of governors on setting policy rather than involvement in day-to-day operations. "We have to keep in mind our only employee is (executive director) Judy Johnson and we should not be micro-managing," he said.



And he wants to let the public know the good things lawyers do, an awareness which he thinks will in turn improve the public perception of attorneys.
He also plans to tap the expertise of previous presidents and, like Herman, hopes to travel to as many counties as possible, making contact with lawyers throughout the state.
"Tony's a real team builder and an effective leader," said Herman, who has grown close to Capozzi in their three years together on the board of governors. "He's done a tremendous job as chair of the planning committee in the past year, and he's going to be a very budget-conscious leader." Herman noted that the bar is caught "between a level income and increasing expenses" and said that the "dilemma it will face in the coming year is how to approach that issue in a way that does not threaten our core functions of public protection and member services."

(Click to Enlarge)
Quiet and reserved, Capozzi said he learned determination from his working class parents, who taught him that "to get anywhere in life, you needed to work hard and be persistent." His late father, Joseph, was an Italian immigrant who worked 40 years in New York's steel mills, never earning more than $5,000 a year. His mother, Lilia, is now 89 and spends part of the year in Fresno with Capozzi and his family.
The fourth of five boys, he was a high school athlete, earning all-conference honors as a split end in football as well as playing on the basketball team. But fear of injury and the possible loss of his scholarship made him resist college football at the State University of New York at Buffalo, where he majored in philosophy and was elected president of his fraternity.
The first in his family to attend college, Capozzi financed his education by working as a grocery clerk and cashier and during the summers joined his dad in the steel mill. He lived at home until enrolling in law school at the University of Toledo, inspired by that dapper uncle who eventually offered young Tony a clerkship with Omer Poos, a federal judge in Springfield, Ill.
Nervous about such a daunting job, Capozzi told himself, "If I just worked hard, I could do it." Indeed, the job turned into a three-year stint, and Poos' inscribed photo hangs in a place of honor in Capozzi's conference room.
When his clerkship ended, the young lawyer knew it was time to start trying cases, and having worked in federal court, thought prosecution work would suit him. "I knew I wanted to be a federal prosecutor, and I knew I wanted to be in warm weather," he recalled. While watching "Play Misty for Me," a Clint Eastwood classic set on the central coast, during a raging blizzard, he decided California would offer the weather he was looking for.
Capozzi sent resumes to four U.S. Attorneys in California and, when the first offer came in from Fresno, he accepted and began trying civil and criminal cases. The departure within six months of his boss allowed Capozzi to quickly climb the ladder to supervising assistant attorney. He spent the next six years prosecuting everything from medical malpractice in a veterans hospital to a range of crimes within the central valley, which includes Yosemite, the national park with the highest crime rate in the country.
With the support of local judges and several elected officials, Capozzi applied for appointment as U.S. Attorney, and although he was one of three finalists, he lost out, partly he felt because he lacked political connections.
He left the federal government to run for district attorney, winning the primary but losing the general election. But he continued to work on building hid political network and became a successful Democratic Party fundraiser while working as a solo criminal defense lawyer, handling several high profile cases.
In 1989, politics called once more and Capozzi ran for mayor of Fresno. He had defended a young woman in a drug case, and his opposition ran an ad deriding Capozzi's profession, asking voters if they wanted a mayor who had defended drug dealers. He lost the election and turned wholeheartedly to the law.
"That was it," he said. "I decided I'd represent anyone who walks in my door."
Capozzi works in a four-room suite, with the help of an administrative assistant and a part-time bookkeeper. His office walls are covered with large portraits of his children, Nicco, 21, a political science major at Fresno State, and Julia, 16, a high school junior and champion equestrian. The conference room bears reminders of his political connections, with photos of President Carter, Walter Mondale, Geraldine Ferraro, Tony Coelho and Richard Gephardt, as well as a prized picture of Capozzi and his wife with the late King Hussein of Jordan at a White House state dinner during the Carter Administration.
His shelves are crammed with law books that share space with scrapbooks and boxes containing newspaper clippings about his cases. One of the most high-profile involved a Taiwanese farmer accused of disturbing the habitat of four endangered species, including the zoo rat. The case attracted national attention, a media frenzy outside the courtroom and resulted in a book. "We won," Capozzi said. "The government dismissed it."
He also defended former Assembly Speaker Brian Setencich on bribery and tax evasion charges, but declined to represent Cary Stayner, later convicted of murdering three Yosemite tourists and a park naturalist.
One of his most memorable cases, he said, was that of a bank robber he prosecuted while in the U.S. Attorney's office. With testimony from five eyewitnesses and other damning evidence, the man was convicted and sentenced to eight to 10 years in prison. Four months after the conviction, Capozzi was approached by the FBI, who reported an almost identical bank robbery had been committed in San Diego and suggested an innocent man may have been convicted.
Capozzi eventually had the case dismissed. "I felt awful, I wrote him a letter of apology," he said, describing his anguish.
Capozzi also handles occasional appointments to represent the indigent, and last month made an appearance on behalf of a defendant accused of bank robbery and another who was in the country illegally. Right now, he said wryly, "I'm on a major losing streak."
Walking through the halls of the federal building, Capozzi was greeted by many of his colleagues. "He's a very good lawyer, with one of the best reputations in our community," said Michael J. "Mac" McGinnis, an attorney and longtime friend. "He's very low key, very intelligent, a negotiator and a peacemaker."
Asked if he'd ever like to join the bench, Capozzi demurred. "I like trying cases," he said. "I like fighting the battle.
"I love being a lawyer," he added. "If I were to die and come back again, I'd want to be a lawyer. I can't imagine not doing what I'm doing. And I'm just thrilled to be State Bar president."
Capozzi and his wife, Paula, have lived in the same home since 1981, overlooking the San Joaquin Country Club and, in the distance, the Sierra Nevada. Capozzi first noticed his future wife at the scene of the Chowchilla kidnapping in 1976, when as a telephone company public relations executive, she set up phone service for the dozens of reporters covering the story. Capozzi was a federal prosecutor at the time and drove by the scene, thinking he might have to someday prosecute the kidnappers.
"He's the sweetest guy I've ever met," Paula said. "He's very compassionate, but at the same time real sharp. I think he'll bring a lot of respect through his connections and the way he works with people both inside and outside the bar."
When asked to describe himself, he hesitated, finding it difficult to talk about himself. "I'm friendly, but I'm firm," he said. "I'm willing to change my mind if you can convince me, but at some point, I have to make a decision and go with it."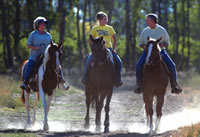 (Click to Enlarge)
Although Capozzi owns four horses and supports his wife and daughter's love of riding, he only rides with Paula on her birthday and Mother's Day. His real love is golf, which he managed to play 80 days last year. With his current busy schedule, the number of games has dropped to a handful and his handicap, formerly down to "almost single digits," is climbing. "Some-day I'm going to be a good golfer," he sighed.
Also on hold are studies at Fresno State, where he's finishing up a master's program in international relations. He plans eventually to earn a doctorate, "mostly as a personal achievement."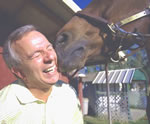 (Click to Enlarge)
Despite 12-hour days, Capozzi is a devoted family man and spends as much time as he can in the kitchen, whipping up Italian dishes from scratch. When it's not too hot, he likes to relax and enjoy a cigar on his deck, looking at the mountains in the distance.
When he was elected to the board of governors, after simultaneous presidencies of the Fresno County Bar and San Joaquin Federal Bar associations, Capozzi was a critic who believed bar dues were too high and discipline was imposed for petty reasons. Three years later, he's far less critical, although he believes a key issue hasn't changed much.
"My campaign issue was, 'Can we make the State Bar relevant to the lawyers of California?' he said. "What can we do to help the member who's practicing law every day and is concerned about his or her practice?
"I still believe we have a long way to go to show how we relate to the members."
• The swearing-in ceremony for the 79th president of the State Bar of California is scheduled in Anaheim on Sept. 6 during the bar's Annual Meeting.