Bar honors pro bono attorneys
By Kristina Horton Flaherty
Staff Writer
A Glendale legal team helped finalize the adoptions of dozens of foster children without charge. San Diego attorneys spent more than 3,500 pro bono hours representing a severely disabled boy in litigation against a school district. And thanks to a Berkeley attorney, an abused wheelchair-bound senior citizen no longer faces eviction from her home.
These are just a few of the attorneys who received the 2003 State Bar President's Pro Bono Service Award last month. The award, created two decades ago, is presented each year to California attorneys and law firms credited with making significant contributions in pro bono legal services to those with little income and to organizations whose primary purpose is to serve the poor. Recipients from nine different categories were honored at the State Bar's annual meeting in Anaheim.
They come from small, medium-sized and large law firms. There is a solo practitioner, a government attorney and a team of corporate in-house counsel. Their legal specialties differ, but all have found ways of helping impoverished Californians who are in need of legal help.
"At a time when most low-income Californians cannot even afford basic legal services, these award recipients truly set a shining example for all attorneys," said former State Bar president James Herman. "They make me proud to be a lawyer."
The 2003 award winners are:
Corporate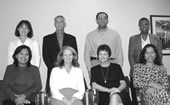 (Click to Enlarge)
Glendale attorney Cassandra Wentt was in the process of adopting her third foster child when she first raised the possibility to colleagues of helping others do the same. The idea took hold at her firm, and what resulted was the Barry Bartholomew (BB&A) Pro Bono Adoption Group — eight attorneys who have helped finalize dozens of adoptions for free.
"What we do is small, but it is something and sometimes it means everything to those we help," said Barry Bartholomew, the firm's managing attorney.
In a departure from BB&A's usual work (the 58-attorney firm is in-house counsel for State Farm Mutual Automobile Insurance Company), the firm's Pro Bono Adoption Group has been working with the Alliance for Children's Rights in Los Angeles to speed up the adoptions of foster children. Last year alone, the team spent more than 100 hours finalizing the adoptions of 22 foster children in 17 cases. The year before, it finalized 41 such cases. Recently, the group began handling uncontested guardian- ships as well.
In thank you notes to the firm, adoptive parents describe newfound "peace of mind" and talk about "special angels." In the case of a foster mother who had spent years trying to adopt a child she had raised since infancy, the team was able to finalize the adoption just two days before the child's 18th birthday. In another case, a single mother was rushing to adopt two toddlers afflicted with terminal medical conditions so they could be buried with a family name. In a third, a gratified boy was overcome with tears in court when asked to sign a form with his new adoptive name.
The BB&A pro bono adoption group includes Wentt (currently adopting the two baby brothers of her third adopted son) and fellow attorneys Karen Davis, Ted Okazaki, Ruby Shimomura, Heather Bale, Anne McCurdy, Irene Borromeo and Rob Mansour.
Government

Binder
Some 15 years ago, San Diego deputy public defender Steven R. Binder helped create one of the nation's first homeless courts — a "therapeutic justice" program held at a local homeless shelter. The program, now in other communities as well, has reportedly cut court and jail costs, built community collaboration, improved court access and helped the homeless obtain services and jobs.
Its supporters give Binder, 45, a lot of credit.
"Thanks to his enormous efforts, the most marginalized members of society have been offered a mechanism for resolving their minor criminal offenses and rejoining society," says Tina Rasnow, coordinator of the Ventura County Superior Court's Self-Help Legal Access Center. It is unlikely, she says, that Ventura County's own award-winning homeless court could have been created without Binder's "groundbreaking and backbreaking" efforts.
Binder provides pro bono help to individuals as well. Last year alone, he volunteered more than 400 hours in legal assistance. Meeting with defendants and their social workers at homeless shelters, Binder reviewed their progress in treatment programs, counseling or community service work in preparation for homeless court. He also recently spent more than 150 hours authoring an American Bar Association manual on how to implement homeless court.
Created in 1989 by the San Diego Public Defender's Office and the Vietnam Veterans of San Diego, San Diego's homeless court has served as a model for programs in Los Angeles, Sacramento, Riverside and Ventura counties, as well as in other jurisdictions.
The special superior court session, usually held once a month, is geared for handling minor legal matters such as sleeping or drinking in public. Rather than fines and jail time, homeless court defendants typically face alternative sentencing such as volunteer work and counseling.
Solo Practitioner

Chettle
For eight years, San Diego solo practitioner Arthur W. Chettle has spent Monday nights providing free advice on bankruptcy and tax issues at a clinic sponsored by the San Diego Volunteer Lawyer Program's (SDVLP) AIDS Law Project. He has handled virtually every bankruptcy case taken on by the project as well.
"Mr. Chettle is without question the most dedicated and devoted volunteer involved in SDVLP's AIDS Law Project," said Carl Poirot, SDVLP's executive director, in nominating Chettle for the pro bono award.
In one of Chettle's recent cases, Poirot recalls, debt collectors had been hounding a disabled client for payment of nearly $31,000, most of it to cover the interest and fees on defaulted student loans. The client, who was suffering from AIDS and chronic Hepatitis B, had become desperate and, living on Supplemental Security Income alone, had no way to pay off the debt. Chettle stepped in and managed to get the debt discharged based on his client's permanent disability, and the client thanked him for "lifting the weight" off his shoulders.
Chettle, 60, has "devoted not only his time, but the resources of his solo practice, in service to San Diego's vulnerable HIV and AIDS population," Poirot says.
A Vietnam veteran, Chettle worked in various administrative positions in the Michigan state court system and with the federal Department of Justice before becoming a solo practitioner in 1990. While maintaining a practice specializing in debt relief and bankruptcy, he still manages to contribute hundreds of hours of pro bono legal services — more than 375 hours last year alone. And he finds time, Poirot says, to mentor law student volunteers and newly admitted attorneys.
Small Firm
One homeless woman obtained a court order to retrieve her winter clothing from an impounded car just as winter set in. A mentally ill "squatter" living in a shack constructed from old tractor-trailers reached a settlement with the property owners and funds to move his "home." And a Native American inmate was able to get his medicine bag back upon his release from jail.

Ford
All three had Fillmore attorney Michael E. Ford in their corner. Tagged the "voice of the voiceless and the hope of the hopeless," Ford provides free legal services to the poor, mentally ill and homeless. "He is like a living saint, a 'Mother Theresa,' administering to the 'untouchables' of our society," said Tina Rasnow, coordinator of the Ventura County Superior Court Self-Help Legal Access Center. "Not only does he help people with their legal problems, he treats everyone with respect."
At 64, Ford has been a lawyer only since 2001. In partnership with his wife, he handles criminal defense, business law, family law and wills and trusts in rural Fillmore. Last year — his first full year as an attorney — he routinely drove 26 miles to downtown Ventura to devote a total of 728 hours of free legal services to helping the indigent. His pension from a former Navy career has helped offset the costs of running a legal practice in which most of his time is donated to the poor.
Ventura Superior Court Judge John E. Dobroth, who presides over the county's homeless court, recalls Ford once requesting the court-ordered release of a homeless woman's clothing from an impounded car. It was an unusual request for an attorney to make, he says.
"Mr. Ford represents a population that few will represent, especially when it is not a requirement of their job," Dobroth wrote in a letter supporting Ford's nomination. "He advocates on their behalf with an eye toward problem solving as opposed to advancing a personal agenda."
Medium Law Firm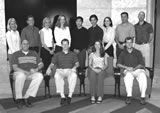 (Click to Enlarge)
Attorneys in Heller, Ehrman, White & McAuliffe's San Diego office regularly provide free legal services to a wide variety of low-income San Diegans, from domestic violence victims in need of restraining orders, to immigrants seeking political asylum, to senior citizens facing a whole range of legal issues.
Last year alone, they spent more than 1,400 hours providing such help.
"Heller has become our 'go to' firm when we have a particularly difficult case," said Carl Poirot, executive director of the San Diego Volunteer Lawyer Program (SDVLP), who nominated Heller's 5-year-old San Diego office for this year's pro bono award.
Examples of Heller's recent pro bono efforts in San Diego include:
n Handling two medical malpractice actions on behalf of prisoners, one of whom reportedly was misdiagnosed with a malignant tumor;
n Assisting five immigrants who sought political asylum in the United States based on fear of persecution in their homeland;
n Representing six non-profit organizations (including one that offers literacy programs for "at risk" youth) in various legal matters; and
n Staffing the SDVLP's Domestic Violence Restraining Order Clinic and participating in the program's Elder Law Project, which sponsors seminars and legal clinics for San Diego's senior citizens.
"The medical malpractice on a prison inmate and several complex political asylum cases are good examples of Heller's willingness to devote significant firm resources for pro bono work," Poirot said.
Large Law Firm
With the nation still reeling from the Sept. 11 tragedy two years ago, attorneys in the Los Angeles and San Francisco offices of Latham & Watkins were quick to help launch a statewide pro bono effort to assist the victims' families. They went on to provide a wide variety of legal services — a total of 2,365 hours of assistance last year alone — to families in California, in partnership with the Volunteer Legal Services Program of the Bar Association of San Francisco, Public Counsel in Los Angeles and the Los Angeles County Bar Association.
That's just one of Latham's many pro bono projects. The joint recipients of the bar's pro bono award this year in the "large law firm" category, the San Francisco, Los Angeles and San Diego offices of Latham & Watkins regularly tackle numerous other legal challenges on a pro bono basis as well, including:
(Click to Enlarge)

Its San Francisco attorneys, through Asian Pacific Islander Legal Outreach, represent immigrant domestic violence survivors seeking legal permanent residency. "Their compassion for our clients is unparalleled," says Kavitha Sreeharsha, the group's pro bono project coordinator. In addition, attorneys from the San Francisco office volunteered with the Prison Law Office on matters involving parole and conditions at the California Youth Authority.





(Click to Enlarge)

Amos Erik Hartston has managed the firm's Los Angeles pro bono program, supervised projects, trained other attorneys and spent hundreds of hours handling individual cases. His clients include lone immigrant children seeking asylum and families facing eviction. Hartston was among the first to offer help to the families of Sept. 11 victims through Public Counsel, says Daniel Grunfeld, president and CEO of Public Counsel in Los Angeles. "In sum, Amos personifies the caliber of individual whose depth of commitment, selflessness and energy ennoble our profession," Grunfeld said.



Los Angeles attorney James Barrall organized a team of 15 Latham attorneys that, along with Inner City Law Center and other co-counsel, recently managed to secure a multi-million-dollar settlement to compensate more than 100 impoverished tenants who were left homeless after the partial collapse of their substandard apartment building. "Latham's contribution will change the lives of these families in very profound ways," said Clemente Franco, executive director of the Inner City Law Center. "Perhaps the greatest reward for these clients is the sense of empowerment that comes with seeing the system work for those most vulnerable."




(Click to Enlarge)

In San Diego, another team of Latham attorneys spent more than 3,500 hours — nearly 2,000 hours last year alone — representing a severely disabled 9-year-old boy (referred to them by the San Diego Volunteer Lawyer Program) in complex civil rights litigation against a school district. Though the decision was in favor of the school district, the team succeeded in sparking changes in the district's use of restraints on disabled children. The team included attorneys Joseph Wheeler, Shannon Petersen, Ward Lott, Joel Mack and Amy Nefouse, and paralegal Carolyn Scott.



Ramping up its pro bono efforts nationwide, Latham recently has been recognized as a leader in the delivery of free legal services to the poor. Last year alone, the firm contributed more than 131,000 hours of pro bono legal services (equivalent to $36 million in legal fees) throughout the nation. That amounts to 106 hours of pro bono time per U.S. attorney.
Recently Admitted

Ostly
One HIV/AIDS patient insists that his health condition would be "in the toilet" if Berkeley solo practitioner Thomas A. Ostly had not come to his rescue. Once at risk of losing his Medi-Cal coverage for certain prescription drugs, the Vallejo man is able to continue taking the medication, thanks to Ostly's free legal help.
"I cannot begin to describe what a difference it has made in my life to have someone as capable and willing to take on my case as Mr. Ostly," the grateful client later wrote. "Prior to his involvement, I was fighting a losing battle that no one seemed interested in taking on."
Ostly's supporters say he has done the same for others. During an eight-month period just last year, Ostly, 31, spent some 100 hours handling legal matters involving landlord/tenant law, employee benefits and insurance law for 10 clients with HIV/AIDS. "These cases are very hard to place," said Tanya Reeves, the client services director for San Francisco's AIDS Legal Referral Panel (ALRP), which referred the cases to Ostly. "It was shocking and awe-inspiring when Mr. Ostly said 'yes' to case after case after case."
Admitted to the bar just three years ago, Ostly also regularly volunteers his services through the East Bay Community Law Center (EBCLC) in Berkeley, helping clients at its tenant rights workshops four times a month. He has been "especially helpful" in cases involving severely disabled clients who can do little to assist in their defense, says Laura Lane, EBCLC's supervising attorney.
In one such case, an elderly wheelchair-bound woman fell victim to a family member who was physically abusing her and stealing her rent money, Lane says. When the disabled woman found herself facing eviction, Ostly obtained an elder-abuse restraining order and got the eviction suit dismissed.
Another grateful client, in a recent letter, touched on Ostly's integrity: "This man is not out for glory, money, or anything other than to do what he thinks is right."
Retired

Pickslay
After working as a corporate lawyer for more than 20 years, retired La Mesa attorney Peter H. Pickslay is still providing legal services. But for more than a decade, he's been offering his services free of charge to those in need.
Pickslay, 65, a former general counsel for a bank, shows up at the San Diego Law Library twice a week to counsel people who are struggling with a wide range of legal issues, from family law to housing to public benefits to estate planning. Although his Spanish-speaking skills are limited, Pickslay says he finds it most rewarding when he can help those non-English-speaking clients who are facing a legal system that requires an understanding of the English language.
Recently, for example, Pickslay managed to have a default judgment set aside in a lawsuit involving just such a client, recalled Carl Poirot, executive director of the San Diego Volunteer Lawyer Program (SDVLP). The Spanish-speaking client apparently had no knowledge of the suit before receiving notification of the judgment against him. "Peter is a prime example of how retired attorneys can still make major contributions to the law and society through pro bono services," Poirot said.
His free services are not limited to the SDVLP's Law Library Project. Enrolled in the State Bar's Emeritus Attorney Program, Pickslay also participates in the SDVLP's Elder Law Project, which presents senior-oriented seminars and legal advice clinics at senior community centers and the Salvation Army. He also serves on a special task force, along with volunteers from various service providers, that meets monthly to discuss senior issues and find ways of improving the delivery of services to seniors.
Distinguished Pro Bono Service

Stewart
Hundreds of women and children, most of them homeless or living in domestic violence shelters, flocked to San Diego's Annual Women's Resource Fair last year for medical services, legal counseling and information on financial management, employment and various public resources. Central to the entire operation was San Diego attorney Kimberly A. Stewart. For the large-scale event to take place without a hitch, Stewart, the
event's co-chair, spent 125 hours fundraising, organizing, negotiating, directing and coordinating.
"Kimberly Stewart is a public servant in the most admirable and profound sense of the term," said Carl Poirot, executive director of the San Diego Volunteer Lawyer Program (SDVLP).
As a judicial attorney (a senior appellate attorney for the California Court of Appeal, Fourth Appellate District, Division One), Stewart, 42, is generally precluded from providing legal services to anyone outside the court. Within those confines, she has managed to "support and facilitate" the provision of services to indigent and abused women and children, Poirot says.
Stewart has been involved in the Women's Resource Fair (co-sponsored by the SDVLP, the San Diego County Bar Association and the Lawyers Club of San Diego) for seven years. She currently is working with the appellate court, members of the county bar association, SDVLP and the county law library to establish an educational assistance program for litigants who represent themselves on appeal.
In addition, Stewart has volunteered editing and grant-writing services to "Street of Dreams," an outreach program that promotes self-esteem and teaches self-expression to homeless and at risk youth. She has held leadership positions with the Girl Scouts of America's San Diego-Imperial Council and, as chair of the local Junior League's Community Services Council in the mid-1990s, and worked to increase awareness of domestic violence and assist battered women and their children.