Law schools see surge in applications
By Kristina Horton Flaherty
Staff Writer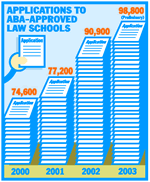 (Click to Enlarge)
Finding a job these days can be tough. With record numbers of people now deciding to pursue a law degree, just getting admitted to many law schools has become increasingly difficult as well.
Officials from the nonprofit Law School Admission Council (LSAC) expect a final head count to show that more than 100,000 applicants — the highest number ever — sought admission to American Bar Association-approved law schools nationwide this year. The number of applicants shot up 17.6 percent last year, the steepest rise in two decades, and another 11.1 percent for this fall's entering classes.
Nowhere has the jump in law school applicants and applications been more striking, officials say, than in the far western states — California, Hawaii and Nevada.
"Business is booming at law schools all over the U.S.," said LSAC spokesman Ed Haggerty. "And that is especially true of the law schools in the far west."
At the University of the Pacific's McGeorge School of Law in Sacramento, for example, the number of applicants increased "to the tune of 40 percent" this year, said Adam Barrett, dean of admissions. Just three years ago, McGeorge received less than 1,500 applications. This year, the school attracted nearly 3,200 applicants and wound up with a better-qualified, more diverse class of students from a wider variety of states, Barrett says.
"I didn't expect that kind of explosion," he said.
Barrett is not alone. Law schools around the state have been inundated with applications for two years. This year alone, the ABA-approved law schools located in the far western region received roughly 25 percent more applications than they did last year, a sharper increase than anywhere else in the nation.

Wylie
A large migration toward law school, as well as other graduate programs, is not unusual in tough economic times; a similar but more gradual wave took place just over a decade ago. "What has been unusual in the last two years is the size of that increase," said Scott Wylie, an associate dean at Whittier Law School in Costa Mesa. The number of applications for admission to Whittier increased by more than a third last year and another third this year, presenting "a real challenge administratively," he said.
But the unprecedented flood of law school applications may not mean a surge in enrollment or, down the road, attorneys. First-year classes swelled slightly at some schools last year because an unexpectedly high number of applicants accepted the schools' offers of admission. McGeorge wound up with 312 full-time day students for just 250 budgeted spots. Whittier added another section to the school's first-year curriculum and beefed up its faculty. But LSAC officials say the boom has not triggered a large jump in enrollment.
At the University of California's Hastings College of Law, for example, a record number of applicants — a few short of 7,000 — competed for some 420 seats this year. Just two years ago, the San Francisco campus received fewer than 5,000 applications for the same number of seats.
At Southwestern University School of Law in Los Angeles, this year's applicant pool was 80 percent larger than it was two years ago. The first-year class size, however, remained roughly the same, with some 4,000 applicants vying for about 275 full-time seats and fewer than 100 more part-time spots.
At Loyola Law School, the largest pool of applicants in the school's history — some 5,400, up from 3,900 just a year ago — applied for a shrinking number of seats. To improve its faculty-to-student ratio and personalized approach to legal education, the Los Angeles school dropped the number of full-time day students this year from 357 to 325 and plans to further reduce the class size next year.
"What this really means is that it's a lot more competitive," Haggerty said. "And it's more difficult to get into law school."
First-year law student James Moering is quick to agree. He applied to six California law schools this year. A graduate of the University of California at Santa Cruz with a 3.8 grade point average, he knew that his Law School Admission Test (LSAT) score — 156 on his second try — made some top-ranking schools a long shot. But with his strong GPA and an internship in a public defender's office under his belt, he felt he still had a good chance at a number of ranking schools. In fact, he says, his research suggested he had a greater-than-90-percent chance of getting into three of his chosen schools.
Then the response letters began to arrive. He was admitted to his "shoo-in" school, California Western School of Law in San Diego, but that was it. He was rejected by one school and put on waiting lists at the remaining four, including first-choice Santa Clara University School of Law.
"I was just shocked I didn't get accepted outright," he recalls. "I just wasn't looking as attractive as I would have in previous years."
As Moering sees it, he was pitted against too many applicants with years of work experience and proven abilities. "It was much more difficult than normal due to the people coming out of the workforce because of the economy," he concluded. "Kids like me who are right out of college, even though we're really smart, just can't compete with that."
Now, however, Moering considers himself lucky. One of his friends remains on several law school waiting lists and is still hoping for a last-minute break. Moering, meanwhile, has begun his first-year studies at California Western. "Since I know things are so competitive," he said, "I'm really motivated, probably more than I've ever been, to succeed and prove myself."
Law student credentials are on the rise. At McGeorge, the median LSAT score for this fall's entering class is three points higher than it was last year. At Loyola, the median test score jumped two points. And with the stiffening competition, many qualified students are not making the cut.
In California, however, would-be attorneys do have other options. While the vast majority of states require graduation from an ABA-approved law school to qualify for a first-time bar examination, California does not. A legal education can be obtained at one of 18 California-accredited law schools or, if certain requirements are met, at an unaccredited law school or correspondence school.
And such schools are feeling the boom as well. Patrick Broderick, dean of the California-accredited Empire College School of Law in Santa Rosa, has seen a marked increase in applicants (as well as a greater number of well-qualified applicants and applicants from other states) and enrollment. Empire doubled its first-year class this fall to 50 students, he says. And the school has room for more.
Broderick, past chair of the California Accredited Law Schools Association, says he thinks most other California-accredited law schools have expanded their enrollment and still have some room for growth.

Braun
Jerome Braun, senior executive of State Bar admissions, has seen some increase in the number of people applying to take the bar exam. But he isn't expecting to see a sudden surge in the number of people taking the bar exam unless, for example, several ABA-approved schools substantially expand their enrollment or more law schools open for business. It has been more than two decades, he says, since the last huge increase.
However, a more highly credentialed pool of candidates could potentially translate into a higher pass rate. "There is no limitation," Braun said. "The test results are reflective of the training and the abilities of the individuals who take it."
Most agree that the troubled economy is the driving force behind the boom. But school officials suggest other influences may be at work as well. They point to massive recruitment efforts and improved facilities, and note that the children of many baby boomers are now heading for graduate school. Some highlight the dot.com bust that sent many well-educated workers searching for new careers. Others see a weakening interest in graduate business degrees. And they note a trend toward obtaining a law degree to gain more opportunities outside the traditional practice of law.
Six months ago, Leo Martinez, Hastings' academic dean, would have given more weight to the economy as the cause of the upsurge in applications. Now, after talking with first-year students, he's not so sure. "I don't get the impression that people are solely here to flee the economy," he said. "The great bulk of them are here because they want to be lawyers."
McGeorge's dean of admissions suggests that the Sept. 11 tragedy may even be a factor. He has seen repeated mention of it, and comments on wanting to make a difference, in the writings of would-be students. "I almost wonder if it's sort of a rallying call for people," Barrett said. "It seemed to almost be a theme."
For whatever reason, interest in the law remains strong. Enrollment in preparatory courses for the LSAT shot up 40 percent nationwide between 2000 and 2002 at Kaplan Inc., said Carina Wong, senior communications manager. During the same time period, Kaplan's test preparation courses for all types of graduate programs swelled just 26 percent. Such data, Wong says, "has always been a little bit of an indicator of what is going to happen in the marketplace."
In addition, more people are expected to show up to take the LSAT nationwide this month than at any previous October administration of the test. Last year's October test broke a record as well.
Law schools are bracing for more. "We have not yet seen signs that it has slowed down," Wylie said.
Some believe that those rejected for this fall's entering classes may return with even better credentials next year, along with a new crop of applicants. "I can see an increase for the next three or four years as the economy is slowly rebounding," said Loyola Assistant Dean of Admissions Sonel Shropshire. "I think students are really going to focus on what options they have in obtaining a professional degree."
But McGeorge's dean of admissions does not expect to see a repeat of this year's boom. "I think we'll have another slight increase in the next year, then a leveling off for a couple of years," Barrett said. "Then it's anyone's guess."