Hard times for legal services
Providers look for new fund sources
By Kristina Horton Flaherty
Staff Writer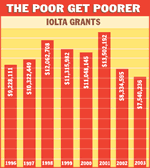 (Click to Enlarge)
At the same time an increasing number of impoverished Californians are seeking free legal help, the already hard-pressed legal services organizations that serve the poor are seeing some of their own funding sources fall on hard times.
Trust fund and government grants have shrunk, charitable foundations have less money to give away and the state budget crisis has virtually dispelled any hope of stopgap funding.
"We're in a very concerned fiscal state at the moment," said Gary Smith, executive director of Legal Services of Northern California (LSNC), which serves 23 counties.
Another organization, Legal Aid of the North Bay, had to shut down its full-time office in Napa this spring, later reopening in much smaller quarters to assist senior citizens just two days a week. "It is a source of great pain, at least as far as I'm concerned, that we are not helping non-senior poor people (in Napa)," said William Kransdorf, legal services director of the Marin County-based program. "It's just that at the moment we can't do it. We don't have the resources."
California's Legal Services Trust Fund Program (IOLTA), an important funding source for many legal services agencies, has seen its distributions shrink 44 percent in just two years due to low interest rates. That, combined with other revenue reductions, has forced legal services providers to scramble for alternatives. "They're having to be more creative to make sure that they can bring in enough money to keep their programs going," said Mary Viviano, the State Bar's director of legal services outreach.
Some are throwing more elaborate charity events. An increasing number are collaborating with community organizations to obtain grants for special projects that address particular social problems and include legal services. Some are successfully tapping a broader group of private donors.
Not all programs have the same prospects. Agencies serving rural counties — areas where high-priced charity events are not an option — face the greatest challenges.
For example, attorneys in the eight field offices staffed by Legal Services of Northern California serve an area that spans nearly two dozen counties. Last year, the program assisted about 90,000 Californians, providing individual legal counsel to more than 20,000.
For years, LSNC has teamed up with grass-roots community groups to assist in specially funded community economic development projects, Smith says. What is most difficult, even in good economic times, is finding the resources to provide basic legal services to the poor.
In the mid-1990s, Congress placed new restrictions on programs receiving funds from the federal Legal Services Corp. No longer can such programs seek attorneys' fees in court victories, a practice that once amounted to some $400,000 a year for Smith's program. More recently, LSNC'S annual IOLTA funding has shrunk from more than $500,000 a few years ago to less than $300,000. "That's a very significant blow to an organization of our size," Smith said.
Some losses have been offset by a jump in federal funding based on the increased number of poor in the region, he said. Still, Smith has frozen eight vacant positions, cut two contract attorneys and trimmed non-personnel expenses "down to the bare minimum." Last spring, he shut down a federally funded fair housing hotline when its three-year grant expired. In better times, he might have been able to find the funds to continue its operation.
Legal services providers may not yet have felt the full brunt of the economic downturn. Neal Dudovitz, executive director of Neighborhood Legal Services of Los Angeles County, predicts that programs will feel "the real effects" in the next two years. Dudovitz has spent the last few years building up his program to handle a broader area and a 100 percent increase in potential clients. Some 40 attorneys now serve a region with a potential client base of 1 million poor people. But "the likelihood of being able to continue existing services at the same level seems remote," he says.
Few other options exist for the indigent.
"We see ourselves as the safety net for the safety net," Dudovitz says. "When we can't help them, they have no place to go. So it's very scary."
Sharon Jackson, executive director of Napa Emergency Women's Services, has seen what can happen firsthand. Since Napa's full-service legal aid office closed its doors in late March, she has had virtually nowhere to send battered women with legal problems.
A staff advocate accompanies the women to court and a local family law attorney is sometimes available in emergencies. But most women simply go without a lawyer's help.
Kransdorf said he and others at Legal Aid of the North Bay have not abandoned hope of opening a self-sustaining Napa office for all poor residents. In the past, they simply could not drum up sufficient community support. "Unfortunately," he said, "we were embarking on that effort precisely when the economy was heading downward and charitable giving was going down."
Bay Area Legal Aid receives a small amount of federal funding earmarked for Napa County. Napa residents with public benefits problems also can contact the program's Marin County office. By January, however, executive director Ramon Arias hopes to launch a pilot project in which all eligible Bay Area clients, including those in Napa, can call a hotline for legal advice.
Advocates see the disparity between the resources available from one county to the next, particularly between urban and rural counties, as one of the greatest challenges facing legal services providers.
The available resources spent on legal services for the poor last year in Mariposa County, for example, amounted to less than $8 per poor person. In contrast, it was roughly $16 in Fresno County, $21 in Los Angeles County, $41 in Santa Clara County and $94 in San Francisco County.
The legal services providers serving urban areas simply have greater fundraising prospects. And these days, many are spending more time on just that — seeking resources from a wider variety of sources. Arias says the economy has not negatively impacted all potential private donors.
"I've always believed it's more a matter of forming positive and constructive relationships with potential donors, particularly in the private sector, that in the end can help you weather drops in the economy," he said.
For some, such efforts have paid off. Santa Clara County Bar Association leaders James Towery and Phil Hammer launched a fundraising campaign several years ago to help seven local legal services programs, inviting partners of the largest local law firms to join the campaign's board with an annual contribution amounting to one billable hour (set at $250) for every attorney at the firm.
Last year, the campaign raised more than $400,000 from law firms and corporations (a 13-fold jump in private funding) and leveraged $750,000 more for legal services. "It has affected all of us," said John Hedges, executive director of the Pro Bono Project of the Silicon Valley.

Babcock
Others are seeking new grants by venturing into new, more collaborative territory. At the Public Law Center in Santa Ana, the supply of pro bono attorneys has not kept up with the soaring client demand and fundraising has become more difficult, says executive director Ken Babcock. So the public interest law firm, which annually taps hundreds of attorneys for pro bono work, is teaming up with new partners to expand into some new areas.
Recently, the firm and four community groups received a federal grant to jointly assist victims of human trafficking. With additional funding obtained through the AIDS Project, Babcock was able to hire a full-time immigration attorney. As part of another joint federally funded project, two AmeriCorps attorneys recently joined the Public Law Center to assist non-profit corporations with business law issues and to help expand the center's community legal clinics.
Babcock says he may not have considered such expansion in more flush times. "Now the climate that we're in requires us to do that," he said. "I think that ultimately it's a good thing because it creates a collaborative spirit between organizations that has benefits for the community."
Even in prosperous times, legal services programs do not come close to meeting the need. During the 1990s, California's poorest population grew 30 percent, according to the latest census. That translates into roughly one legal services attorney for every 10,000 impoverished Californians. Just a few years ago, in better economic times, less than a third of those needing legal help actually got it.
In recent years, legal services advocates have put more focus on easing the plight of Californians who cannot afford an attorney's help. Launched in 1997, a broad-based California Commission on Access to Justice has studied and proposed changes — and noted increases in public funding and private giving for legal services as recently as 2000. Five years ago, a new state Equal Access Fund earmarked an additional $10 million annually to help fill the gap.
But some suggest the problem still falls below the radar for many Californians. Legal services for the poor "can be a harder sell than orphan puppy dogs," Kransdorf says, "and it shouldn't be that way."
Bruce Iwasaki of the Legal Aid Foundation of Los Angeles points out that the problem is not on the "Top Ten" list of any candidate in any state or national campaign.
"Today, no candidate can get elected if they say 'I don't care about schools,'" he said. "However, a candidate can run for any office in California and never mention the disparities of access to the legal system . . . We have to change that."