Attorneys and judges were victims, too
By Nancy McCarthy
Staff Writer
On Ed Keller's fourth visit to his home after it burned to the ground in the Old Fire, he found that the city of San Bernardino had knocked down the red brick chimney he had hoped to salvage. Also new since his last visit was a large red "unsafe occupancy" placard tacked to his favorite mulberry tree, an offer of assistance from FEMA, and attached to his mailbox with duct tape, a document from the Superior Court authorizing law enforcement officers to enter the premises. Keller's address was one of dozens listed for his mostly ruined Del Rosa neighborhood.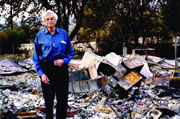 (Click to Enlarge)
As the retired attorney surveyed the charred remains of the four-bedroom home he and his wife, Jerry, built in 1958, he shook his head. "It's a blow," he said quietly. "You wake up at night thinking of the things that are gone and you can't go back to sleep."
The fires that devastated southern California last month were indiscriminate in their choice of victims. Although exact numbers were not available, many attorneys and judges lost their homes or were forced out of their practices, at least temporarily. On one bar association website, an electronic bulletin board posted help for the displaced, including office space, phone and fax services and offers to make court appearances.

Newhouse
Letitia Bravo Newhouse, a family law facilitator in the Vista courthouse whose rental home in Julian was destroyed, fought back tears as she described the kindness of friends. "The generosity of my colleagues, friends and people I work for has been amazing," she said. "They are like family."
Newhouse and her disabled husband fled the two-story home they shared with two adult nieces for six years when the evacuation order blared over their heads from a hovering helicopter. Only three of 291 homes in the neighborhood survived.
She hasn't been back but was told by neighbors the heat was intense. All that's left, she said, is her refrigerator, which looks like a collapsed accordion. The "fireproof" box where she kept important documents melted.
Newhouse grabbed her animals and a few pictures from the fireplace mantle, but lost everything else. She was uninsured.
Living temporarily in a friend's home in Vista, Newhouse was philosophical about her losses. "You start all over again," she shrugged. "You pick yourself up, dust off the ashes and start all over."
Wells Lyman, a family law and bankruptcy lawyer in San Diego, had lived for 10 years in a unique home in Crest with his then-wife, who kept the house when the couple divorced. It was destroyed in the Cedar Fire.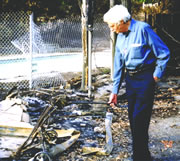 (Click to Enlarge)
Before the roads reopened, Lyman returned to the house with his son and some other neighbors by walking four miles up a hill. When he saw what was left, he said, "I swear to God, it's like somebody slugged me. The front porch dropped off into ashes. The heat melted everything metal, the silverware, all the glass. It melted everything except a few little stone things in the yard."
Sifting through the debris for five hours, Lyman said he couldn't fill even one wastebasket.
He said he didn't realize the emotional attachment he still held for his former home. And he called the fire "a great equalizer."
He returned to his old neighborhood with the owner of a mobile home that had sat below his house. He never liked the trailer park much, thinking it reduced home values in the area.
But when the owner of the trailer found it destroyed, "his pain was no less than the pain of the guy who owned a million-dollar home," Lyman said.
He estimated one-third of the residents of Crest were uninsured and observed, "The poor will suffer more."
Keller is insured, but at the age of 82, he no longer needs a 2,500-square-foot home with a pool. He was investigating whether he must rebuild in order to collect on his insurance.
A 1948 graduate of the Stanford Law School class that included former Secretary of State Warren Christopher and legal bigwigs Seth and Shirley Hufstedler, Keller had a civil practice in San Bernardino that he turned over to his son when he retired in 1996.
The Kellers had been watching reports of the nearby Grand Prix Fire for several days when the Old Fire broke out, apparently started by two men seen by witnesses throwing a burning object into the brush near Old Waterman Road and Highway 18. Early on, Keller said, the fire "didn't seem like much and there wasn't that much concern" because there were no winds.
But when the Santa Anas kicked in, they were strong and erratic, throwing embers haphazardly. Keller's son, who lives nearby, rushed to his home and told his parents to get out. They had 10 minutes to grab what they could.
Jerry Keller had been sorting old black and white photos, so they took those, as well as some jewelry, a set of old postcards from Keller's mother, his driver's license and wallet.
"I wish I'd stayed longer," Keller said, but neighbors told him that within 15 minutes of his departure, the trees on his property went up in flames. The homes on either side were saved, but Del Rosa is, in Keller's words, "a city of chimneys."
All that's left of his home is a small mountain of six-inch deep ash and some recognizable debris: the refrigerator, oven and an air conditioner, a bathtub and sinks, part of the sounding board from a baby grand piano. Broken crockery sits atop a melted steel girder. Keller's blackened and twisted golf clubs are on one side of the house; an old swing set is on the other.
Four filing cabinets hold drawers of scorched documents. Keller had kept 50 years of tax returns, now gone.
He ticks off the varieties of his prized trees, now blackened, that circle the property: citrus, three cypress, five mulberry, a Norway maple, three palms lining the street and a date palm, valued at $5,000.
And he remembers the possessions that cannot be replaced — the photos of his children, his parents and his wedding, a museum quality portrait of his great-grandparents on their diamond anniversary, a German-made machete that belonged to his dad, large copper Moroccan platters, a Nepalese weapon called a Kukri, three leather-bound volumes of Shakespeare with gold leaf engravings and several first editions.
"These are the things I hate to have lost," Keller said.
The only object he recovered intact is a small ceramic pepper shaker in the shape of a hen, half of a set, the paint burned off.
A gentle man, Keller reacted strongly when asked his feelings about the men who allegedly sparked a fire that destroyed 450 homes and caused thousands to evacuate. "You don't want to print what I think should be done to them," he said, adding that as a longtime proponent of capital punishment, he thinks that's a fate "far too good for them."
After taking up residence in the local Radisson for a few weeks, the Kellers planned to move into a senior residence that offers an option to move out after three months, a period of time he hopes will enable him to resolve the issues around rebuilding.
"This was our home, going on 50 years," he tells a visitor before taking a drive around his devastated neighborhood. "A lot of people lost a lot of dreams here."