New member benefit allows dues payment, address changes online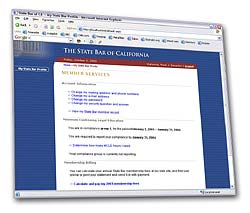 In a nod to modern technology, California attorneys now can pay their State Bar fees online, as well as change their addresses and phone numbers or submit their MCLE compliance card. "My State Bar Profile," a new program offered by the bar, was launched Nov. 14 with hopes that California attorneys will provide their e-mail addresses as well as make electronically the 48,000 annual changes in address and telephone records that are now made on paper.
In addition, reconciliation of checks is the number one problem in the bar's member billing office. With a computer-generated bill through the new system, officials hope that problem will be ameliorated.
In the bills mailed last month to every active and inactive lawyer, the bar enclosed specific instructions on setting up an electronic account with the bar that enables them to do four things:
change their official address and phone number;
change their e-mail address;
report compliance with continuing education requirements; and
pay bar dues.
A pilot program last spring for new admittees drew a 25 percent response. Bar executives acknowledge that the move to electronic record-keeping will be gradual, but see the new program as a start.
"With 200 address and telephone number changes a day or 48,000 a year, it makes no sense to waste staff time on paper changes that could be made electronically," said executive director Judy Johnson.
The dues bills mailed last month carry an online access code (in the upper right-hand corner) for every attorney that can be used to create a log-on password. To register, the attorney must provide four pieces of information to verify his or her identity — State Bar number, Social Security number, PIN number and date of birth. The user creates a password and can then sign on at any time.
When providing an e-mail address, the user can give both a public and private address. If an attorney does not wish to have an e-mail address listed on the Web site, the field can be left blank.
Under a policy adopted by the board of governors, the private address will be used for official State Bar business and the attorney can opt to receive other bar news and information about bar sections and member benefits. Attorneys also have the responsibility to keep their e-mail address current.
Attorneys can both calculate the number of continuing education hours they are required to complete and submit a compliance card online under the new system. If an attorney has been inactive or if any of the four exemptions apply for part of a three-year compliance period, the "compliance assistant" will calculate how many hours are owed.
The MCLE section of the profile also links to certified providers.
The compliance assistant will not calculate or keep track of an attorney's MCLE history; attorneys still will be responsible for maintaining their own records. The bar does not maintain lists of specific courses each member takes, nor does it maintain a list of all courses offered.
Online dues payment, created in conjunction with Wells Fargo online payment services, offers a more streamlined bill than the paper version mailed to lawyers. Options include membership in one or more bar sections, donations to any of three charitable or voluntary organizations, adjustments for opting out of payments for lobbying or the elimination of bias fund, and eligibility for scaling for lower-income lawyers.
Once the dues total is calculated, the bill can be paid by mail or online with a Visa or MasterCard or by deduction from a savings or checking account. The board imposed a $9.50 "convenience fee" for online payments to cover the credit card processing fee and overhead costs to Wells Fargo. "The convenience fee is applied to banking and credit card costs not funded by the bar's current budget," Johnson said. "The board will re-examine that fee for the 2005 dues."
The bar also will work with law firms who pay their employees' bar dues to generate a "firm bill" for future payments.
"We want to get most of our member billing online," Johnson said. She said lawyers who work for firms or agencies that pay their dues, and those who delegate bill paying to administrative staff, will have to take some responsibility in creating their "profile" with the bar. She also acknowledged that the changes might be difficult for "technologically challenged" lawyers.
In the long run, however, the new system is expected to save money.
One change that cannot be made electronically is a name change. Because of the danger of identity theft, the bar now requires that an attorney wishing to change his or her name submit four documents: two reflecting the old name and two reflecting the new name.
A document reflecting the old name can include a bar card, driver's license, passport or birth certificate. The new name can be shown on a court order or marriage or divorce certificate. Other types of documents may also be acceptable and photocopies are acceptable.
The name change form is available online.