Court budget is a work in progress
By Nancy McCarthy
Staff Writer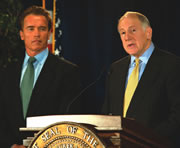 Gov. Schwarzenegger called Chief Justice Ronald George "the best that ever was in the state of California in this job" during remarks last month to the Conference of Chief Justices.
Photo by John G. Mabanglo/EPA
California court officials, faced with a nearly $70 million proposed reduction in their budget, are meeting with state financial planners to head off cutbacks they fear could cause layoffs and reduced hours in the courts.
Emphasizing that Gov. Arnold Schwarzenegger's budget proposals amounted to only a rough draft, Bill Vickrey, administrative director of the courts, said, "I'm optimistic we will make progress. I remain apprehensive about getting a full and complete resolution of the issues."
He said even before the budget was unveiled, court officials received assurances from the administration that nothing is final and "all issues were open."
The governor's proposed budget for fiscal year 2004-05 for the trial courts totals $2.21 billion and $378.8 million for the appellate judiciary, which includes the Supreme Court, courts of appeal, the Judicial Council and the Habeas Corpus Resource Center. Those amounts mean reductions of $59.8 million in the trial courts' operating budgets and $9 million to the judiciary.
Vickrey and others said that because of the newness of the administration, financial planners did not have adequate time to familiarize themselves with the courts' needs. Sen. Dick Ackerman, R-Tustin, explained that in normal times, the budget staff works with each branch before a budget is released.
"This didn't happen with the judiciary," he said. "They had to do the budget without any input and without talking to the Judicial Council, (Chief Justice) Ron George and some other folks."
Ackerman also was optimistic that further negotiations, with an emphasis on the judiciary's status as a third branch of government, will be productive. "I think the process is still early, some people probably didn't have the history of what's gone on in prior years," Ackerman said. "When the Judicial Council gets with the Department of Finance, it won't be so grim."
But Sen. Joe Dunn, D-Garden Grove, wasn't so hopeful, noting that the budget is predicated on what he believes are overly optimistic assumptions that may not come true.
First, he said, it assumes billions of dollars in federal funds will be forthcoming, "yet none of the political insiders believe that's going to become a reality." Second, the proposals assume successful passage of Schwarzenegger's proposed March bond issue for $15 billion, which polls so far have found is not a shoo-in.
Third, Dunn said, is the administration's estimate of tax receipts. "They aren't necessarily pie-in-the-sky estimates, but they're still considered overly optimistic," he said.
If any of the assumptions prove to be incorrect, the administration will "have to look for other areas in which to impose additional cuts. The problem for the courts is that they are not often viewed as a high priority by a sitting administration at budget time. If the new administration has to find an additional $1 million in cuts in May, my concern is the courts' budget will be dead center in the bullseye."
The courts slashed spending by $154 million, a 5 percent reduction in their budget, in fiscal year 2003-04. Ackerman and Dunn were able to avert further reductions last year by proposing a wide range of increased filing and other fees.
However, because of a variety of shortfalls, the courts are facing a deficit of $59 million in the current fiscal year, Vickrey said. Current estimates indicate filing fee collections this year will fall about $31 million short of projections. In addition, revenue for the facilities program is expected to be $10 million less than anticipated, $11 million must be cut out of the court security budget, retirement payments will cost another $4 million, and the courts must absorb a $2.5 million permanent reduction in administrative costs. In addition, the Trial Court Trust Fund, a $100 million fund to address emergencies and cash flow problems, is depleted. "Instead of any cushion, today it has a negative cash balance," Vickrey said.
Compounding the courts' budget problems is the fact that for the past three years, many mandatory costs have been partially funded or not funded. For example, the cost of providing court interpreters in criminal cases is partially funded and higher county charges (an annual increase of $12 million) have not been funded at all. Such problems have what Vickrey called an "erosionary impact" and cause "a real hit."
"It's because of that we've seen things like shortened hours, courts closing for two weeks, a backlog in warrant files, a backlog in processing commitments to prison," he said.
One area that may change came with the governor's proposal to restructure collective bargaining procedures affecting court employees, court security and employee benefits. Under the current system, each of the state's 58 county court systems negotiates directly with public employee unions for multiyear labor contracts, a system unique to Califor-nia. If the state were to become involved, it would have more control over the process and establish better consistency in how money is spent in the court system statewide.
Vickrey said he has three goals in looking at next year's budget:
Funding mandatory costs;


Making sure the level of reductions next year is not greater than last year; and


Assuring that any reductions do not become permanent.
When it comes to prioritizing, criminal cases will be at the top of the list, Vickrey said, and things like small claims and landlord-tenant issues will be at the bottom. "I don't want a budget that institutionalizes, as a continuing way of doing business, something that's based on the current fiscal crisis," he said.
"The position of the chief justice and the Judicial Council is that under the state Constitution, the public is entitled to open courts everywhere in the state. They should be accessible.
"We don't expect to be immune from the state's serious financial problems . . . and the courts need to be cooperative in trying to make reductions. We just want to be funded for actual costs."
Perhaps California can take comfort in knowing it is not alone in facing serious financial problems. The problem was a hot topic at the meeting last month in San Francisco of the Conference of Chief Justices. Indeed, the group unanimously passed a resolution endorsing the strategies set forth in a "white paper" on judicial budgets in times of fiscal crisis.
Among its recommendations: courts must be treated as a co-equal branch of government, they must have significant input in responding to budget crises rather than allowing others to manage such crises, and they must avoid sending a message that they are self-funding.
The resolution also pointed out that constitutional and statutory provisions bearing on a state's budget process can have a large impact on the judiciary. For example, permitting a governor to alter the judiciary's budget request prior to submission to the legislature undermines judicial independence, and line item restrictions on judicial branch spending "preclude courts from making most efficient use of their resources."
"The judicial branch should speak with one voice in advancing its budget goals," the resolution concludes.