Lawyering can be a dangerous job
By Diane Curtis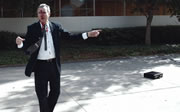 Attorney Gerald Curry points after being shot in November.
© 2003 GETTY IMAGES
Two years ago, a California law was enacted recognizing an ominous sign of the times: It's increasingly dangerous to be a lawyer. "I believe that the men and women who prosecute crimes are an integral part of our criminal justice system and, more and more, they put their own safety on the line to protect the public," then-Gov. Gray Davis wrote in a message supporting a bill giving public lawyers some of the same retirement benefits available to police officers.
"The evidence of this has mounted in recent years: a prosecutor killed in the courtroom in Washington; a public defender attacked while on duty in Sacramento; a deputy district attorney found stabbed to death in his home in Kern County just weeks ago."
Many attorneys assert that lawyers — especially those in emotionally volatile specialties like family law — are more at risk than they've ever been. They cite reasons ranging from a general disrespect for the law and court officers to a transfer of responsibility for the mentally ill to the criminal justice system.
For probate attorney Gerald Curry, shot five times last year as television cameras caught the action, the issue was dissatisfaction with a legal decision that was only indirectly connected to Curry.
"This area of practice is usually considered a safe area of practice," said Curry in a recent telephone interview. "This doesn't happen to nice guys like me. But in any kind of case where there's money involved, tempers flare and people get upset emotionally. Then, if you happen to be unlikely enough like me to get a wacko . . ."
Curry stole the television spotlight from the Robert Blake wife-murder case in Van Nuys last October when a man came up to him outside the courthouse where Blake's preliminary hearing was taking place and asked, "Are you Mr. Curry?" Curry said that he was and the man, 64-year-old William Strier, responded with a point-blank gunshot to Curry's neck.
"When that happens, you basically react on instinct," said Curry, who tried to take refuge behind a tree. "I was just trying to keep the tree between me and the guy. As you can see (from the television footage), I was moving back and forth, trying to protect my head and torso . . . I was lucky.  If he shot me in the head or heart, we wouldn't be talking now." Curry was shot five times in total, including three shots in the shoulders and one in the forearm.
Since the shooting, Curry has continued his practice and retains the "upbeat, optimistic" attitude instilled in him by his dad. He's taken some security precautions, but mostly he's just a bit more cautious than he used to be. "Probably I wouldn't acknowledge to a stranger that I'm Mr. Curry," he said. He also recently declined a probate case that involved a woman whose husband had threatened to kill her. If he has any advice for other attorneys, it's to listen.
"Whenever there are threats of any kind, whether attorney or client, they should take those threats seriously," Curry advised. "It's hard to protect attorneys once they get outside the courthouse. (Assailants) can shoot you at your car or at your house."
That possibility isn't lost on two divorce attorneys at opposite ends of the state who are currently victims of vandalism.
Carlsbad family law attorney Daniel Burke estimates he and his insurance company (mostly he) have spent about $90,000 on security, repair, replacement and restructuring since someone began vandalizing his office and home last November. The money has gone towards security systems and cameras at home and at work, repairing his car and replacing windows, carpets, rugs, books and furniture in his office.
Burke believes the vandalism is linked to a case he dropped in mid-December in order to stop the harassment.
Initially, Burke's 2002 champagne silver Mercedes was gouged with what he thinks may have been a can opener. A few days later, six rocks about the size of softballs were lobbed through the French doors leading into his office reception area, followed by six 1-1/2-gallon cans of white, oil-based paint thrown into a conference room. A month or so later, white paint showed up at Burke's home in a rural, unincorporated area of San Diego County where he lives with his wife and young son. When Burke went out to get the paper the morning of Christmas Eve, he found white paint dripping off the repaired Mercedes. After he checked to make sure his son was okay and as he called sheriff's deputies, his wife asked if he'd also told them about the paint splashed on their deck — eight feet from the couple's bedroom.
In mid-February, virtually identical vandalism — gallons cans of white paint thrown through broken windows — occurred at his office again, causing thousands of dollars more damage. Security cameras captured an image of an adult male.
"I'm shocked. I'm stunned. I'm rattled," he recalls feeling. And he knows that a case in which some paint was splattered on his property is not going to be a high law enforcement priority.
Larry Lawson, a certified family law specialist in Roseville, has had his windshield wipers twisted, his car window busted. He's been swung at, pushed in the chest, lunged at across a conference table. He's been threatened with physical violence many times. Often, he brushes off the threats and vandalism as going with the territory. "Ours is clearly the most emotional area of law there is," he notes.
But a recent case feels different and has his undivided attention. Acid or brake fluid has been poured on his car six or seven times,  "I've literally watched the paint peeling," Lawson observed. "The first few times it happened, I was so damn mad . . . Then I got to thinking. 'This is just an inconvenience, and it's probably one of the finest compliments I'll get: It means I really nailed him.'" He referred to the husband in a divorce case in which he was representing the wife.
Still, Lawson is taking more than the usual precautions. He has installed a state-of-the-art security system that includes night vision capabilities. He is carefully monitoring activity at both his office and home. He's ready to carry the gun he got a permit for if the need arises. And the worst is always in the back of his mind. He was a friend of Bud Zilaff, a Sacramento family law attorney who was shot and killed in 1997 by the husband of a woman Zilaff was representing. Family law attorneys also point to the 1997 murder of divorce attorney Ron Weiss, 61, who was shot in his Tustin law office.
Domestic law is typically regarded as the most dangerous because of its focus on hot-button issues: love, money, sex, children. An informal 1997 fax survey of members of the American Bar Association Family Section of Family Law found that 12 percent of the 253 respondents had been victims of violence at the hands of a client or opposing party, 17 percent reported being threatened by their own client and 60 percent had been threatened by an opposing party. Despite the threats, only 4 percent said they had taken safety precautions.
Still, other lawyers are far from immune from violence. Michael Judge, Los Angeles County chief public defender and chair of the legislative committee of the California Public Defenders Association, says a week doesn't go by without an attempt or actual attack on a public defender somewhere in the state. The attack could be rape — a rarity — or, more common, stabbing with a handmade knife that had been hidden in a body part or being "gassed" with urine, sputum and/or fecal matter. Verbal threats are everyday occurrences.
"Public defenders operate in an environment in which there are constantly threats of violence," Judge said, noting that they are in lockups where the policy is no bargaining for hostages, they deal with mentally ill people who are not being treated and they become surrogates for defendants' anger towards someone else simply because of their proximity.
In order to eliminate an incentive for defendants to delay a case or get a new attorney by attacking their public defender, Judge's office has instituted a policy that public defenders retain their clients even if attacked by them.
While violence is a concern for prosecutors, it doesn't occur as often as it does to defense attorneys, said Wayne Strumpfer, deputy director of the California District Attorneys Association. "Obviously, (public defenders) have closer contact so there's better opportunity," said Strumpfer. "And there's a weird concept by the defendants. They tend to respect that we have a job to do. (If they don't get what they want) then they tend to take it out on the defense attorney."
Still, safety is always a concern. Last June, a San Joaquin County district attorney was stabbed in court by a defendant as the guilty verdicts against him were being read. The attorney survived. Another district attorney in Southern California went into hiding when he learned that a gang had plans to do a drive-by shooting at his house. He has since transferred out of cases related to gangs.
"I think it's in the mind of every prosecutor that you have to be careful about safety," said Strumpfer.
Those who have been targeted say their colleagues should think about protecting themselves and their family before the need is obvious. "Shame on me. I should have had cameras years ago. I should have had locks and gates years ago," said Daniel Burke, the Carlsbad attorney whose house, car and office have been vandalized.  He said courses on safety from attorney organizations couldn't hurt, either.
"What do I do? Stop zealously representing my clients? No. I have a duty. I took an oath to zealously represent my clients. I've done nothing more, nothing less." The answer, he says, must be in increased security.