Addiction takes a terrible toll, but there is plenty of help
By James O. Heiting

Heiting
Today I visited a friend in the hospital. I heard he was there by way of a phone message from another friend this afternoon. The message said John is in the hospital, but he is going to be moved to a hospice facility because he is dying, and there is no hope for him. I got over there within the hour. This was the first I had heard that he was ill at all.
John is 47. I knew him, first as a personal injury and medical malpractice client when he broke his leg in a motorcycle accident, then had it amputated following very questionable medical care; and later as his life spun out of control and he went to Pelican Bay Prison (for the hardest of the hard) as a result of several armed robberies behind a growing anger at life and a growing drug addiction. He was not a "friend" then, but the person I got to know earlier was not somebody that I thought should be discarded either, so I kept in touch.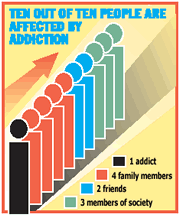 (Click to Enlarge)
Gradually, as John cleaned up in prison, he began to inquire about ways to stay clean and sober, and he began to employ those principles in his life. We kept in touch, and when John got out, he came to visit.
Now, John never developed a sense of conservative fashion and was always an intimidating vision. Some of our staff who knew him as a client refused to see him after he got out of prison (and to the present, many years later) because they were too frightened . . . probably for good reason. John is a man of average height, always neatly combed hair, but with large, dark detailed "artwork" all up and down his prison weight-lifter arms from his wrists to his perpetually cut off sleeves. When he wore just an undershirt, which was often, it became obvious that the tattoos covered his entire powerful chest and part of his back.
Add to that visual a man who wore shorts that effectively displayed his prosthesis (or not, when he decided not to wear it), and always had a Fu Manchu moustache and "stinger" beard, with a stare that could put icicles on a flamethrower, and you start to get a picture of his outward appearance. But this did not describe what was inside, at least not any more.
He was no longer the angry man, blaming everybody else for his problems and plight in life. He was accepting of his disability, humble and apologetic about the pain he had caused others, and willing and enthusiastic to move on and do positive things in this life. He got married and had a son. He got a job as a janitor, and later in maintenance, and then as a motorcycle mechanic and painter. Unfortunately, as sobriety does not guarantee that all will be roses, the marriage did not work out and the couple divorced. John took all responsibilities for his son and was awarded full custody.
In the years since, John was known, loved and respected by his neighbors and all who got to know him. He would help anybody do the hardest and most time-consuming tasks. He became a loyal and an honorable man of good character and quality.
Liver transplant needed
But his past caught up with him around Thanksgiving last year, and he started to feel a little under the weather. He thought it was just the flu or a cold, but it lasted, so he saw a doctor. By Christmas he was hospitalized and his liver basically quit functioning. When I saw him he looked like he had bathed in yellow magic marker fluid. I have had a lot of experience with the results of alcohol and drug abuse, but I have never seen anybody as yellow as John.
The doctors say they are waiting and searching for a liver transplant to become available, but to see the doctors and nurses in action, and John's surroundings and treatment so far, gives the impression they have given up and are just waiting. Probably a short wait. John may be dead now, as I am writing this, but he says he and God have been connected quite awhile now, since he got clean, and he has no fear of death. I will miss him.
But John is not unique in this final circumstance; nor is he unique in falling into drug addiction.
Bruce was a lawyer — a very accomplished and well-respected lawyer. He came from a good Jewish family with no history of alcoholism or drug addiction. He was successful in school and then, too, as a lawyer. Somehow, somewhere, though, Bruce tried drugs and liked the experience (I don't know if you have heard this, but there is a good likelihood that when people try drugs they will like them. Addiction to drugs doesn't arise because people don't like the effects).
Bruce went on for a fairly brief period in this shadow world of "lower companionship" and eventually came to realize the slide he had taken: his practice had been going downhill, and he only had drug-related crimes to deal with now; his connections to his family had suffered, although they had not yet been completely severed; his spiritual connection was seemingly nonexistent. He was in trouble with the bar and had been careless in handling client money and trust funds.
He knew he wanted to stop, and he tried. But he kept returning to drug use and couldn't stop on his own.
The Other Bar
So he turned for help to members of The Other Bar. He started going to meetings and connected with lawyers and judges in recovery from drug addiction and/or alcoholism. He started to learn and practice some steps to assist in his own recovery. His life started to get better again.
His recovery on track, he reconnected to his family (and was accepted with thankful open arms); he faced his bar problems head-on and got through them responsibly and effectively; his practice started to grow and blossom again (he started getting referrals again, even from those lawyers who had stopped referring clients during his period of drug abuse); and most important of all to Bruce, he connected with God again. He felt spiritually whole and able to practice his religion without the weight of guilt and remorse. His sense of humor returned (he had a great sense of humor, and his cutting sarcasm and dry wit always kept us in stitches).
But Bruce's past caught up with him, too. He also had done too much damage to his liver. With Bruce, though, it was quicker. He felt a bit under the weather for about a week. He went to a doctor and after a complete work-up, was diagnosed with the liver problem on a Wednesday. He entered the hospital for tests on Friday and was dead before he could start therapeutic treatment scheduled for Monday. I had seen him in the hospital that Friday, and even though he knew what he was facing, he expressed no fear, but only faith and gratitude for the gifts of sobriety.
I will miss both my friends.
I don't write about these two for sympathy or for entertaining reading, though. I write of these two men to lay out reality. The reality of drug addiction and/or alcoholism is that, if continued long enough (and nobody can predict how long "long enough" will be for any particular individual), it will result in jail, insanity, illness or death, and maybe a combination of them all.
Knowing this, the logical next realization to hit us is that early intervention in this process, to lead to early recovery, is of primary importance. Even if we don't care about the alcoholic/addict, think about how many clients, friends, sons, daughters, wives, husbands, grandchildren, nieces and nephews and others are affected by the torturous existence of the alcoholic/addict and by their ultimate death. If you are not emotional about such things but are more practical-minded, think about the cost to our society to treat the health concerns of the addicted and those they affect by their addictive behaviors and abuses.
Thanks to the founders of The Other Bar, a program of recovery for lawyers and judges was started in California in the mid-1970s. From this body and its efforts, along with connections uncovered in other states, a networking group was formed, which became the "International Lawyers in AA" (ILAA).
And through the efforts of ILAA, with participation of The Other Bar and groups that began to be formed in other states, the American Bar Association got on board and started to organize its own efforts with a central think tank and information center. Every state now has a lawyer assistance group of some kind. In 1974, none had any.

Senator Burton
Finally, recognizing the successes of the ABA programs and the continued success of the underfunded and quietly and anonymously growing Other Bar, and the lives and protection of the public at stake, state Sen. John Burton spearheaded legislation to allow — better, to compel — the State Bar of California to form and fund, with the assistance of The Other Bar, an effective lawyer assistance and diversion program of its own.
At the time Sen. Burton's legislation was winding its way through the process, two State Bar leaders with foresight and vision were thinking along similar lines. Executive Director Judy Johnson and Chief Trial Counsel Mike Nisperos were making their own efforts to see that the public was protected, and to combine this concern with the ideal of saving lives, and careers, of our members.

Johnson
Johnson was pounding hard and put major resources behind Burton's efforts and organization. She made sure her staff, especially her very capable assistant Starr Babcock, made every effort to help draft the legislation and work with people with experience.
The legislation eventually was adopted. It targets those in trouble or need as a result of chemical dependency (drug or alcohol addiction) and/or mental and emotional issues.
Nisperos
Meanwhile, Nisperos, former director of the Oakland Mayor's Office on Drugs and Crime and now the chief prosecutor of lawyers for the State Bar, was determined that the drug court theory and practices that have been so effective in helping defendant addicts in the county courts could serve to help respondents in similar circumstances in the State Bar courts. He put together a program to do just that; it was quickly adopted by the Board of Governors and now is in place as a "pilot program." It is not exactly like the drug courts in our county courthouses, and true diversion is not yet a reality, but what a giant step in the right direction.
Great credit should go to these two individuals and their staffs for the effective implementation of these two very important programs. No other programs that I know of in State Bar history have had anywhere near the potential to help and serve our members and the public.
The outline of the Lawyer Assistance Program may be found in the Business and Professions Code, commencing with §§6140.9 and 6230. Those who wish to make inquiry may call with any questions or issues and discuss them with a counselor at 213-765-1190. The toll-free number is 866-436-6644. Callers may remain anonymous.
The drug court "diversion" pilot program can be reviewed at the State Bar website at www.calbar.ca.gov. That program applies to those under investigation or within the discipline process and offers incentives to submit to treatment, counseling and means of addressing the addictive behavior and/or the mental and emotional issues.
At least two deputies (attorneys) in the Office of the Chief Trial Counsel are assigned to handle only those cases that deal with these issues; and while your inquiry may not be anonymous or confidential, Chuck Murray of Los Angeles and Cydney Batchelor of San Francisco are experienced, compassionate, fair-minded people who want to see people who need help get help.
Finally, The Other Bar continues to work in the shadows, completely confidentially and completely anonymously, with more than 26 weekly meetings throughout the state and consultants who answer the phone in the area of the origination of the call on a 24/7 basis.
Although the number is an "800" number, they have arranged it so it rings to a person local to the caller. The Other Bar's number is 800-222-0767. Callers may remain anonymous and may ask about their own issues, others' issues and all aspects of recovery, treatment and support.
With these programs available, and the many volunteers throughout the state standing ready to help their brothers and sisters get their lives back, there is no reason that one must continue to suffer or to reach the depths that would otherwise befall them.
If you need help, get help. If you know another who needs help, help. Even sharing this article or the numbers and names here may be enough to save a life or career.
You may certainly call me to discuss these issues any time, too, at 909-682-6400.
Remember, early intervention saves lives and avoids tragedy otherwise certain to befall the addict/alcoholic/emotionally troubled and those with whom they come in contact.
• James O. Heiting represents District 6 on the State Bar Board of Governors. He is a longtime member of The Other Bar and served as its president from 1991-93. He practices in Riverside.