Future lawyers make their mark
By Nancy McCarthy
Staff Writer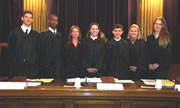 Alyson Locher (center) poses with the other Supreme Court justices in the YMCA's model court program.
Photo by Kim Komench
Melissa Blake stepped to the podium in the ornate California Supreme Court chambers in Sacramento and intoned, "May it please the court." With the polish of someone twice her age and twice as experienced, Blake pleaded her case, arguing that her client's doctor violated physician-patient confidentiality by disclosing information that led to a child endangerment conviction.
Blake would learn later that day that she was persuasive enough to win a unanimous ruling, with two concurring opinions.
But the young woman from San Luis Obispo and her colleagues were no ordinary lawyers, nor were the justices the real thing. They were participants in the 56th California YMCA Model Legislature & Model Court, the largest program of its kind in the country.
Last month, some 2,300 high school students from throughout the state spent five days in Sacramento, immersed in the work of the two branches of government. Four hundred participants enrolled in the court program, earning hands-on experience that one advisor said was akin to one semester in law school. "As I tell the delegates," said Orange County attorney Laura B. Banker, "it was the best experience I had that prepared me for law school. If you don't like it here, you won't like law school."
Added David M. Wright, a Pasadena lawyer who administers the court program, "It's not competitive, it's experiential. It's hard, but it's supposed to be fun and rewarding."
The court program has five components: the Supreme Court, judicial review, and appellate, jury and trial courts. Participants in the Supreme Court, jury trial and judicial review components are selected on the basis of prior court program experience and submit separate applications.
The program gets underway in September, when the participants meet at 87 different locations in California through local YMCA programs. Drawn from 10th, 11th and 12th graders at both public and private schools, the program includes a November training conference, when the youngsters select either the legislature or the courts, and a second conference in January, where the court program participants are given their cases.
At the five-day conference in Sacramento, the young lawyers and judges spend most of their time in intense study, honing arguments and anticipating questions. About 35 real lawyers serve as volunteer advisors.
A judge or panel of judges wearing robes presides over each hearing, and the youthful attorneys present their cases. Each court received a ruling before the weekend was out.
In the Sacramento County courthouse, Banker divided her time among three courtrooms, overseeing jury selection in a mock criminal trial. Her hand-picked teams had to master voir dire, objections, direct and cross-examination and summation before the trials began.
At the same time in the Capitol building, sophomores held their own "forum courts," presided over by five-judge panels. "Remember, confidence," said their advisor before the trials began. "Remember to breathe."
As impressive as the teens were, they're still teenagers. In one courtroom, a young lawyer repeatedly responded, "No problem," when the judge thanked her for her response. Another addressed the judicial panel as "you guys," and one judge asked a potential juror, "Could you non-biasly judge the case?"
At the Supreme Court, whose participants are hand-picked, the arguments were on a high plane. Alyson Locher, a 17-year-old student at Marymount High School in Los Angeles, served as chief justice and admitted to a case of nerves before the proceedings got underway.
During a training session, Locher and the other justices reviewed questions they planned to ask during the hearing, which addressed sophisticated constitutional and evidentiary issues.
Wright and Brian Saener, a 30-year-old Los Angeles lawyer who participated in the program when he was in high school and was an advisor in college, were there to help. "I'm still learning," said Saener, a transactional real estate lawyer. "Coming back here and debating cases is fun. You see the light bulbs go off in their head and it's more exciting when you listen to the debate. It's a very intellectual debate."
In separate rooms, attorneys for both sides rehearsed their arguments and tried to anticipate the justice's questions. "They'll drill me about Librium," Blake fretted, acknowledging the drug her client ingested. She and co-counsel Roxana Mehrfar considered privacy rights, the state's interest in a fetus, the meaning of Roe v. Wade and doctor-patient privilege.
In another room, Attorney General Alex Nguyen, who said he "definitely" plans to become a lawyer, and his co-counsel Josh Rosenberg practiced competing arguments. All four lawyers had 15 minutes each to make their case in court.
Wright gave some advice to his young charges during the training: Defer to the chief justice, let the attorneys answer your questions and don't be argumentative. "Your job is to elicit answers to the questions you have that are necessary to decide the case," he told the youngsters. "It's an exchange, it's not combative."
Locher had her hands full at the hearing, however, when the enthusiastic young justices interrupted each other, often not allowing the attorneys to answer the questions. "Please let counsel continue," she admonished the other justices. "We're not here to argue."
When the hearing ended, the high schoolers returned to being teenagers, breathing sighs of relief, laughing and posing for pictures. "The attorneys really stood up to them this year," said Wright, who beamed at the kids. "This was pretty consistent with what we usually get."
Behind closed doors, Wright said, the young justices took a straw vote that favored the state. But after further analysis, they decided the law supported Blake's arguments.
A volunteer for 20 years, Wright said he loves the program. With no time to do pro bono work in his health care law practice, he considers his 12 to 14 days a year dedicated to the program a way to give something back to his community. "It's tremendously rewarding to take some kids who have no clue about the law and after four days, watch their progress.
"It's rejuvenating, invigorating and recharging. This is what it's all about."