In Yolo County, grandparents and courts
join forces to change lives
By Diane Curtis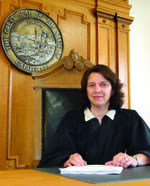 Judge Donna Petre
It's a cloudless Wednesday morning in the Yolo County seat of Woodland, and a woman who looks to be in her late '50s or early '60s is waiting patiently for the guardianship clinic to open. Precisely at 8:30, staff attorney Julie Osborne opens a countertop door to face the woman and her sheaf of guardianship petition papers.
"What do I do with these?" the woman asks, holding several pages of the forms.
"Did you serve the mother yet?" Osborne asks.
"No, I didn't know what to do."
The woman's son is in jail on drunken driving charges and the mother of her grandson is about to be evicted. Head Start, she says, has threatened to call Child Protective Services because the mother, who the grandmother believes is on drugs, regularly picks up her son two or three hours late.
The woman fears for her grandson's welfare, afraid that he'll end up in a house with irresponsible, and maybe even dangerous, strangers. When she went to the courthouse to ask about assuming legal responsibility for her grandson, she was told to contact the free Guardianship Facilitation and Outreach services of the court aimed especially at grandparents.
Osborne goes through the process, patiently answering every question and making sure the petitioner knows what to write on the 25-page guardianship form and where to take it. Fifteen minutes later, the woman is on her way.
In a courtroom not far from the guardianship clinic booth, a woman and a teenage boy are reaping the benefit of having filled out and filed the guardianship papers and secured the signature of the mother on the petition. Caren Hill and Erik Puleo-Coats are sitting at a long table before Judge Thomas Warriner, who looks up from a file he has been reading.
"Everything looks hunky-dory," Warriner tells the teacher and high school junior. "They say you guys are having a good time together." They smile and nod. Erik talks about his grades — A's and B's — and college plans — Sacramento City College, then UC-Berkeley. Public speaking or computers. Warriner approves the guardianship.
Customarily, a grandparent who needs legal authority for a child would have to hire a lawyer to help with the maze of forms and court appearances and to explain the difference between guardianship, custody and adoption, a process that can cost $2,000 or more — a prohibitive expense for many grandparents. The other option is to notify Child Protective Services to pick up the child and place him or her in a foster home and go through the lengthy and costly juvenile dependency process.
"From the point of view of trauma to the child, this guardianship really protects children," said Judge Donna Petre, co-presiding judge with Warriner of the Unified Family Court of Yolo County and the driving force behind the court's effort to address the problems that bring people before her. "Since the guardianship program began in 1999, guardianship probate petitions have increased to more than 100 a year, a 100 percent increase.
With former court staff attorney Karen Blank, Petre started the guardianship clinic after she noticed that grandparents often accompanied their sons and daughters — many up on drug charges — to court. When one grandmother told her that the grandson who was not living with her was disciplined by the mother's friends by putting the boy in the dryer, Petre called for quick action in getting the grandmother guardianship, and then she expanded the program to others.
Blank and Petre spent many nights at meetings for seniors and others to let people know of the availability of the service. They also publicized the service in newspapers and at community agencies, and Legal Services and Child Protective Services also referred people.
With guardianship, parents still have parental rights, much like custody dispositions in a divorce. The grandparents may have physical custody but the door is not closed, as it is with adoption, to parents regaining custody. "You would be amazed at how many grandparents are raising their grandchildren without court orders," says Blank, who now is in private practice.
Then they find that their young charge needs medical treatment or school registration and they don't have the legal authority to get them. The availability of a staff attorney to help with the process is designed to make it as painless as possible. "It's a huge packet of information," says Blank. "I'm an attorney and the first time I did it, it was hard."
The Guardianship Facilitation and Outreach program received the 2003 Ralph N. Kleps Award for Improvement in Administration of the Courts, the fifth time in six years the Yolo County Unified Family Court has won the award, which is named after the first administrative director of the California courts.
The winning programs must be innovative, transferable to other courts, improve the administration of justice and reflect one of the long-range goals of the Judicial Council: access, fairness and diversity; independence and accountability; modernization; quality of justice and service to the public; education; and technology. "The program makes guardianship proceedings accessible to people who need them, increases the court's efficiency and improves services to children and their families," the Judicial Council noted in making the award.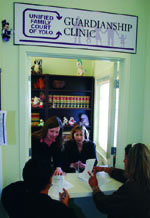 Julie Osborne (L) and Julia Farrar help clients at the Yolo county Gardianship Clinic - Photos by Deo Ferrer
The court has estimated that the guardianship program may have saved the county $2 million in dependency proceeding costs.
The guardianship program, which includes help involving child care, counseling, tutoring and insurance needs, reflects the philosophy of Yolo County's Unified Family Court to go beyond the legal mandate of approving a petition or handing down a sentence and try to stop the downward spiral that brings people to court.
The central principal of the Unified Family Court, says Petre, is that one judge handles all cases involving one family even though the cases may fall in such different departments as family, probate, juvenile dependency, juvenile delinquency or domestic violence. That way one judge was not, say, awarding custody of a child to one parent while another judge was limiting visitation for that same parent.
Services through the unified court include a therapist, drug treatment, parenting and domestic violence classes. University of California at Davis law students, under the supervision of a professor, assist domestic violence victims in child custody and visitation, support and divorce proceedings. A local church offered space and parishioners to supervise visitations between children and their parents, who might have drug or violence problems.
Juveniles in a Juvenile Violence Court must attend anger control classes and a probation officer insures daily attendance at school and searches of the youngster's room at home for drugs or signs of gang affiliation. A Children's Fund, started with a $10,000 Foundation for Improvement of Justice award, helps children with emergency needs or a special gift like a bicycle and helmet.
Petre, who Blank describes as "a visionary," says the changes have been made mostly by reallocating resources and through grants, volunteers and donations.
"I know I save money," she says. "We're changing people's lives," she adds. "I can't make everyone have a perfect situation, but I can take that family, wherever they are, and try to move them a little closer to a productive life."