Former Attorney General John Van de Kamp wins State Bar presidency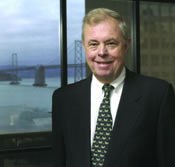 John Van de Kamp
Former attorney general and Los Angeles district attorney John Van de Kamp was elected the 80th president of the State Bar last month. He will take office in October, succeeding Anthony Capozzi of Fresno.
Van de Kamp's win over three other candidates ended a campaign in which he emphasized what he called the "four biggies:" public protection, member benefits, access to justice and diversity in the profession. "The bar should stand for lawyers, but stand for public protection at the same time," he said. "Those two are not inconsistent."
Further, he said, the public protection function of the bar and the services provided to consumers should be better explained. "We need to communicate the good things lawyers do," he said. "I'm committed to trying to communicate that around the state." If that can be done, Van de Kamp said, esteem for lawyers will grow among members of the public and in turn raise lawyers' self-esteem. "That's the best member benefit we can provide."
Van de Kamp, who is of counsel with Dewey Ballantine LLP in Los Angeles, joined the State Bar Board of Governors three years ago as a representative of District 7. As a vice president, he heads the board's discipline committee, and pushed this year to restore longer hours for the complaint telephone line.
Van de Kamp, 68, will resign his post as president and general counsel of the Thoroughbred Owners of California July 1 to devote his time to the bar. He said he plans to capitalize on his broad contacts throughout the state and his long experience — 44 years as a lawyer — in both the public and private sectors.
During two terms as attorney general from 1983-1991, he had good rapport with both sides of the political aisle in Sacramento and has maintained many contacts in the capital through his work with the Thoroughbred Association. He also knows how to get things done, he said, a skill as important as who you know.
Van de Kamp said he is proud of his role as the "father of fast track," which reduced by about three years the time for civil cases to get to trial, his efforts to put California in the forefront of AIDS drug testing, and his push to win passage of an assault weapons ban following a schoolyard shooting in Stockton. "I vowed at the funeral to do something about it," he recalled. "It became a law enforcement issue, not a gun control issue."
Prior to his election as attorney general, Van de Kamp served two terms as district attorney of Los Angeles. He ran against Dianne Feinstein in the 1990 gubernatorial primary. He also is president of the California Historical Society.
Van de Kamp's wife, Andrea, is chairman emeritus of the Music Center of Los Angeles and west coast art chair for Sotheby's. The couple has a daughter, Diana, 25.
Asked why he wanted to become president of the bar, Van de Kamp said, "I thought I could bring something to the bar in terms of my years of experience. I'm proud to be a lawyer. I've always enjoyed being a lawyer and I've always believed in being involved with the bar."