Dual passions — juvenile justice and high jumping — guide Ventura judge's life
By Kristina H. Flaherty
Staff Writer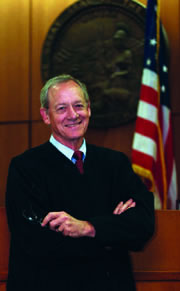 Judge John Dobroth.
For Ventura Superior Court Judge John E. Dobroth, high jumping is a passion. Once ranked fifth in high jumping in the world, Dobroth has been competing for nearly five decades and, at age 63, is still at it. He likes the weightlessness at the height of the jump, he says. And he has the intensity and perseverance that it takes to get there.
It's a focus and determination, supporters say, that Dobroth also brings to his Ventura courtroom, and to his many creative efforts to help troubled children.
For his work, Dobroth's peers statewide — the Juvenile Court Judges of California — recently named him the Wilmont Sweeney Juvenile Court Judge of the Year.
"He brings an intensity to his work, a seriousness about the endeavor of trying to improve the lives of children," said Santa Clara County Superior Court Judge Leonard P. Edwards. "He recognizes that much of the work of the juvenile court judge must take place outside the courtroom."
Several years ago, for example, a stream of crimes involving young white supremacists prompted Dobroth to spearhead, with help from the Anti-Defamation League (ADL) and the Ventura County Probation Department, an ongoing "Eliminate the Hate" tolerance program for juveniles in custody.
More recently, a lack of free counseling services for the children passing through his court who are neither incarcerated nor seriously mentally ill led Dobroth to launch V-CARE, in which counselors-in-training provide counseling under a psychiatrist's supervision.
And when a new farming project for juveniles in custody needed seed money, Dobroth organized a golf tournament that brought in thousands of dollars.
"He has been particularly effective in organizing community resources on behalf of children," Edwards said. "That's what makes a good juvenile court judge, and he's a great one."
Those who know Dobroth describe him as a rough-hewn, pragmatic, creative, straightforward, scrupulously honest judge who stands up for what he sees as right — and who is always looking for new, collaborative ways to help wayward children. Typically, he will not place a child into custody until every alternative has been exhausted and those involved agree that it is the best option.
"The difference is he really likes to get consensus among all parties," said Cal Remington, Ventura County's chief probation officer. "That's not always easily done because there are different perspectives in that courtroom, as you would expect."
Other pressures are at play as well. Several years ago, the county faced a critical situation in which its outdated juvenile facility was seriously overcrowded, sometimes reaching 180 percent capacity. "You can't reduce that population significantly without the assistance of the juvenile court," Remington said.
Judges, probation officers, public defenders, prosecutors and others began meeting regularly to hammer out solutions. More juveniles were put on electronic monitoring, for example, which restricted them to their homes and schools, an alternative that forces families to become more involved as well. "I think we've learned that if we do a good job with alternatives, we can safely house fewer juveniles," Remington said.
Today, he says, the juvenile hall population is down, at times just half of what it was three years ago. The juvenile crime rate has continued to decline as well. (In the meantime, Ventura County has erected a new juvenile justice complex.)
Remington says Dobroth has a real sense of what will be best for the community and the child in the long run as well as the short run. The judge pulls people together to solve problems, Remington says, and he is "dogged and persistent" about finding answers.
Some say Dobroth, a former prosecutor, can be abrasive at times in his rush to put his ideas into action. No one describes him as a pushover or "bleeding" heart.
"People often don't see him as having a big heart," Remington said. "But he is a judge with a big heart."
Defense attorney Victor Salas Jr. says Dobroth takes the time to look at each child's situation. "He tries to find the source of the problem," Salas said. "I would describe him as persistent, persistent in his goal to try to save one more kid. Sometimes he's the best advocate that the kid has in there."
When a teenager who had been ridiculed by peers for his shoddy clothing landed in court for fighting, the judge steered the youth's mother to an agency that could provide new clothes. In another case, when a 19-year-old promised to help his little brother break free of trouble-making friends and end a spate of bad behavior that included fighting and alleged car break-ins, the judge gave the brothers six months to prove they could do it.
"A lot of kids will turn around and say, 'No one has ever been willing to give me that kind of break before," Salas said of Dobroth. "His greatest strength is that he genuinely cares for these kids," Salas said. "I've never seen him just whisk one away . . . Even when you think it's over, he'll say, 'But what does mom think?'"
Elected to the municipal court in 1986, Dobroth was elevated to superior court in 1998 and assigned to juvenile court a year later. Several high-profile juvenile court judges quickly inspired him into action.
"I realized, my God, this is perfect," he recalls. "You spend your life seeing problems, and you know that there's very little you can do in your role and then . . . suddenly you're in a position where you're encouraged to do something."
Dobroth is quick to attribute much of his success to Ventura County's "wonderful climate" for outreach projects and unusual cooperation among agencies. At conferences, he says, attendees from other areas "just drool over the cooperation we all show each other."
Recently, Dobroth launched V-CARE because he believed that some of the children passing through his court could benefit from counseling. He would see cases in which a marginally truant child, for example, had spiraled out of control after a father's death or a mother's brush with the law. "If you ask the underlying question, you find that the grief is driving the change in this kid's behavior," he said.
Dobroth believes that placing a child in a facility should be a last resort unless he or she is dangerous. "We'll explore every opportunity — family, relatives, community-based resources — to keep him in the mainstream and out of a facility," he said.
Long before becoming a judge, Dobroth taught junior high school and coached young athletes, including two women high jumpers who competed in the Olympics.
Adopted as an infant, he spent most of his childhood in southern California. An only child, he was the first in his family to graduate from high school. He later went to Occidental College, he says, simply because he once admired the school's track team at a championship meet.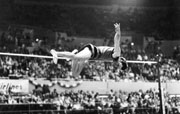 Dobroth at 1973 track meet.
Much of Dobroth's early adulthood centered around competitive high jumping. He qualified for the U.S. Olympic trials in the decathlon in 1968 and twice ranked among the top 10 high jumpers in the world. Finishing college with a psychology degree and a teaching credential from California State University, San Jose, he initially turned to teaching and coaching because "teachers had time to train."
But when a high school coaching job turned out to be disappointingly administrative, he opted for law school at a relative's suggestion. At that point, he had never actually met a lawyer.
His status as a high jumper, he suggests, opened the door to UCLA's School of Law and, in 1972, to a job at the Ventura County district attorney's office. He stayed on for 14 years. During that period, he also met his wife, a fellow prosecutor.
At one point, he prosecuted two midwives for practicing medicine without a license and won convictions. In the process, however, he came to believe that midwifery, if licensed, should not be illegal and he testified at Assembly committee hearings to make his point. State law has since been changed.
"That's pure John," said Steven Z. Perren, an associate justice for the Second District Court of Appeal.
Perren, who has known Dobroth for three decades, also recalls Dobroth organizing the nation's first decathlon for women in the 1970s. To pull it off, Dobroth had to teach the women athletes how to pole vault. "He made it clear to them that he supported the notion that they should be treated equally," said Perren, himself a former Ventura County juvenile court judge.
Perren, whom Dobroth describes as a mentor, says Dobroth's greatest strength is his integrity. He likens the judge to Gary Cooper's character in the 1949 movie version of Ayn Rand's novel "The Fountainhead." "The sense of this rugged individualist who is simply going to be the architect of something good," Perren said. "He's going to withstand any kind of assault on what he's doing because he knows it's right."
Several years ago, Dobroth stepped into a public controversy in which the county's behavioral health department was being accused of failing to provide necessary treatment to mentally ill juveniles. "Get-ting out in front of an issue like this is something that is pretty difficult for a judge to do," Remington said. "But once he came to a conclusion as to the problem, then, even as a judge, he was willing to get involved . . . And it made a difference."
A new behavioral health director was brought in, funds were shifted to the probation department and, says Remington, such juveniles now receive treatment when needed.
Dobroth's efforts are not limited to juvenile justice. Four years ago, he helped launch an award-winning "homeless court" in Ventura. Homeless defendants can now work off fines for minor offenses, such as sleeping or drinking in public, by doing community service. Dobroth presides over the court, which is held at various non-profit organizations roughly once a month. As he sees it, everyone benefits.
Attorney Michael Ford, who assists Ventura's homeless, says Dobroth is compassionate and patient. "He does not want anyone to leave his courtroom," Ford said, "and feel that nobody listened."
These days, Dobroth, a father of three, still has one teenager at home. He still competes in master's high jumping events but only during the summer. And he has taken up acting, recently practicing a Russian accent to audition for what would be, if he gets it, his first part in a local play.
He shows no signs of cutting back his efforts on behalf of children. "There are all sorts of services out there that aren't coordinated to give services to kids," he said. "We're not connecting them. I think we can do that better. I haven't scratched the surface."