An Olympic moment for Los Angeles sports lawyer
By Diane Curtis
As in the daytime, there is no star in the sky warmer and brighter than the sun, likewise there is no competition greater than the Olympic games. — Pindar, Greek lyric poet, 5th century BC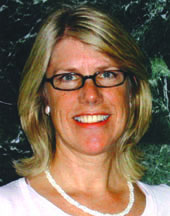 Maidie Oliveau
As an arbitrator at the Athens Olympics, Los Angeles sports marketing attorney Maidie Oliveau has more than a passing interest in the BALCO doping scandal, which could be an issue at the 2004 summer games. But despite all the publicity and controversy about the possible use by elite athletes of performance-enhancing drugs, the Southern California lawyer is determined not to prematurely take a position on any aspect of BALCO.
"Whether it taints the Olympic games, it's not for me to opine," says Oliveau, who has practiced sports law for more than 20 years and who received her undergraduate and law degrees from Georgetown University. "I feel it's important to go into all of these cases unbiased and open to all the information . . . The whole procedure has to be gone through in a deliberate and careful way."
Oliveau is one of 12 attorneys — and one of only two Americans — chosen to sit on the Ad Hoc Division of the Court of Arbitration for Sport (CAS). The division is the final arbiter of disputes that arise at the games, from doping to eligibility to game rules. It is possible track and field stars like three-time Olympic champion Marion Jones, who has been named in the investigation of BALCO (Bay Area Laboratory Co-Operative), could appeal to CAS if she is disqualified from the XVIII Olympiad. She has denied taking drugs and has never tested positive.
Despite all the focus on doping and athletes, Oliveau says she does not believe steroid use is prevalent. "I think there are sports where it does happen and sports where it absolutely does not happen. In sports where it does happen, athletes are pretty emphatic about making it stop . . . Doping is definitely a black cloud, but . . . everybody knows the efforts (to curb drug use) are earnest and serious. That means there's some kind of positive progress, which is a good thing."
Cheating has not been confined to the modern Olympics. As early as the first games in 776 B.C. in Olympia, Greece, there were reports of performance-enhancing rituals. Wrestlers were supposed to dust themselves with powder, but not a few gave themselves a slippery oil rub instead. Some athletes lied about their age; others decided the winner in advance. Cheaters were whipped or fined.
CAS was created in 1983 by the International Olympic Committee (IOC) as a way to provide swift — within 24 hours — impartial judgments to athletes appealing IOC or federation decisions made during the games. Following criticism that CAS had too close a link to the IOC to ensure confidence in its independence, it was decided that CAS would report to the Inter-national Council of Arbitration for Sport rather than to the IOC.
Oliveau, who was also an arbitrator at the Sydney and Salt Lake City Olympics and who does not rule on cases involving athletes from her own country, says the judges are well-qualified to handle any case put before them, including doping cases. "The issues are always challenging; they're usually novel in some way or another."
A California native who spent most of her youth in a suburb of Paris as the daughter of an aeronautics executive, Oliveau speaks fluent French and English, the two official languages of Olympic arbitration. She believes her language skills, as well as her sports and legal knowledge, played a role in her appointment to the committee.
At the Sydney games in 2000, Oliveau was on a three-person arbitration panel that upheld an IOC decision to bar Romanian gymnast Andreea Raducan from the games. The Romanian team doctor had given the 16-year-old athlete Sudafed for a cold. Raducan "tested positive for the drug pseudoephedrine and therefore committed a doping offense pursuant to the Anti-Doping Code of the Olympic Movement," the panel of Oliveau and her fellow Swiss and Australian jurists wrote. "It is the presence of a prohibited substance in a competitor's bodily fluid which constitutes the offense irrespective of whether or not the competitor intended to ingest the prohibited substance."
The decision continued: "The Panel is aware of the impact of its decision on a fine, young, elite athlete. It finds, in balancing the interests of Miss Raducan with the commitment of the Olympic Movement to drug-free sport, the Anti-Doping Code must be enforced without compromise."
"It was awful, just awful. I wanted to vomit after the Raducan case," Oliveau says of making the decision against a dazzling gymnast who was the victim of her doctor's bad judgment. But, Oliveau adds, difficult as it was, the decision was correct.
"What if you were a competitor and you too had a cold but you didn't take a cold medicine? How would you feel if another athlete did take the medicine and got to compete?"
Oliveau felt equally sorry for boxer Kakonga Jesus Kibande of the Democratic Republic of Congo who she and two colleagues barred from the Sydney games because he didn't make the weigh-in and medical examination as the result of a cancelled plane flight. "It's horrible bad luck and a tragedy," Oliveau says, but it followed the rules of the boxing federation and the Olympics.
Other decisions made by a CAS panel (but not by Oliveau) included upholding Apollo Ohno's gold medal, which had been appealed by a Korean skater, and a determination that led to a second gold medal going to the Canadian pairs skaters after the Russians took the top prize — both at the Salt Lake games.
Oliveau, who delights in the "cultural expansion" resulting from working with gifted legal minds from around the world, says she may have an ad-vantage because of her sports expertise. "I've worked in sports for over 20 years," she says. "Lots of arbitrators are judges or people more on the judicial side of things than the sport side. I'm not starting from scratch."
She managed the sponsors, suppliers and licensees of the 1984 Olympics as associate vice president with the Los Angeles Olympic Organizing Committee. She has negotiated sponsorship, naming rights or marketing relating to the 2002 Figure Skating Championships, the San Francisco Giants, the World Cup and the Los Angeles Dodgers. She has worked with the boxing federation. "Having dealt with one federation, you have a framework for what other federations are — what a federation does, why it does it, how it works."
Despite a possible cloud caused by the drug scandal, Oliveau emphasizes that the games are still about athletic accomplishment and excellence. And, she notes, of seven CAS cases at Salt Lake, none involved doping. Of 15 cases in Sydney, only three involved drugs.
At the Aug. 13-29 Olympics in their birth country, Oliveau hopes to get a chance to view some of her favorite competitions — tennis, rowing, track and field and volleyball, which she once played on Santa Monica's beaches and then in college. However, she's prepared to miss being a spectator because of daily meetings with the arbitrators and all-day, all-night sessions making decisions.
"It's interesting and it's challenging and it's unpredictable . . . I'm also giving back in a meaningful way. I'm making a contribution to something I think is fantastic — the Olympic games."