77th Annual Meeting set for Oct. 7-10
By Kristina Horton Flaherty
Staff Writer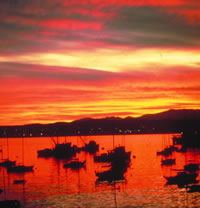 (Click to Enlarge)
At the State Bar's Annual Meeting in Monterey this fall, California attorneys will find dozens of MCLE programs on topics ranging from elder law to the hottest issues in cyberspace to rainmaking to the latest legal developments in their fields. (Annual Meeting registration information)
But one-stop shopping for MCLE courses is not all they will find. The Brown sisters — central figures in the historic Brown v. Board of Education case — will be in town to reflect on the landmark U.S. Supreme Court decision that paved the way for public school desegregation 50 years ago. Chief Justice Ronald George will present his annual State of the Judiciary address. Best-selling author Scott Turow will be signing his latest novel. And it will all take place in a spectacular coastal setting that is home to a world-renowned aquarium and many other visitor attractions.
Several thousand lawyers are expected to attend the Oct. 7-10 convention, which celebrates the State Bar's 77th anniversary.
This year's keynote speakers will include National Public Radio (NPR) senior correspondent Juan Williams, Turow, women's rights leader Faye Wattleton and the Brown sisters — Linda Brown Thompson and Cheryl Brown Henderson. In addition, former state attorney general John Van de Kamp will be inaugurated as the State Bar's new president.
Participants can earn up to 20 hours of MCLE credit, have access to an Internet Café in the exhibition hall and, if so inclined, exhibit work in the annual bench and bar art show.
For detailed information on the events and educational programs, as well as hotel and travel arrangements, visit www.calbar.ca.gov/archive/calbar/annualmeeting. Pre-registration closes Sept. 24.
This year, for the first time, pre-registration can be completed online or, as in years past, by mail or fax. A single registration fee buys entry to all but the special ticketed events.

Turow
The four-day event will kick off Thursday, Oct. 7, with a luncheon featuring Turow, who wrote "Presumed Innocent" and "The Burden of Proof," among other novels. Following the luncheon, he will sign copies of his latest novel. Luncheon tickets are $35.
For bar association executive directors and those who are preparing for a stint as a bar association president, the annual daylong bar leaders' conference on Thursday will offer guidance in governance, leadership, finance and communications issues.
Thursday evening, a complimentary opening night reception will be held in the Exhibit Hall at the Monterey Conference Center. Entertainment and refreshments will be provided and more than 100 different vendors will display the latest in attorney services and supplies.

Wattleton
Also slated for Thursday evening is the 30th annual California Women Lawyers dinner featuring Faye Wattleton. Wattleton is president of the Center for the Advancement of Women, a not-for-profit research, policy development and education institution created to advance women's equality and full participation in society. She was the first woman named to the presidency of the Planned Parenthood Federation of America. Tickets to the event are $95.
Friday gets off to an early start with a breakfast, co-sponsored by the bar's Business Law Section, which will feature Tom Greene, the chief assistant attorney general for the public rights division. Greene will address new criminal enforcement initiatives in environmental and consumer law, the attorney general's use of his new powers to deal with securities violations and new developments in multistate antitrust enforcement, among other topics. Tickets are $25.

Williams
Friday's State Bar luncheon, at $35 a ticket, will feature NPR senior correspondent Juan Williams, who also is a political analyst for Fox Television and a former prize-winning columnist and editorial writer for The Washington Post. In addition, Williams recently authored a book — "My Soul Looks Back in Wonder" — which presents eyewitness accounts from those who have played active roles in the civil rights movement over the past five decades.
The day will close with the presentation of the 2004 President's Pro Bono Service Awards, the prestigious Loren Miller Legal Services Award and the Jack Berman Award of Achievement for Distinguished Service to the Profession and Public, followed by the president's reception at the Monterey Bay Aquarium.
The reception ($60 for adults, $30 for children) opens the entire aquarium to State Bar guests. Attendees can view the current "Sharks: Myth and Mystery" exhibit featuring nearly two dozen species of sharks and rays from around the world. In addition, the aquarium's 2-year-old "Jellies: Living Art" exhibit features jellies exhibited for the first time in North America, as well as a walk-through jelly swarm. And the Splash Zone exhibit allows visitors to dive into coral reef and rocky shore animal homes.
Aquarium admission, horsd'oeuvres, complimentary wine from the St. Francis Winery and Vineyards in Sonoma and musical entertainment, as well as shuttle bus transportation from the Annual Meeting hotels, are included in the ticket price.
On Saturday morning, John Van de Kamp will be sworn in as the bar's 80th president. Five new members of the bar's board of governors and the new CYLA board members also will begin their terms.
The Brown sisters will deliver their address at Saturday's Bench and Bar Luncheon. Daughters of the late Rev. Oliver L. Brown, a plaintiff in the historic Brown v. Board of Education case five decades ago, the two women are dedicated to preserving the legacy of the U.S. Supreme Court decision in the case. Luncheon tickets are $35.
The bar's Office of Legal Services, Access & Fairness Programs will hold its annual diversity awards reception Saturday evening. Outgoing State Bar President Anthony Capozzi will present awards to one attorney and one bar association noted for promoting diversity in the legal profession. San Diego County District Attorney Bonnie Dumanis will be the reception's keynote speaker.
Also on Saturday, a complimentary closing night reception in the Exhibit Hall will provide attorneys with a final opportunity to tour the exhibits.
Capping the day's activities will be the annual dinner dance and casino night. The "Viva Las Vegas" event will feature music from the "Pink Flamingos," who have entertained audiences from Las Vegas to Monte Carlo. Tickets are $75 a person.
Sunday morning will open with an early 5K fun run/2K power walk along Monterey's bayside recreation trail. The $30 entry fee includes a T-shirt, light refreshments and the awards.
From Friday through Sunday, the independent Conference of Delegates of California Bar Associations will convene at the Hyatt Regency Monterey to debate resolutions affecting all areas of law and legal practice in California. Officially separated from the State Bar two years ago, the group's new independent status enables it to lobby without restriction.
For many attendees, MCLE credit is the draw. This year, attorneys can choose from numerous courses slated from early Thursday through Sunday morning.
Offerings cover the full spectrum of legal practice, from disability rights to elder law, from ethics to rainmaking, from taxes to trusts. There are courses on office and time management, attorney's fees, writing well, using electronic evidence in court and conquering paper clutter and e-mail overload. A couple of courses — such as "Googling: Using Google to Prevent Malpractice!" (Sunday, 8:30 – 9:30 a.m.) — offer tips on using the internet as a research tool.
There are courses on cross-border adoption, cross-border estate planning, cross-border wire transfers and electronic payments, cross-border acquisition agreements and cross-border construction contracts.
Timely topics such as cyberspace law, the recent Domestic Partners Rights and Responsibilities Act, the changing face of California parentage law, identity theft, "collaborative" law and recent changes to the attorney-client relationship will be examined in sessions.
"Bankruptcy Fraud After Enron: Filing Bankruptcy Without Going to Jail" (Thursday, 2:15 – 5:45 p.m.) will offer advice on bankruptcy planning, the types of transfers that may be subject to criminal prosecution and attorneys' ethical duties.
Civil liberties during wartime and in the post-9/11 world also will be topics at sessions — "Are We Any Safer: The Law and the War Against Terrorism Three Years Later" (Saturday, 8:30 – 10:30 a.m.) and "Civil Liberties During Wartime: Taking the Long View of the U.S. Patriot Act" (Saturday, 2:15 – 4:15 p.m.).
"The U.S. Supreme Court from Left, Right and Center" (Friday, 2:15 – 4:15 p.m.) will feature two prominent constitutional law scholars who will analyze recent U.S. Supreme Court cases, trends and themes, and present their views from opposing perspectives.
There is even a course for those seeking some tips on how to recognize and expose a liar: "Thirty Physiological Reactions to the Stress of Being Deceitful (and How to Spot Them)" (Sunday, 10 a.m. – noon).
The educational programs and meetings will be held at the Hotel Pacific, Hyatt Regency Monterey, Monterey Marriott, Portola Plaza Hotel Monterey Bay (formerly the DoubleTree Hotel) and the Monterey Conference Center.