Abused seniors turn to Alameda court for help
By Kristina Horton Flaherty
Staff Writer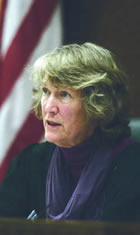 Judge Conger
The terrified, elderly woman stood facing the judge. From the other side of court, her son angrily shouted that he could speak for his mother, that she wanted to drop the case. But Alameda County Superior Court Judge Julie Conger recalls looking directly into the frightened woman's eyes and saying: "I want to hear from you."
With the court's elder abuse case manager holding one hand and a Spanish interpreter holding the other, the besieged woman finally admitted that she wanted her abusive son out of her house. She needed, she said, "to get free."
It was just one of many heart-wrenching scenes played out in a special elder abuse court session — believed to be a first of its kind in the state — held once a week in an Oakland courtroom.
At 11 a.m. every Friday, a growing stream of senior citizens have been making their way to Conger's third-floor courtroom. Some arrive by wheelchair or with the help of a cane. Some are hard of hearing and have to strain to follow the proceedings. And many are tormented by their decision to seek protection from a dangerously abusive son, daughter, nephew or grandchild.
Conger first launched her elder abuse calendar nearly three years ago because many senior citizens had trouble showing up by 8:30 a.m. and then waiting around in a packed courtroom. "They would get lost," she said. "Sometimes they're in wheelchairs. It just wasn't accommodating."
Initially, she says, just one or two seniors showed up for the special court session. These days, however, as many as 14 or 15 seniors come to court seeking protective orders each Friday.
They may have been beaten, watched their life savings disappear, endured threatening tirades, suffered neglect or regularly locked themselves in their rooms to protect themselves from a drug-crazed relative or "caregiver." Still, a mix of emotional issues, diminished physical capacities, generational differences, isolation, fear and an intimidating court system has too often kept elder abuse behind closed doors, advocates say.
Alameda County Superior Court — with Conger's prompting and the help of an Administrative Office of the Courts (AOC) grant — has taken some innovative steps to better assist the elderly.
These days, court clerks offer extra help to those filling out petitions for elder abuse protective orders. (A 1999 change in the law opened the door to this new type of restraining order.) Those seeking such orders do not have to wait the usual 24 hours to obtain a judge's signature. Instead, clerks personally deliver each request to Conger, who reviews it immediately — sometimes while presiding over a felony trial.
"It occurred to me that elders should be treated a little more carefully and with a little more respect, and should not be made to come back," she says.
The court's assistance does not end there.
To obtain a longer-lasting protective order, the senior must return to court several weeks later for a hearing. In the meantime, Conger instructs the clerks to contact various social or legal services, such as victim witness assistance advocates from the district attorney's elder abuse unit, if the case warrants it.
And Marina Jimenez, the court's AOC grant-funded elder abuse case manager, steps in. She interviews the elderly person, other family members and, in many cases, the abusive relative or caregiver as well. She makes referrals to various resources. She runs criminal background checks. She arranges transportation to court hearings. She can set up a telephone hearing from Conger's court chambers if the elder is housebound or hospitalized.
One recent Friday, she got word that an asthmatic senior outside the courthouse could not make it up the ramp. The man, driven to court by a neighbor, was seeking a restraining order against his son. The son, who had been jailed for setting his father's house on fire, had recently called to say, "I'm coming home."
Jimenez helped the man, who was in his late 80s, fill out the petition. Then she walked it inside to the judge's courtroom for a signature.
Many see Jimenez' role as crucial in what are often complex situations muddied by split family loyalties, an abuser's substance abuse problems, mental health issues, financial questions and a vulnerable senior citizen who could be in jeopardy.
"She finds out what's really going on in these cases," said Robin Yamate, a lawyer at Legal Assistance for Seniors in Oakland.
Civil filings for elder abuse protective orders are on the rise. In Alameda County, such filings have shot up from two or three filings in 1999-2000 (the first year of the new law) to a current rate of roughly 250 a year, says Dr. Susan Hanks, chief of the court's Families and Children's Bureau.
Yamate, who has represented the elderly in abuse cases for more than a decade, recalls a time when such clients faced even more obstacles. "We would have a hard time getting them to decide that they wanted a restraining order," she said. "Then, once they made that decision, it was difficult procedurally. And if they went (to court) by themselves, they would frequently get so discouraged that they would end up not doing it."
Now, "once they get in the courthouse door, they will get help," she says.
They are likely to find a judge who is willing to tailor the protective order to fit the situation. "It's really difficult for our clients to deal with getting a restraining order against a child or a grandchild or a great grandchild, people who they have loved and raised," Yamate said.
"There are situations where no contact is absolutely the only solution," Yamate said. But some situations are not so clear-cut.
Take the case of a pair of aging brothers who sought restraining orders against each other. As it turned out, both men lived rent-free in their elderly mother's home. The woman's 15-year-old granddaughter lived there as well. To avoid homelessness, the brothers agreed to certain conditions and returned periodically to Conger's courtroom for follow-up hearings.
"The house got fixed up," Jimenez recalls. "The brother who was using drugs stopped using drugs. The granddaughter was happier. And the mother was happy because neither one of her sons was homeless."
As the court's elder abuse case manager, Jimenez splits her time between Conger's courtroom and the elder abuse calendars in other courts in the county.
"Elder abuse cases typically involve complicated facts with subtle nuances that older litigants may have difficulty conveying," Fremont Hall of Justice Commissioner Tom Surh said in a recent report. "With the elder abuse case manager available in the courtroom, I am much more likely to be aware of important information that is essential to making orders that are helpful and appropriate for the elders and their families."
Statistics suggest that between 500,000 and 5 million senior citizens a year are abused, neglected or exploited in America, usually at the hands of a family member. California's Adult Protective Services Program (APS) alone receives some 92,000 reports of elder or dependent adult abuse annually. And yet, concluded one legislative subcommittee recently, such victims often fall through the cracks in a fragmented system and fail to find their way to appropriate legal resources.
In Alameda County, Jimenez has developed a list of key "point people" at APS, Legal Assistance for Seniors and the district attorney's elder abuse unit, among others. Whenever she has contact with a new potential victim, she says, she e-mails everyone "so no one is falling through any holes" any more.
"The system that is in place is now connected," she says. "We just needed to have a connecting source."
The payoff, some say, extends beyond the court's civil elder abuse calendar.
One recent afternoon, for example, Jimenez got a call from a concerned judge regarding a civil case involving a 93-year-old man's property and two younger relatives who were seeking access to it. A court hearing for a civil injunction requested by the younger relatives was to take place in the judge's courtroom 45 minutes later. The paperwork appeared to be in order. But "something wasn't right," Jimenez recalled.
Jimenez e-mailed her contacts at various agencies. Less than an hour later, the judge had learned of extensive APS and district attorney's office investigations linked to the case. The relatives' apparent "end-run" around the system hit a roadblock.
Alameda County's elder access program has, in part, been funded through a two-year AOC pilot project designed to evaluate existing court programs that "facilitate access to the judicial system for the elderly." But with the $135,000 grant running out in December, the court staff is now scrambling to find alternative funding.
Many credit Conger for the court's recent focus on the elderly. She has helped give presentations at numerous senior centers and community agencies and she personally called more than 20 police stations to obtain an elder abuse liaison from each.
"She started it and, with her own sort of gumption, kept it going," says Francine Byrne, an AOC research analyst.
In her courtroom chambers recently, Conger dialed the number of a disabled, legally blind Oakland woman who had requested a court hearing by telephone.
The woman's elder abuse petition depicted a nightmarish life under a caregiver's control: In a surprise home visit, an APS worker had found the 70-year-old diabetic woman hungry and shoeless. A pan of rotten chicken fat sat on the stove. The smell of spent crack cocaine permeated the air. A man and a disheveled woman emerged from a filthy bedroom and quickly left. Alone with the APS worker, the frightened woman wept and said, "Thank God. I knew he would send somebody to help me. I've prayed and prayed for so long." She had been repeatedly hit and kept in her room, she said, and described being walked around the neighborhood and portrayed as the caregiver's sick grandmother in a ploy to beg for money.
The judge granted stay-away orders against the caregiver and the caregiver's mother and sister. Outside court, two of them categorically denied any mistreatment of the disabled woman or any drug use in her home.
Sometimes, Conger says, the accounts of elder abuse move her to tears. "You see people at the conclusion of their lives not having the support, caring, concern and assistance that they deserve," Conger said. "And it tears your heart apart."
Oakland senior citizen Dorothy Brooks has nothing but praise for Conger and those in the system who recently helped her during a difficult time. "I had a member of my family who had a problem," she said. "I felt that my Christian way of life was enough. Instead, the older he got, the worse it got. I needed help and I needed it bad . . . Out of desperation, I reached out and help was right there."
Brooks, represented by a Legal Assistance for Seniors attorney, said the entire process of obtaining a restraining order moved more quickly and smoothly than she expected. "I've never been treated better," said Brooks, who did not want to discuss the details of her situation. "It felt like they got in there with me. It's like my problem was their problem."
Appearing in Conger's courtroom last March, Brooks was touched by the judge's understanding as well. The message that she got from the judge, she says, was: "I know what you've been going through. It's all over now."