John Van de Kamp takes the helm
Former attorney general is sworn in this month as the State Bar's 80th president
By Nancy McCarthy
Staff Writer
John Van de Kamp
The cluttered study in John Van de Kamp's Pasadena home bears witness to a life lived in the public eye. The walls are covered with photos of his years either in elected office or working for the government: the swearing-in ceremony when he became district attorney of Los Angeles, a White House photo with President Johnson, a framed newspaper article.
But it is perhaps the more personal items that tell the story of Van de Kamp's broader interests, ranging from his love of horse racing to his love of family. "I keep too much," he admits. Bookshelves are crammed and show an eclectic taste, running from mysteries (he patronizes a bookstore called "Book 'Em") to California history — particularly the works of John Steinbeck — to the really serious stuff. On top of a stack of old magazines sits a New York Review piece about Newt Gingrich that Van de Kamp uses for speech fodder. The New Yorker joins California History and the Southern California Quarterly.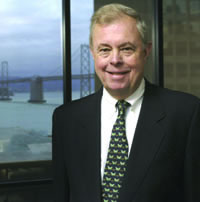 Public protection, improved member benefits, access to justice and increased diversity are among Van de Kamp's goals as president.
There are diplomas from Dartmouth and Stanford, family photos, a watercolor of his mother's country home and a large signed poster of Charles Sifford, an African-American golfer who was able to play in the Palm Springs Vintage Tour, from which he had been banned, thanks to the intervention with the PGA by Van de Kamp and former Assemblyman Art Agnos.
Fine art graces the living and family rooms, where more bookcases hold numerous LPs featuring classical music and jazz, including the late pianist Hampton Hawes, for whom Van de Kamp won a federal pardon of a heroin possession sentence.
The most recent photo on display shows Van de Kamp throwing a pitch in San Diego's new PETCO Park June 15. Asked if the ball found the plate, the lifelong baseball fan offered up a small smile. "I bounced it up there," he sighed. "It was really pathetic, truly pathetic. I should've just lobbed it."
His memorabilia likely will be added to this month with a photo of California Chief Justice Ronald George swearing in Van de Kamp as the 80th president of the State Bar of California, a job he won in May by defeating three other candidates. "I thought it was the time of my life to do it," he said simply. "I thought I could bring something to the bar in terms of my years of experience. I'm proud to be a lawyer. I've always enjoyed being a lawyer, and I've always believed in being involved with the bar."
"You couldn't get a better person for the job," said Terry Amdur, a longtime friend and former employee who has owned horses with Van de Kamp over the years. "I would say John is the hardest working, most ethical person I've ever met."
"As well as having a fine intellect," said U.S. District Judge Matt Byrne, "John is very thoughtful, he has extremely good judgment and he's been an exemplary leader of many offices, from the U.S. Attorney's office to the public defender to district attorney to attorney general. He's pretty much dedicated his life to the public sector."
Or, in the words of his daughter, 25-year-old Diana, "I think this bar thing is so cool."
He plans to devote the same seriousness of purpose to his newest challenge that has guided him all his life. He resigned the presidency of the Thoroughbred Owners of California July 1 and his law firm, Dewey Ballantine LLP, has given him as much time as he needs to be a fulltime president. "The thrust of what I hope to accomplish is to provide strong public protection," he says. "We're there to protect the public from lawyers who abuse their license. At the same time, I want to make lawyers feel better about what they do."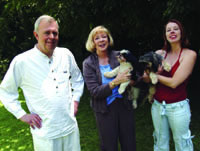 The Van de Kamps pose in the backyard of their Pasadena home. Andrea (center) holds Ginger, one of the family's three dogs, and the couple's daughter, Diana, holds Cinnamon. (Click to Enlarge)
According to his friends and family, Van de Kamp brings sterling qualifications to the job: integrity, honesty, intelligence, kindness. "He is the most socially conscious person I've ever met," said Diana of her father. "He wants to do what is best for everyone. If it were up to me, he'd be president." Wife Andrea describes Van de Kamp as responsible, intelligent and very kind and says he possesses a dry wit. "He takes his obligations very seriously," she added.
He's approaching the bar presidency with a goal of pursuing the objectives the board of governors has approved as well as suggesting some new ideas. He's comfortable, he said, with the goals of public protection, better member benefits, including improved insurance offerings and access to information, and increased access to the courts and diversity. He wants an outside audit of the bar's discipline system, radio and electronic media exposure to give the bar greater visibility and he'd like to attract more big firm lawyers to volunteer for State Bar work.
Diana Van de Kamp makes her dad laugh at lunch. She said he is "the most socially conscience person I know. He wants to do what is best for everyone. If it were up to me, he'd be president." (Click to Enlarge)
Van de Kamp traded barbs with another board member recently, but shrugged off any suggestion of tension. "I welcome dissent," he said. "It brings a constructive tension to what we do, and it means the board won't rubberstamp things. I have no objection to having different points of view expressed, and I'll make sure everyone gets to say their piece."
Nor will he avoid lawyer jokes. "Lawyers are human and subject to human foibles," he explained. "Any time you put a damper on lawyer jokes, you're making a serious mistake."
Van de Kamp chose law over the family bakery and restaurant business more than 40 years ago because he wanted some independence and felt that law school offered broader options. But he never strayed far from the city where he was born 68 years ago.
Van de Kamp's father, Harry, worked as a clerk at the Security First National Bank and invested some money in a restaurant "my uncle dreamed up." The Tam O'Shanter Inn opened in 1922 and is now the oldest restaurant in Los Angeles operating under the same ownership at the same location. In 1938, the family opened Lawry's The Prime Rib on La Cienega Boulevard in Beverly Hills and expanded its restaurant empire to include seven more restaurants of that name, three in the U.S. and four abroad, as well as Five Crowns in Corona del Mar. The Lawry's seasoning side of the business was sold to the Thomas J. Lipton Co. in 1977.
The family bakery business, Van de Kamp Holland Dutch Bakeries, where teenaged John spent a summer packing crullers, donuts and cakes, was sold to the General Baking Company.
Harry and his wife, Georgie, a teacher, raised the family in a home in old Pasadena, just two blocks from where John Van de Kamp lives today. Georgie, whom Van de Kamp described as "quite a remarkable woman," hailed from Salinas, where she knew John Steinbeck, and attended San Jose State before becoming a teacher. Her career halted temporarily while she raised her two children, and she returned to the classroom after they were grown. His parents were quite different from each other, Van de Kamp recalled. His dad was "a very gentle, quiet person, with a good sense of humor," and his mother was "strong-willed and ambitious. She always had a project in front of her." Georgie was a Democrat, Harry a Republican.
Georgie Van de Kamp, who died a year-and-a-half ago at the age of 96, decided in her 80s to move to the country, where she oversaw construction of a home outside Paso Robles and built a lake on the property. An avid horticulturist, she had earlier supervised construction of a Craftsman-styled hall at Descanso Gardens in La Canada; the building is now called Van de Kamp Hall.
Van de Kamp loved baseball and remains an avid fan today. With perfect recall, he can recite the details of a game he attended with his dad in 1946. Jackie Robinson was playing, Satchel Paige and Bob Feller were pitching. Both lasted seven innings and "Paige outpitched Feller," Van de Kamp said. "Jackie had trouble getting around the fast ball."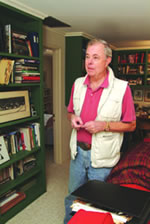 Van de Kamp's study is filled with memorabilia of his life and offers a portrait of a well-read man with many interests. (Click to Enlarge)
As a kid, he wrote every day to ballplayers, asking them to sign their autograph and return it in a stamped, self-addressed envelope he provided. His requests resulted in an impressive collection. He rooted for the Philadelphia A's because he liked Connie Mack and "I always rooted for the underdog." He remained an A's fan when the team moved to Kansas City and then to Oakland, although he also shares season tickets to the Dodgers.
Van de Kamp attended Trailfinders, an outdoorsy private school in nearby Altadena, for grades five through nine, skipping eighth grade. It was there, he says, that he acquired his love of nature and respect for conservation and the environment. The 40 boys enrolled in the school were required to clean the grounds, read the newspaper and listen to classical music in addition to academic pursuits. Every other weekend, they went camping and an annual trip was scheduled each summer. "I think I can attribute my interest in conservation and the environment in large part to Harry James (the school's owner) and the Trailfinders," he said.
He graduated at 16 from Pasadena's John Muir High School, where he played on the "second-best tennis team" in the league. His greatest moment, he said, was beating South Pasadena High in doubles.
"He was a very good student," recalled Helen Pashgian, whose family has known Van de Kamp's family for three generations. "He was a thinking human being always and very intellectual. He wasn't on the beach playing with the boys; he was sitting on the porch talking to his father for hours and hours."
Van de Kamp majored in government at Dartmouth, but spent eight to 10 hours a day as the newsman/DJ/ manager of the campus radio station, where he put his baritone voice to good use. With a smile, he hints that the concept of television's Movie of the Week might have been born the summer he worked as a mail clerk at ABC in Los Angeles, when he left a memo on the desk of an executive that suggested premiering B-movies on television.
After getting his law degree at Stanford and military service, he became one of the few in his class to enter the public realm rather than signing up with a blue chip law firm. He joined the U.S. Attorney's office in Los Angeles, a career move he calls his "most fortuitous professional experience." He spent six years there, becoming chief of the criminal division and was appointed U.S. Attorney by President Johnson in 1966. A year later, he was running the Washington, D.C., executive office for U.S. attorneys under Attorney General Ramsay Clark.
When Richard Nixon became president in 1969 and Van de Kamp faced a career change, some local southern California Democrats came calling. A Congressional seat had opened, and he won their blessing for a run at the seat. Although he lost the runoff to Barry Goldwater Jr., the race gave him a taste for politics.
After another stint in Washington as a special assistant to the President's Commission on Campus Unrest, Van de Kamp returned to California and created the first Federal Public Defender office. "I enjoyed putting together that office," he said. "We were very green." Van de Kamp carried a half-caseload and spent the other half of his time running the office.
Terry Amdur, who joined the office, said Van de Kamp was "kind of a micromanager" who insisted on reviewing the files of every case after a court appearance. Amdur created some fictitious files "just to get a rise out of him. . . I spent most of my time trying to get a laugh out of him."
On a more serious note, Judge Byrne said, "He had an extremely good record there of taking the office from its infancy, bringing in talented lawyers and establishing the credibility of that office."
In 1975, when Los Angeles District Attorney Joseph Busch died, the board of supervisors appointed Van de Kamp to fill out his term. The following year, he was elected, defeating Charles Manson prosecutor Vincent Bugliosi. Four years later, he was re-elected, and in 1982 he was elected attorney general, a job he held for eight years.
Van de Kamp says he is proud of his record then, and he won generally high marks for both his efforts in law enforcement and criminal law, particularly pioneering high-tech crime fighting efforts, and for consumer and environmental protection and antitrust enforcement. He claims the title of the father of California's fast-track system and points to his efforts to put California in the forefront of AIDS drug testing and to ban assault weapons as key accomplishments. At the conclusion of his second term, the Sacramento Bee praised him for leaving behind "a Department of Justice whose scope and perspective have been greatly enhanced for the public good."
Barbara Yanow Johnson, a longtime friend who managed three of Van de Kamp's political campaigns and worked for him as a special assistant district attorney and chief assistant attorney general, says he's a terrific boss who is able to bring together a cohesive staff. "He's totally accessible and totally open to ideas and in fact welcomes the exchange of ideas and people differing with his opinion," she said.
During his years in office, she said, "There was very much a sense of decency."
She also pointed to his lighter side, revealing that he delights in using an obscure word "and he expects you to say, what does that mean?"
Van de Kamp's political aspirations ended in 1990, when he lost the Democratic gubernatorial primary to Dianne Feinstein.
In his public life, Van de Kamp has upheld laws with which he disagrees, leading to descriptions of a man of contradictions. A liberal Democrat, he was the state's top cop. A devout Catholic, he personally opposes abortion but says he's a strong advocate of a woman's right to choose. He opposes the death penalty, but streamlined procedures for pursuing appeals through the courts. Such contradictions bedevil many attorneys general who are duty-bound to uphold laws with which they may disagree, Van de Kamp says.
Likewise, his friends and family disagree with descriptions of Van de Kamp as dull, although some admit he's reserved or even taciturn. "It's funny, I've never been able to figure that out," says Kevin O'Connell, who first met Van de Kamp when they worked together in the U.S. Attorney's office in the 1960s. "He really is a lot of fun."
Van de Kamp met his wife Andrea when she was an admissions officer for Dartmouth on a recruiting trip in Southern California. A successful businesswoman and fundraiser, she recently started her own consulting firm after 14 years as chair of Sotheby's West Coast business activities. Last year, she completed her volunteer position as chair of the Board of Governors of the Music Center of Los Angeles County, and she chaired the development committee to raise funds to build the Walt Disney Concert Hall, a $270 million building that opened in October 2003. She remains chair emeritus of the Music Center.
Van de Kamp continues to serve on the boards of the Norton Simon Museum, the Skid Row Development Corp., the Los Angeles Conservation Corps and is president of the California Historical Society. He raises money for Pasadena schools and St. Andrew's Church, and helped raise $400,000 for the installation of huge busts of Jackie Robinson and his brother, Mack, in downtown Pasadena.
"He is a superb human being," says old friend Helen Pashgian. "He has incredible integrity, he's a wonderfully loyal person. When the ship is sinking, you want to be on his raft."
"John is a good friend to have," adds Barbara Johnson. "He is a man of grace and he very much has a sense of rightness and a sense of the occasion. He's a very fine leader and he always leaves a place better than when he found it."