'Noblest' in the profession win pro bono awards
By Kristina Horton Flaherty
Staff Writer
A coalition of bar groups and law firms assisted fire victims in the aftermath of last year's deadly San Diego County wildfires. A judicial staff attorney who serves in the California State Military Reserve prepared wills and handled other legal matters for 2,500 deploying soldiers at no charge. And a Los Angeles law firm devoted hundreds of hours of pro bono legal services to help improve the working conditions for laborers in the garment industry.
These are just a few of the attorneys honored with the 2004 State Bar President's Pro Bono Service Award. Created in 1983, the award is presented each year to California attorneys and law firms credited with making significant contributions in pro bono legal services to those with little income, as well as to organizations that serve the poor.
They come from small, medium-sized and large law firms. There is a solo practitioner, a judicial staff attorney and a pair of retired family law lawyers. Their legal specialties differ, but all have found ways of helping impoverished Californians in need.
The awardees "represent the noblest of our profession and deserve our gratitude, admiration and respect," said State Bar President Anthony P. Capozzi.
Their efforts, he added, are particularly noteworthy in today's challenging economic times.
The 2004 award recipients are:
Corporate

Chavira
When a couple needed help getting custody of their three young grandchildren whose parents were addicted to drugs, Santa Ana attorney NATIVIDAD CHAVIRA volunteered some 40 hours of legal work to help them win their case.
That's just one example of what has been described as Chavira's "passionate dedication" toward the disadvantaged.
"His commitment to helping the community has been a longstanding one, spanning almost 15 years," attorney Ajay Patel wrote in nominating Chavira for the service award. "While the role he played varied during this time, his commitment to social justice, in particular, has been unwavering."
For more than two decades, Chavira, 61, worked in Unocal Corp.'s legal department, last serving as the company's deputy general counsel. Recently, he moved to the Santa Ana law firm of Howard, Loveder, Strickroth & Parker, where he currently is of counsel.
As a volunteer, he has provided pro bono legal help to organizations as well as individuals, once serving as the first chair of the Los Angeles Archdiocese Justice and Peace Commission and as legal counsel to an inner-city parochial school.
Recently, Chavira represented a young father seeking to take custody of his two sons from their drug-addicted mother. In another instance, Chavira spent some 30 hours proving that a teenager had been wrongly accused of shoplifting. In a case in which an immigrant's car was impounded, he provided financial assistance and legal counsel to recoup the car and initiate immigration proceedings. Last year alone, Chavira contributed more than 100 hours of legal help on six different cases.
"He has provided these legal services not as part of any organization, but as an individual," Patel said, "providing both his time and also, in some cases, his own money."
Government

Wolf
More than 2,500 deploying soldiers received free legal help from COL. BRIAN WOLF last year — help drafting wills, setting up powers of attorney and handling their general legal affairs.
On most days, Wolf, 44, works as a senior judicial staff attorney/judge pro tem in the probate department of the El Dorado County Superior Court in Placerville.
But as an unpaid Judge Advocate General (JAG) in the California State Military Reserve, he also has used vacation time, military leave and other time off to provide hundreds of hours of legal counsel to National Guard members headed for Iraq, Afghanistan, Kuwait and Bosnia. He helps protect the rights of soldiers' families. He helps ensure that soldiers' jobs will be waiting for them when they return. And he negotiates with landlords when rent checks fall behind due to delays in Army pay.
"He responds to calls for assistance from commanders and families of deployed soldiers 24 hours a day, seven days a week," said Col. Linda C. Harrel, Command Judge Advocate of the California Army National Guard's 49th Combat Support Command in Fairfield. "There is no way to calculate the hundreds of hours of pro bono work that (he) has performed in service to the state of California."
As the first State Military Reserve officer to serve as the Deputy Command Judge Advocate to a California National Guard unit, Wolf also recently recruited and trained 10 additional attorney volunteers to help support the unit.
In addition, the 13-year State Military Reserve officer travels around the state, often at his own expense, to provide legal services at various other support groups, armories and training centers from Roseville to Fresno. He has served as a summary court officer in AWOL cases. He also participates in a "Citizenship Clinic" set up to assist 1,000 National Guard members who do not have U.S. citizenship.
Since the Sept. 11 crisis, his supporters say, Wolf has responded to the huge increase in military demands by simply doubling his pro bono efforts.
Harrel, who nominated Wolf for the service award, said, "He is a true patriot."
Small Law Firm

Yee
Described as a humble, caring, "inspirational role model," attorney ALAN YEE has long championed the rights of the elderly and those living on very little income in Oakland's Chinatown.
"At the least, Alan's commitment to protecting the rights, health, and safety of the Chinatown community has been, and continues to be, an inspiration as well as a blessing to Chinatown's low-income community members," said Julia Liou of the Oakland Chinatown Coalition, which nominated Yee, 52, for the service award.
When 50 residents — many of them elderly Asian immigrants with little income — recently faced eviction and the possibility that they had been overcharged a total of $2 million in rent, Yee stepped in as lead counsel and key organizer and strategist in the complex, high-impact affordable housing case.
When plans for a large-scale commercial and residential development nearby threatened to endanger Chinatown's pedestrians and worsen the community's traffic congestion and air quality, Yee, a partner at the five-attorney firm of Siegel & Yee, spent hundreds of hours pursuing an environmental justice lawsuit against the City of Alameda. Assisting the Oakland Chinatown Coalition (Asian Health Services and the Oakland Chinatown Chamber of Commerce) with the lawsuit, Yee also served as a "community bridge" to help local residents understand the situation.
In the end, as part of a settlement, Chinatown stands to receive nearly $1 million in funding to help improve its traffic situation and make the community safer for pedestrians.
Yee, who volunteers legal assistance through various organizations, never seeks personal attention for such efforts, his supporters say. "While some advocates enjoy basking in the limelight of press conferences and media coverage, Alan prefers to work quietly and let the results of his effort speak for him," said Oakland City Council member Danny Wan.
Supporters say Yee's humble, passionate and pragmatic advocacy sets him apart and engenders respect. Said Wan: "Alan enjoys the trust of both elected officials and the community-at-large, two groups that often do not see eye-to-eye."
Medium Law Firm

Bird, Marella, Boxer, Wolpert, Nessim, Drooks & Lincenberg
The Los Angeles litigation firm of BIRD, MARELLA, BOXER, WOLPERT, NESSIM, DROOKS & LINCENBERG served as pro bono co-counsel last year on two impact cases against popular clothing retailers and helped win important victories for low-wage garment workers.
"These cases, which present novel legal theories, have been extremely challenging and resource intensive —in fact, they are cases that other law firms have explicitly not wanted to touch," said Julie A. Su, litigation director at the Asian Pacific American Legal Center (APALC), co-counsel on both cases.
In one case, 19 Los Angeles-area laborers reported working long hours, six days a week, while being routinely denied wages and breaks. In addition, the workers described filthy, poorly lit, vermin-infested working conditions. Recently, the Ninth Circuit court handed down a landmark decision that reversed a lower court's dismissal of the case and opened the door to the workers' claims seeking retailer accountability for workplace violations.
In the other case, workers claimed they had been cheated out of wages through record falsification, treated inhumanely, fired in retaliation for their complaints and blacklisted from the industry. That case reportedly ended in a settlement with the retailer, as well as a federal district court judgment of more than $1.4 million against the contract shop where the laborers worked.
Bird Marella also co-counseled with Bet Tzedek Legal Services last year on the first case settlement in which a retailer has agreed to pay workers under a recently enacted state law that broadened the ability of garment workers to file claims for wage and hour violations.
The 20-attorney firm, nominated for this year's service award by APALC, has a history of pro bono service. In the 1990s, it served as co-counsel with APALC in a sweatshop case involving 80 Thai garment workers who were forced to sew behind barbed wire under armed guard.
"They devoted themselves entirely to the litigation, despite the fact that it involved 102 plaintiffs and over a dozen defendants, as well as untested legal theories," Su recalled. The case resulted in an unprecedented settlement of more than $4 million on behalf of the impoverished workers.
Large Law Firm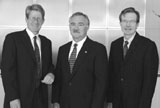 Wilson, Sonsini, Goodrich & Rosati
In San Mateo County — where more than 5,000 children are being raised by someone other than their parents — WILSON, SONSINI, GOODRICH & ROSATI attorneys are providing free legal help to those caregivers seeking to become such children's court-ordered guardians.
"This benefits not only the guardians, but also the children, whose family life is stabilized when their caregiver has the legal authority needed to care for them appropriately," said Julia Wilson, pro bono coordinator at the Legal Aid Society of San Mateo County, in nominating Wilson Sonsini's Palo Alto and San Francisco offices for the service award.
That is just one example, Wilson notes, of the many ways in which Wilson Sonsini has donated its time and legal expertise to those with very little income. Together, the two offices contributed nearly 22,000 hours of pro bono service in legal matters last year alone.
For example, firm attorneys:
Supported, recruited and took on cases for the Legal Aid Society of San Mateo County's new CareGivers Network.
Staffed the Stanford Community Law Clinic's monthly East Palo Alto pro bono clinics for guardianships and consumer issues.
Served as co-counsel to obtain a modified consent decree for disabled elementary school-aged children to receive appropriate education.
Represented individuals — some of them victims of torture and death threats — seeking asylum in the United States.
Handled transactional matters through the Legal Services for Entrepreneurs, an economic justice project of the Lawyers' Committee for Civil Rights of the San Francisco Bay Area that provides free legal assistance to those of limited means seeking to start or develop a for-profit business.
Supporters say Wilson Sonsini attorneys place a high priority on their pro bono work. "In our interactions with the attorneys of (Wilson Sonsini), we have always felt as though they treated us as if we were a paying customer," said Eric Weaver, executive director of the non-profit Lenders for Community Development in San Jose, in a letter of support.
"Never have they said to us, 'Sorry, we can't provide any more assistance this month.'"
Recently Admitted

Navarro-Busch
Each month, solo practitioner GABRIELLA NAVARRO-BUSCH coordinates a free legal clinic at a local social services organization serving Oxnard's largely Spanish-speaking immigrant community. She provides several hours of legal advice, mostly on immigration matters, and she takes on individual pro bono cases that can amount to hundreds of hours of work.
The Ventura attorney, admitted to practice just three years ago, provides "high quality service" to immigrants whether they can afford it or not, said Tina Rasnow, coordinator of Ventura County Superior Court's Self-Help Legal Access Center.
"She donates hundreds of pro bono hours each year, resulting in family reunification and increased opportunities for children and their parents," said Rasnow, who, with the Mexican American Bar Association of Ventura County, nominated Navarro-Busch for this year's service award.
In one case, she spent more than 600 hours representing a Mexican national (a legal U.S. resident since childhood) who had been deported for a minor drug possession conviction, was later imprisoned for "illegal re-entry" after returning to his American family, and again faced deportation.
Navarro-Busch, 44, also handled the immigration case of an undocumented teenager who had long suffered severe physical and emotional abuse from her father and stepmother. She also handled the case of an undocumented woman whose husband (a legal U.S. resident) died of complications from AIDS before the immigration process for the mother of two had been completed.
Last year alone, Navarro-Busch, currently the president of the Mexican American Bar Association of Ventura County, contributed more than 700 hours in pro bono legal services.
Distinguished Pro Bono Service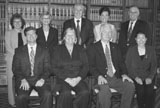 San Diego County Disaster Relief Coalition
Last fall, massive firestorms cut across more than 376,000 acres in San Diego County, eventually destroying some 2,400 homes and killing 17 people. While businesses were shutting down and the fires continued to rage, a group of attorneys and local bar association leaders were already gearing up to help the countless victims.
With the San Diego County Bar Association at the helm, the specially created SAN DIEGO COUNTY DISASTER RELIEF COALITION eventually grew to include more than 20 local bar-related organizations and law firms.
"Everyone contacted agreed that the legal community should mobilize to assist victims, and that we needed to act quickly," said Carl Poirot, executive director of the San Diego Volunteer Lawyer Program (SDVLP), who nominated the coalition for the award. "The legal community initiated its response without any external pressure or ulterior motive. It simply wanted to help those injured by the fires."
The county bar's Lawyer Information and Referral Service (LIRS) launched a toll-free hotline for victims. SDVLP and the Legal Aid Society of San Diego (LASSD) set up on-site triage clinics at FEMA emergency recovery centers and other spots around the county, offering legal advice, assistance, referrals and educational workshops.
A special information and resource guide for fire victims was prepared and printed by the law firm of Morrison & Foerster. And more than 300 attorney volunteers were recruited and trained to assist fire victims.
Attorneys helped victims with legal issues related to public assistance, insurance coverage, disaster relief benefits, rebuilding issues and their eligibility for FEMA benefits. In all, more than 600 victims passed through the triage clinics, and more than 350 of them received referrals for individual attorney consultation and representation.
"The devastating impact of major disasters such as the Southern California firestorms on thousands of families and individuals tests a community's ability and will to respond in an effective and generous manner," Poirot noted.
"The members of the San Diego County Disaster Relief Coalition met the challenge effectively and without hesitation."
Solo Practitioner

Aragon
In the past four years, solo practitioner JENNIFER ARAGON has not turned down a single request for pro bono help from the Public Counsel's Debtor Assistance Project in Los Angeles.
"She has often said to me, 'Life has been good to me and I want to do what I can to help,'" said Magdalena Reyes Bordeaux, the project's former managing staff attorney, who nominated Aragon for the award.
In all, Aragon, 33, has contributed nearly 800 hours of legal work through the Debtor Assistance Project (DAP). She provided more than 400 hours of legal services last year alone. Her work has included taking on some 60 cases, 21 adversary proceedings and 45 consumer bankruptcy cases.
"This type of work is particularly difficult because clients are contacting you at a difficult time in their lives when they feel their whole life is falling apart," Bordeaux said in nominating papers. "In addition, adversary proceedings are extremely demanding since these actions often require our volunteer attorneys to quickly get up to speed on the case and attend a status conference with short notice."
As a bilingual attorney, Aragon also has been able to help "particularly vulnerable consumers who do not speak English," Bordeaux said.
In addition to her casework, Aragon also has been a panel presenter at various MCLE training sessions. She has provided expertise to DAP on bankruptcy and bankruptcy-related legal issues. And each month, she provides pro bono counsel and advice to debtors at reaffirmation hearings.
Emeritus or Limited Active Practice

Rosenberg

Vogel
Retired Van Nuys attorneys Florence Rosenberg and Pearl Vogel both spent 30 years practicing family law in Southern California.
But retiring from private practice did not shut the door on their efforts to help others. These days, on many mornings, both can be found at the Neighborhood Legal Services (NLS) of Los Angeles' Van Nuys Self-Help Legal Access Center helping dozens of people fill out court forms and understand their legal rights in family law matters.
"Together, they have assisted countless litigants, providing them with the information and tools they need to better understand the legal process," wrote Neal Dudovitz, NLS executive director, and others in a letter supporting the pair's nomination for the pro bono award.
Rosenberg and Vogel have volunteered their assistance at the Van Nuys Self-Help Legal Access Center (a collaborative program of NLS, the San Fernando Valley Bar Association and the Los Angeles County Courts) since it opened four years ago.
A lawyer since the late 1940s, Rosenberg co-founded and opened the Crenshaw Legal Aid Center in South Los Angeles, which helped the poor with family law issues. In addition, she found time throughout her career to provide pro bono services. She was a volunteer for four years at the Harriet Buhai Family Law Center, for 15 years at Levitt and Quinn and for three years at the NLS Domestic Violence Clinic.
When asked how she maintains the energy to continue her pro bono work, Rosenberg, now 82, simply smiles and says: "I can't help it. I'm a workaholic."
Vogel, who immigrated to the United States from Uruguay as a teenager, graduated from law school in the 1960s while working full-time and raising two children on her own. Now 66, she has always been a community activist. She has served on various bar association committees and on panels for low-income seniors and abused women, and has volunteered time at the NLS Domestic Violence Clinic.
"These remarkable volunteers work tirelessly on any given day," noted the letter of support, "helping person after person — taking necessary time with each individual, treating him/her with the utmost respect and care, always thorough in their assistance, and always with a warm smile."