Diversity awards go to Judge Takasugi, L.A. Lesbian & Gay Lawyers Association
Los Angeles is home this year to the individual and bar association recipients of the 2004 Diversity Awards presented annually by the State Bar of California. U.S. District Court Judge Robert Takasugi received the Individual Diversity Award and the Lesbian & Gay Lawyers Association of Los Angeles received the Bar Association Diversity Award.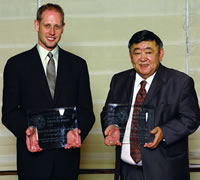 Jeffrey Wortman, co-president of the Lesbian and Gay Lawyers of Los Angeles (L) and U.S. District Judge Robert M. Takasugi, hold their awards
Nominators Victor Hwang and Edwin Prather, San Francisco lawyers who once worked for Takasugi, said his greatest accomplishment may be "his three-decade commitment to the Takasugi Pro Bono Bar Review, a free bar review course that Judge Takasugi initiated in his own home for students of color and progressive students who had previously failed the bar." The review led to a 90 percent pass rate for its students and increased diversity among State Bar members, the attorneys wrote in a nominating letter. Currently, Takasugi's son, John, a Los Angeles County alternate public defender, runs the pro bono bar review.
Takasugi, who received his B.S. degree from the University of California at Los Angeles and his law degree from the University of Southern California School of Law, has touched countless lives, Hwang and Prather wrote. He was the first judge in the Central District to hire a female law clerk and to start a law student extern program, which he consistently filled with law students of color. In 1999, Takasugi's former law clerks and externs set up a scholarship in his name to support students of color in public interest law.
The Lesbian & Gay Lawyers of Los Angeles, which has 300 active members, received the Bar Association Diversity Award for encouraging and maintaining diversity in bar membership and in the legal profession. Law student programs include mentorships, free memberships and scholarships for low-income students who demonstrate a commitment to the civil rights of lesbian, gay, bisexual and transgender people. The association holds regular panels on what to expect as a minority in the law profession and "how to deal with being 'out' at work." Continuing Legal Education programs range from such topics as "Elimination of Sexual Orientation Bias in the Legal Workplace" to "The Lessons of Hate: From Vincent Chin to Today."
The association has filed amicus briefs in cases concerning parenting rights of non-biological, same-sex parents and gay members of the armed services. It has worked in concert with other organizations on governmental and civic programs promoting diversity.
"Law school is an isolating enough experience in the best of circumstances, but for gay and lesbian students it can be even more so," Scott Wylie, associate dean for external affairs and clinics director at Whittier Law School, wrote in a nomination letter. "The work of the association to welcome these students to the community and to the profession, through social activities, mentoring and other programs, provides a welcoming environment to gain insight to the profession and access to role models. This is so very important to ensure that these students, who remain the target of ongoing discrimination within society, stay in law school and join the profession."
"Without doubt, the tireless work of the Lesbian & Gay Lawyers of Los Angeles, their pro bono outreach to the legal community, the law schools and the public through their educational and service programs, has played a fundamental role in the movement toward the aspiration of the elimination of bias, prejudice and fear," wrote San Francisco attorney Russell Roeca, who just completed his third year as a member of the Board of Governors of the State Bar. "The contributions of its members represent everything that is just and right within our profession."