Identity theft activist: from victim to victor
By Kristina Horton Flaherty
Staff Writer
Laguna Niguel attorney Mari Frank was packing up for a day at the beach with her children when she got the first phone call. She almost didn't answer it. Little did she know that her life was about to take a dramatic turn. Why, asked the caller, hadn't she paid her $11,000 credit card debt? At first, Frank thought it was a mix-up. She didn't have a Bank of New York, Delaware, credit card. But panic set in when the caller ticked off Frank's birth date and Social Security number. Someone had used her identity to open new credit card accounts, obtain checks and even buy a red Ford Mustang convertible.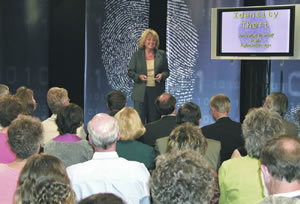 Attorney-mediator Mari Frank advises a television audience about avoiding identity theft.
The day at the beach quickly dissolved into a gut-wrenching odyssey that lasted nearly a year. In all, Frank — self-employed and single at the time — spent more than 500 hours, many sleepless nights and $10,000 in expenses wrestling her identity and once spotless credit back from an imposter who lived a couple hundred miles away.
"That was my introduction to identity theft," Frank, 56, recalls. "No one believed me. It was amazing to me that they were treating me like a criminal . . . She [the imposter] had done nothing to prove who she was and I was ready to give my DNA at the time."
It was an experience that changed Frank's life. In the eight years since, the attorney-mediator has helped hundreds of victims, created an identity theft "survival kit," testified at legislative hearings for changes in state and federal law, been summoned to the White House, advised financial institutions, written books and repeated her story in media accounts nationwide. This month, she will be featured in a nationally televised PBS show.
"She's been a very visible spokesperson regarding the plight of victims," said Beth Givens, director of the Privacy Rights Clearinghouse, who assisted Frank early on. "Making this crime more visible has been a key contribution and that, in turn, has led to lawmakers taking identity theft more seriously."
Today, particularly in California, identity theft victims have far more resources, rights and protections than Frank had in 1996. In addition, sweeping federal legislation — much of it modeled after California's statutes — now entitles consumers to receive one free credit report a year from all three major credit-reporting agencies.
But identity theft — the use of someone's personal identifying data to commit fraud or attempt to do so — remains the nation's fastest growing crime. One study showed an 80 percent increase in 2002 alone. Nearly 10 million Americans a year fall victim to identity theft, according to the Federal Trade Commission's latest estimates. And the costs are staggering: some $48 billion a year to businesses and $5 billion to consumers.
In a hunt for personal information, thieves rummage through trash, steal wallets and "skim" encoded data off of credit cards. Or they go "phishing" on the Internet (using misleading e-mails and fraudulent Web sites to trick readers into revealing personal data) or plant "spy ware" software that collects personal information as it is keyed into a computer.
Even if a consumer takes every precaution, he or she could still become a victim. Frank's imposter, for example, obtained Frank's credit report by using a law firm's subscription to a credit-reporting agency while she was a temporary secretary at the firm. "The only thing I could have done," Frank says, "was use a credit monitoring service to find out earlier and stop it earlier."
Back when Frank first discovered her imposter, identity theft itself was not even a crime. And in cases of credit card fraud, the financial institution, not the cardholder, was considered the victim. "My first thought was: I can take care of this. I'm an attorney," Frank recalls.
But neither the local police nor the FBI would take Frank's crime report. When she finally reached the U.S. Secret Service, she discovered that the theft — roughly $50,000 — wasn't large enough to warrant their help either. Her next call was to the Ventura Police Department. (Her imposter had given a Ventura address in bank documents.) By a stroke of luck, Frank reached a police watch commander who had been a victim of identity theft himself.
Police investigators who searched the imposter's home found a gun and numerous documents in Frank's name: billing statements, pre-approved credit card offers, collection agency notices, a letter threatening a lawsuit over a damaged rental car, mail from Frank's mailbox and even a stack of Frank's business cards.
Frank's imposter eventually pleaded guilty to six counts of credit card fraud and was sentenced to work furlough, not jail time. Throughout the process, the woman continued to commit fraud and drive around in the red convertible purchased with Frank's credit.
In the meantime, Frank found few resources to help her repair her credit. "I became an expert by necessity," she said. "I was really forging through the forest."
As her own nightmare wound down, Frank began sharing her story with the news media and was inundated with calls from victims. "I was getting overwhelmed," she recalls. "And I had no heart to charge them."
So she wrote a book, "From Victim to Victor: A Step by Step Guide to Ending the Nightmare of Identity Theft," and compiled a "survival kit" aimed at helping victims restore and protect their credit.
She also began pushing for new laws and changes in the way financial institutions issue credit and protect consumers. In Frank's case, the imposter had obtained a credit card in Frank's name — no questions asked — by simply scratching out her own name on a promotional credit card offer and scribbling in Frank's name.
In 1998, both California and federal law established identity theft as a crime in which the individual, not the credit-issuer, is considered a victim. In addition, the FTC became a national clearinghouse for identity theft.
California now leads other states in privacy rights and protections for consumers, Frank says. It is the only state with a privacy protection division and the first to maintain a database for those who wind up with an identity thief's criminal record. In California, a victim's innocence can be verified with a phone call and the use of the victim's special pin number.
California also is one of just a few states that require police to take an identity theft report in the victim's own community. In addition, California, unlike most states, permits consumers to put a "security freeze" on their credit files; restricts the public display of Social Security numbers; gives victims the right to obtain the fraudulent documents used to get credit; and requires businesses to alert consumers to any "security breach" involving their personal information.
New federal legislation — the Fair and Accurate Credit Transactions Act of 2003 (FACTA) — recently extended certain consumer rights and credit industry requirements to all states. In addition, it gives active duty military personnel, often targeted by identity thieves, the right to put a special "active duty alert" on their credit files.
Some see the new uniformity across all states as a boon. But the legislation also preempts tougher California laws in some instances. It virtually bars states from enacting more stringent laws in the areas covered by FACTA. In some cases, it prohibits consumers and state attorneys general alike from suing businesses that fail to follow the new rules.
"The rug was pulled out from under us," Frank said. "Those states that were so much ahead of the game lost certain rights, but the rest of the country gained."
Whether the new laws prove to be effective will ultimately depend on the good faith of those in the credit industry, Frank says. She and others are ready to go public — and return to the legislature, if necessary — if the industry fails to change its practices.
These days, Frank still handles divorce, workplace and business cases as a lawyer-mediator. Recently, she also completed a new book on safeguarding one's identity. She serves as a reserve Orange County sheriff's deputy in the department's high tech crime unit. And she belongs to the advisory boards of the Identity Theft Resource Center and the Office of Privacy Protection in the state's Department of Consumer Affairs.
Linda Foley of the San Diego-based Identity Theft Resource Center affectionately likens Frank to a pit bull. "She doesn't let go until she's done, and it is always to the benefit of the people she's working with," Foley said. "She's one of my heroes."
Just ask Scott Lewis of Wintersville, Ohio. He had hit "rock bottom" when he reached out to Frank several years ago. Laid off from a management job at a radiology firm, Lewis had been job-hunting for two years. Time and again, he completed the final interview and filled out paperwork for the background check. Then, he recalls, "I would never hear from them again."
On a fluke, Lewis finally found an explanation. A friend ran a background check and discovered that Lewis's spotless criminal record inexplicably included arrests for murder and multiple cases of drunken driving.
Spotting Frank on a TV show about identity theft, Lewis sent her an e-mail. Frank responded immediately with an offer to help, even without pay. "I was down to pennies," said Lewis, whose marriage had broken up under the strain as well. "Everything that could have gone wrong did."
As it turned out, Lewis was not a victim of intentional identity theft, but the devastating consequences were the same. Someone had mistyped the true murder suspect's Social Security number into a jailhouse booking report a decade earlier, linking the arrests to Lewis's Social Security number. The database was then sold to an online information broker and resold to others. Initially the online broker refused to correct the mistake, Frank says.
She persuaded Lewis to share his story on "Dateline," a nationally televised news show. A lawsuit against the online broker later settled. Doors finally began to open for Lewis.
He credits Frank with making a difference. "She suffered herself and she's on a crusade," he said. "She's not about the money. She's about trying to help people . . . And she's got a heart of gold."
IDENTITY THEFT RESOURCES
identitytheft.org
(Mari Frank's Web site)
idtheftcenter.org
(Identity Theft Resource Center)
privacy.ca.gov
(California's Office of Privacy Protection)
privacyrights.org
(Privacy Rights Clearinghouse)
ftc.gov
(Federal Trade Commission)