Three San Francisco criminal defense attorneys were honored for 50 years of practice last month
State Bar President John Van de Kamp (second from right) presented certificates to (l-r) George Walker, 80, Harriet Ross, 79, and Louis Katz, 81. All three also are certified legal specialists in criminal law.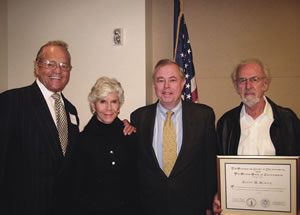 (Click to Enlarge)
Walker and Katz, who attended Hastings Law School together, both work in private practice and Ross is a deputy public defender in San Francisco.
"Fifty years went by quickly," said Katz, who with the others vowed to work as long as possible. "I'd feel no greater honor than to fall over in the courtroom," Walker laughed, adding that when he considered retiring, "it was like the energy was sucked out of me." Ross, who has tried more than 100 felony jury trials in her career, fought back tears as she said, "I consider it a great privilege to be an attorney."