Public protection takes center stage in disaster
By Nancy McCarthy
Staff Writer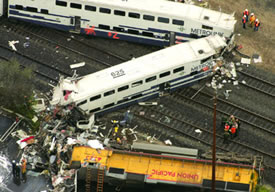 (Click to Enlarge)
Shortly after Metrolink train #100 plowed into a Jeep parked on the railroad tracks in Glendale in late January, former Los Angeles deputy sheriff Tom Layton got a phone call from one of his police buddies. As a member of several law enforcement groups and a man with "friends all over the place," the State Bar investigator often gets an early head's-up when disaster strikes.
He sped to the scene of the crash and, using his retirement badge, slipped past the heavy security surrounding the carnage.
Wearing a windbreaker that bears the words, "State Bar of California," and carrying his business cards and a handful of consumer pamphlets he keeps in the trunk of his car, Layton quickly made his way to the command post, where an officer assigned a couple of cops to accompany him as he began what amounts to public protection work.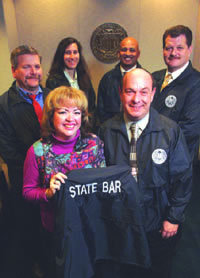 Disaster Response Team
As it has done in other disasters, the State Bar took steps to inform victims and their families of their rights to legal representation and to protect them from individuals who might try to improperly solicit business. The bar has previously sent investigators to a toxic fire in Contra Costa County, to another southern California train crash and to a nursery school shooting.
Eleven people died and 180 were injured in the Jan. 26 Glendale accident, caused when an apparently suicidal man drove his car onto the tracks.
Five other bar investigators were dispatched to local hospitals, where they left business cards and copies of two State Bar pamphlets in English and Spanish, How Can I Find and Hire the Right Lawyer? and What Can a Lawyer Referral Service Do for Me?
"What we really wanted to do," explained Janet Hunt, the bar's acting assistant chief trial counsel, "was to talk to administrators to make them aware people come into hospitals and to let them know it's illegal (to solicit clients at a hospital or accident scene). We also wanted the families to have the brochures."
While the bar was warning victims and their families to be wary of unscrupulous individuals trying to sign them up as clients, legitimate lawyers and law firms also acted quickly.
By the end of the day, a public relations firm posted a list of Los Angeles- and New York-based legal experts, and their backgrounds, who could be contacted about the train wreck.
Several law firms had sponsored links on the Internet, and at least one law firm bought television advertising. "Important message from Jacoby & Meyers for victims of the Glendale train accident," one ad announced.
"If you have been injured in this accident, you may be entitled to compensation and there may be insurance that covers your injuries," the ad states. "Our investigators are already attempting to determine if this terrible accident could have been handled differently."
A Sacramento law firm, Anwyl, Scoffield & Stepp, posted a link that enables victims to submit a form online. The page outlined the particulars of the accident, explained the legal duties of "common carriers" like Metrolink and said its catastrophic personal injury department was investigating the accident.
The firm offered a free initial consultation, but a week later had no takers.
While those efforts are legal, "capping" is not. Capping is the unlawful solicitation of clients at the scene of an accident and is illegal under California law. It often goes hand-in-hand with faked accidents and insurance fraud, Hunt said. Cappers tend not to be lawyers, but if they work for an attorney, the bar hears about it if a client complains.
In addition to being prohibited from soliciting accident victims at the scene or in a hospital, lawyers are not permitted to seeking clients who are unable to exercise reasonable judgment due to their physical, emotional or mental state, or to seek employment by mail, unless the letter and envelope are clearly labeled as an advertisement.
Layton said he made his presence known at the Glendale crash site, checked out bystanders and believes he scared off a couple of suspicious characters. "They pretend they're reporters or family members," he said. "I went to take a look and they took off."
Layton said he made no effort to talk to victims, but was available to answer questions, told perimeter personnel what to look for and offered assistance to the Red Cross. If asked about finding a lawyer, he said, "I'd tell them to contact the local bar or get a referral from a friend."
Other investigators, including one who speaks Spanish, were dispatched to the University of Southern California Hospital, the Glendale Adventist Medical Center, Glendale Memorial Hospital, Huntington Memorial Hospital and UCLA Medical Center. For the most part, they contacted hospital administrators, Los Angeles police detectives and Red Cross representatives, providing business cards and the pamphlets and warning them to be aware of possible capping.
Layton said he's visited several accident scenes in his six years as a bar investigator. "I think the efforts pay off," he said. "Whatever happens afterward, it's on the victims."