Jim Heiting elected bar president
By Diane Curtis
Staff Writer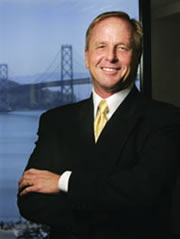 (Click to Enlarge)
James O. Heiting, a Riverside lawyer who has been instrumental in expanding alcohol and drug rehabilitation programs for attorneys, has been elected the next president of the State Bar of California.
A partner at Heiting & Irwin, which specializes in medical malpractice and personal injury cases, Heiting, 56, will succeed former California Attorney General John Van de Kamp when he takes over at the bar's September convention in San Diego.
"A lot has been given to me, and I feel like I have a lot to give," Heiting said of being elected the bar's 81st president. "I feel I can be effective in giving back to people. That's how I gauge things."
In a three-way contest, San Francisco lawyer Roderick A. McLeod was eliminated after one round of balloting and Heiting defeated Irvine attorney Joel S. Miliband in a second round of voting.
In his pre-election speech, Heiting said he was committed to increasing diversity "from the ground up" and promoting pipeline projects to get minority students as young as middle-school age interested in the law. Access to justice for the indigent and the Lawyer Assistance Program (LAP), which provides support and programs for lawyers with alcohol, substance abuse or mental health issues, are also top priorities. Ultimately, the LAP program, which saves careers and lives, saves the bar money in fewer discipline cases, Heiting said.
Considering that the State Bar is heading for a multimillion-dollar deficit by 2008, Heiting said, "I don't think there's any question we need a dues increase." He added that dues should be set according to the needs of the members and the State Bar "and not the other way around," but that such services like the ethics hotline, where attorneys can get answers from State Bar experts, currently require more staff. He also said he favored partnerships with local bar associations and wanted to head further toward a "paperless system."
The father of three grown sons with his wife of 33 years, Cindy, Heiting received both his undergraduate and law school degrees from Western State University in Fullerton.
During his tenure on the board of governors, he has chaired the Planning, Program Development and Budget Committee and was instrumental in creating the bar's long-term strategic plan. As a vice president of the bar this past year, he also serves on the Committee on Board Operations.
Heiting was admitted to the practice of law in California in 1976. From 1988-2003, he was on the board of directors of The Other Bar, a network of volunteer California lawyers and judges who offer confidential support to lawyers trying to cope with alcohol or chemical dependency. He served as its president and chair from 1991-93.