Bar honors longtime members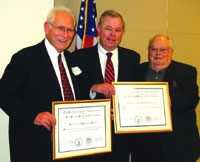 (Click to Enlarge)
State Bar President John Van de Kamp (center), presented certificates acknowledging 50 years of bar membership to Seymour M. Rose (left) and Mortimer Herzstein.
Rose, 77, was admitted to the bar in 1955, maintained a private practice and served as Appointed Child's Advocate in Alameda and Contra Costa superior courts and as a judge pro tem in those counties and San Francisco. He also has been a certified legal specialist for 25 years.
Herzstein, 79, attended Stanford Law School, was admitted in 1950, and headed his own law firm for more than 35 years before becoming of counsel with Bronson, Bronson & McKinnon. He currently is a sole practitioner in San Francisco. Both men also donated their time to a wide variety of State Bar activities.