Lawyers help ex-cons build a better life
By Nancy McCarthy
Staff Writer

Savala
Trino Savala is an intimidating guy. Heavily tattooed, a former dope fiend and violent prison gang member, he spent 12 years behind bars, selling drugs and cultivating a reputation as an all-around bad dude. Today, Savala is a certified drug and alcohol counselor and gang intervention speaker who addresses audiences behind bars and in college classrooms. He mentors parolees coming out of prison and is gainfully employed. He and a film producer are making a documentary about gangs and drugs.
What happened?
Savala connected with Bruce Cline, a former president of the Sacramento County Bar Association and a volunteer for VIP Mentors, a statewide program that matches lawyers with parolees as part of an effort to reduce recidivism and help parolees turn their lives around.
When he met Cline, Savala recalled, "He looked at me and was, like, what am I gonna do with this guy?"
Cline admitted he had the jitters. The former Santa Monica police officer "looked at it from a background standpoint. I have a law enforcement bent, I'm white, I live in suburban Folsom," he said. "How am I going to relate to a bad dude, a former Hispanic gang member? How can I talk and come up with anything that can help him through this program?"
Savala was unquestionably a challenge. A featherweight boxer, he once was the state junior lightweight champion, undefeated and ranked in the top 10 worldwide. But he "got into coke real bad and threw my career out the window," he said. Behind bars, he sold drugs and was his own best customer, feeding his disease. He became a leader of an Hispanic prison gang and was a violent offender inside prison walls.
He also was a testament to the Three Strikes law; with two strikes on his record, he wanted to remain free when he was paroled in 2000.
The match with Cline succeeded, and Savala today calls the lawyer his best friend. "He believed in me," he said. "This man took me under his wing. Bruce said he didn't know what he had to offer me but he became a role model to me. He helped guide me, got me in doors that wouldn't have let me in. He helped mold me to become what I am today.
"It's a miracle thing, Bruce being my mentor."
While not all VIP matches can be characterized in such lofty terms, the program has a good track record. The recidivism rate for California Department of Corrections (CDC) and the California Youth Authority (CYA) stands at 60 to 70 percent. On the other hand, nine of 10 parolees matched with lawyers through the VIP program remain essentially crime-free while working with a mentor, and three of four who complete mentorships are crime-free for one year or more, according to program executive director Mike Zimmerman. "All we know is if we can help these parolees to have at least a year of non-recidivism, they are very likely to be launched as upstanding members of the community," he said.
In addition to saving human lives, VIP saves taxpayer dollars by helping the state avoid annual confinement costs that range from $30,000 for the CDC to more than $70,000 for the CYA. VIP costs less than 5 percent of what the state spends to put offenders in prison, Zimmerman said. The program's annual budget is $800,000, with most funds provided through contracts with state agencies and the remainder from bar associations, foundations and individual lawyers.
Formerly known as Volunteers in Parole, VIP Mentors was created in 1972 by lawyers who felt a professional obligation to try to close the revolving door into and out of California prisons. It now operates seven programs to mentor CDC parolees and six programs for CYA parolees in 12 California counties.
Using a Big Brothers/Big Sisters model modified for a population of offenders, mentors serve as role models, offering friendship as well as advice, and providing a sounding board for parolees to share success, analyze setbacks and learn to cope with crisis. Volunteers are precluded from giving legal advice or giving their match money, and are asked to check in with their mentee once a week, get together once a month for an activity of mutual interest and commit to a one- to two-year mentorship. The time commitment can be minimal — as little as three to five hours a month.
"The point is simply to be there for someone who is trying to make important changes in his or her life, no more or less than I would do for any other friend," said Riverside lawyer John W. Vineyard, VIP chairperson.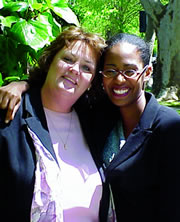 (Click to Enlarge)
Alana Mathews-Davis, a deputy district attorney in Sacramento, has tried to do just that with two mentees in the past couple of years. She does not inquire about the nature of their crimes, focusing instead on providing encouragement. "I just kind of share different challenging experiences I've had in my life," Mathews-Davis said. "I'm the first in my family to go to college, I still have financial struggles." In addition, the young prosecutor, who grew up in Gary, Ind., said she has several relatives in prison and "I think the parolees can relate to me. They won't think I'm somebody who's had a privileged life and won't understand the troubles they've faced."
On the other hand, San Diego lawyer Ted Drcar describes himself as "a fortunate son" and volunteers with VIP in order to give back to the community. A civil litigator, Drcar has mentored about a dozen parolees, sometimes more than one at a time, all felons whose crimes ranged from auto theft to armed robbery to sexual assault. He also participates in a pen pal program that attempts to get a jumpstart with Youth Authority inmates six months before their release.
His contacts with parolees range from just spending time talking to taking an ex-con who lived close to Qualcomm Stadium to a Chargers game to taking a mentee — who had never seen snow — snowboarding. "There are people in San Diego who live 10 miles inland and have never been to the beach," Drcar said. "They've missed out on a lot of things that are second nature to us, so I try to find things they've never done."
Not every mentee is able to stay on the straight and narrow, Drcar said, citing as an example a mentee who was reincarcerated for alcohol-related offenses. The execution-style murder, apparently by gang members, of a parolee who was living a clean life was the most devastating loss, he said.
But Drcar and other mentors report plenty of success stories.
Kristina Brommer of Eagle Rock, who was convicted of forgery and possession of drugs for sale, goes to junior college, is an executive assistant for a vice president of a wholesale distribution company, got married and is expecting a child. She was discharged from parole in 13 months, the shortest time frame allowable.
One of Drcar's mentees will graduate from San Diego State this year, is engaged to be married and has worked for the same employer for four years and been promoted twice.
Another got an AA degree while in the Youth Authority, earned a bachelor's degree in business after being paroled and is a credit analyst with a large bank.
Becky Collins, who at age 36 became addicted to crack cocaine, has been Alana Mathews-Davis' mentee since January. "The biggest thing is friendship," she said. "We always spend a lot of time talking. We can get together and talk two, three, four, five hours, if we have time. There's never enough time together."
Collins attends Sacramento City College, works at the residential program where she lived when released from prison and hopes to become a certified addiction specialist as she works toward a college degree. VIP, she said, "boosts my self-esteem. It lets me know I made some bad choices but I'm not a bad person."
Mathews-Davis gets as much out of VIP as the parolees, albeit a different kind of satisfaction. She was overwhelmed when Collins asked her to present a three-year sobriety chip from Alcoholics Anonymous. VIP "gives me a sense of satisfaction professionally as well as personally," Mathews-Davis said. "It makes me feel like I'm making a difference."
Bruce Cline, now an assistant city attorney in Folsom, does not see former gang banger Savala often these days, but they stay in touch. Once they met, he said, any fears were put to rest, and he never doubted Savala would conquer his demons.
Cline coached Little League All-Stars and Savala began going to games. He accompanied Cline's family on a river rafting trip. Savala channeled the intensity he brought to boxing into positive activities.
Cline said he did not have to break through any barriers to connect with Savala. Instead, the match was about "befriending him, treating him with respect, just treating him like an ordinary guy instead of a gangbanger."
Volunteering for VIP was a way to expose parolees to a side of life they might not otherwise experience, Cline said, to allow them to see a different side of the world. "Trino sort of said, if I was willing to take the time for (him), 'I'm worth something and I can contribute.'
"It's a pretty easy job, quite frankly, if you just commit on a friendship basis."
• Attorneys interested in becoming a VIP mentor may e-mail vip-statewide@vipmentors.org or call 877/484-7462 (toll-free). For more information, visit vipmentors.org.