Triumphs that made a difference for women
By Diane Curtis
Staff Writer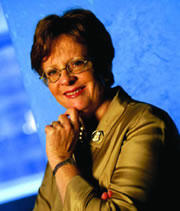 (Click to Enlarge)
Mary Cranston could have accepted the maternity leave she won for herself at Pillsbury Madison Sutro and left it at that. And she could have let other women fight their own battles as she rose in the ranks from associate and top-notch litigator to chair of the much-merged, now-international law firm, Pillsbury Winthrop Shaw Pittman. But Cranston thinks long term, and she has made sure that each individual triumph at the venerable San Francisco-born practice translates into policy change, especially policy change that levels the playing field for women lawyers and allows them to have both a successful home and work life.
For her vision, legal skills and accomplishments, Cranston is one of five attorneys being awarded this year's Margaret Brent Women Lawyers of Achievement Award, named after America's first female lawyer, who arrived on colonial shores in 1648.
The award from the American Bar Association Commission on Women in the Profession honors women lawyers "who have achieved professional excellence in their area of specialty and have actively paved the way to success for others." Past honorees have included Supreme Court Justices Sandra Day O'Connor and Ruth Bader Ginsburg. New York Sen. Hillary Rodham Clinton will receive a special award this year in honor of the award's 15th anniversary. The other four honorees are Loretta Collins Argrett of Washington, D.C., Carolyn Dineen King of Houston, Judith L. Lichtmann of Washington, D.C., and Mary Ann McMorrow of Illinois.
"It is very rewarding to be recognized among the illustrious list of past and current Margaret Brent award winners who have worked tirelessly to provide greater access for all into the field of law," says Cranston, 57, whose career charts a long course of surmounted barriers: she is the first woman to lead an American Lawyer Magazine Top 11 law firm. She was named one of the 100 Most Influential Lawyers in America by the National Law Journal and one of the 100 Most Influential Lawyers in California by the Los Angeles Daily Journal. She was named one of two Best Law Firm Leaders in the United States by Of Counsel and a Super Lawyer — one of the top 4 percent of Northern California attorneys — by California Super-Lawyers, Law & Politics Media Inc.
The Palo Alto native wasn't bitten by the law bug early on. A decision on graduate school following a Stanford undergraduate education and receipt of a master's from UCLA amounted to a competition with her twin sister, who had known, unlike her sibling, what she wanted to do since she was in grade school — practice medicine. Cranston wasn't going to let her sister best her in terms of graduate education. Business or law school would have been equally acceptable to Cranston, but "law was a little more open to women" in 1972, she recalled in a telephone interview from London, and she entered Stanford Law School that year.
It clicked, and her next goal was to be a lead trial lawyer. "There were no models out there, so I kind of pictured it in my head," she said. Thirty-three years later, she has more than 300 class-action lawsuits under her belt for Pillsbury and is a Fellow in the American College of Trial Lawyers. Her specialties are anti-trust, regulated industries and securities law.
When Cranston became pregnant in 1978, she didn't ask, she told the partners she was going to take time off with her first child. "They didn't blink." When she and others protested continued firm gatherings at private men's clubs, Pillsbury dropped the tradition. She led a firm effort for part-time work and got it. Integrity, an inclination to "do the right thing" and "goodhearted" people at Pillsbury help explain her success, as did the presence of two women partners — Margaret Gill and Toni Rembe — who Cranston says were "very visionary" and "greased the skids." Another reason she was successful, she believes, was that she refused to be distracted from her goals.
"Cultural bias is as much in women's minds as it is in men's," she said. "When I talked about fears and why I couldn't achieve goals, a lot of them had to do with what I thought the environment would exclude me from doing." When she focused less on her fears and more on what she wanted to achieve, "barriers melted," she said.
Easy as Cranston makes it sound, her colleagues point out that she took big risks in seeking change, especially at a century-old firm that prided itself on its heritage and traditions. "Pillsbury was a very conservative law firm whose senior partners were reluctant to make changes, yet even as an associate Mary was able to initiate part-time and maternity policies," wrote Margaret Gill in a nominating letter. "Perhaps more important, she helped create within the firm an environment friendly to women which resulted in the firm having a much larger percentage of women lawyers than other law firms, large and small, throughout the nation."
Being the head of a 900-member firm with locations in 16 cities around the world has not slowed Cranston's efforts on behalf of all women lawyers. In 2001, two years after she was elected chair of Pillsbury Winthrop, she chaired the No Glass Ceiling Task Force of the San Francisco Bar Association and helped secure promises from more than 60 law firms to promote women to leadership positions. She also has worked to open up the Antitrust Section of the ABA to women.
At the same time, Cranston, along with Managing Partner Marina Park (their elections garnered another first — first major firm in the nation to be led by two women), was focusing on bringing Pillsbury out of a slump reportedly caused by the dot-com bust and a reluctance to change. Pillsbury had merged in 1991 with Lillick & McHose and in 1996 with the intellectual property firm of Cushman Darby & Cushman in Washington, D.C. But the firm continued to languish. According to American Lawyer magazine, Pillsbury fell from 28th in 1990 to 46th in 1998 in profits-per-partner rankings.
When Cranston and Park were elected in 1999 as chair and managing partner it was with a mandate for change. The two women created a panel of Pillsbury leaders to go on "sacred cow hunts" that resulted in more efficiency. They also continued the hunt for merger partners. "The world is changing radically," Cranston said. "You used to be able to do leading, cutting-edge work with a regional platform." No longer is that the case if law firms want to offer the depth and breadth of legal services that are needed.
The merger with Winthrop, Stimson, Putnam & Roberts gave Pillsbury the New York and international presence it was looking for, and another merger this year with Shaw Pittman of Washington, D.C., added regulatory work.
Cranston doesn't see the trend toward mergers changing anytime soon. "I think it has to continue," she said. "It's being driven by the fundamental shrinking of the world into a global village." The battle for equality in law firms also has to continue, she says. "There's still a long way to go. Women and men have been coming out of business and law schools in equal numbers for 20 years, and the executive ranks are still male-dominated."