Taking advantage of second chances
By NANCY McCARTHY
Staff Writer
When Jim Heiting is sworn in as the 81st president of the State Bar of California this month, he takes office almost 19 years to the day after he entered the Betty Ford Clinic for treatment of alcoholism. At the time, he faced felony criminal charges for nearly killing a woman while driving drunk.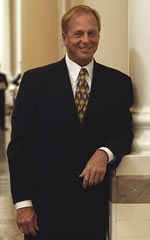 Personable, with an easy smile, Heiting says concern for individuals is at the top of the list of what's important to him
Since then, the 56-year-old Riverside lawyer has been sober, rebuilt his career and personal life, and has dedicated himself to the recovery community and the legal profession. His life, he says, is a testament to the miracle of sobriety. And winning the bar's top post, he adds, "is quite a dream. I've always looked at lawyers and judges and just been in awe of them."
"Jim is a visionary," says his longtime friend Rick Ewaniszyk. "I know he has an overwhelming concern for the lives and careers of lawyers and that he'll be reaching out to them."
Added Richard Irwin, Heiting's law partner for 25 years: "He's down to earth, he gets along with everybody, he doesn't consider himself better than the gardener working on the lawn. He's not going to say I'm a better person than you because I'm the next bar president.
"I tell my kids the most important thing in life is to have your head and your heart in the right place. Jim does."
Heiting himself admits to a few qualms about the new job and is uncomfortable serving as a role model or an inspiration for the recovery community. "The only thing I can do," he shrugs, "is keep on keeping on. I will strive to do the extra-ordinary this year. If something happens new or important, great. If I can just make a contribution, great."
Making a contribution is only part of who Heiting is — a complex man of opposites. A poor kid who now lives the good life. A country boy recruited by Harvard. A tough guy who puddles up. His conversations are sprinkled with "gee whiz" and "golly darn." Tenacious in the courtroom, he loves the quiet of nature. "All kinds of different mixes," he says.
Known for an easy smile and hugs as much as handshakes, Heiting squirmed when asked to describe himself. Embarrassed, he comes up with loving, responsible, persistent, respectful (for the most part), imperfect, emotional. "I care a lot about individuals," he says. "I think riches are gauged in terms of relationships, not money or wealth." He also calls himself a "bulldog-type lawyer" who explores every nook and cranny of a case. "I'm not as crafty or word-wise or intelligent as some, but I'm dedicated," he says.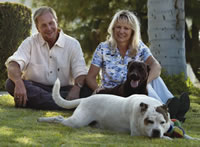 Heiting credits his wife Cindy for standing by him when his alcoholism was at its most destructive
"He's very professional and I admire his intellect, but he's soft and kind at the same time," says his wife of 34 years, Cindy. "He's very personable and has always been interested in people."
Irwin says Heiting is very aggressive and "will fight tooth and nail for what he thinks is right. He won't settle for less and he won't settle just to settle." Irwin added that Heiting constantly pushes people to better themselves and excel. One client became a secretary and then a lawyer at Heiting's urging.
Whether it's trying a case or being elected student body president in college, Heiting chases his pursuits full-bore.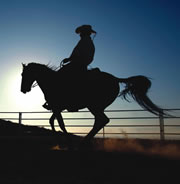 Heiting typically relaxes in the saddle of one of his six Tennessee Walkers
His latest passion is horses, Tennessee Walkers to be exact. When Cindy decided to raise horses a couple of years ago, he quickly signed on and a pasttime became a business. The couple now own six horses and recently added a barn and corral to their sprawling 6-and-a-half acre property. Dotted with fruit trees, evergreen and cactus and surrounded by three mountain ranges, the place has been renamed Riverside's Summit Ranch. Lifesized statues of elk and buffalo, part of the couple's extensive collection of western sculpture, stand just inside the gate.
Heiting began riding in April 2004. Four months later, riding Dragonfire, a horse he bought just three weeks earlier, he entered the Tennessee Walking Horse National Celebration, the Olympics of Tennessee Walkers, and won the world championship in the amateur English Park Pleasure three-gait competition before a crowd of 30,000 in Shelbyville, Tenn.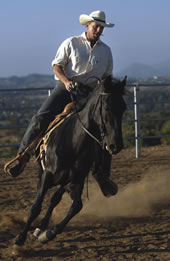 Jim Heiting, the State Bar's 81st president, rides Man of Rain, one of his prized Tennessee Walkers
He won the world championship again last month, outriding a horse that was undefeated since 2001.
In another amateur event last year, Heiting also won the title of reserve world champion (second place). In his wallet, he carries photos of himself, wearing a tux and snap brim hat and sitting high in Dragonfire's saddle, that he loves to show friends.
Life wasn't always this good.
Born in 1949 in Chicago's Lying-In Hospital, Heiting and his older brother moved with their parents, John and Vivian, to Torrance when Jim was one. Both parents worked for Woolworth's, his dad as a bookkeeper and his mother as a dime store clerk. The family lived in a tiny wood frame house with a kerosene stove and a scary two-seater outhouse; scary, Heiting recalls, because it was frequented by snakes and black widows.
As a child, he loved the outdoors, everything from dirt to horny toads, and was all boy — building forts, shooting rabbits, holding pigeon races, riding a tricycle off the roof of a barn. He attended Boys State and learned to play piano, steel guitar and the trumpet, talents that led to a scholarship to band camp, which culminated in a concert with the Long Beach Philharmonic Orchestra, where he was first chair, first trumpet.
A star student at Corona High School in Norco, Heiting played basketball and was captain and MVP of the tennis team. His dad died of a heart attack when Jim was 15, and his mother took over the family's tax preparation business, struggling to make ends meet. Heiting was recruited by Harvard, but without a scholarship offer, he opted to attend John Brown University, a small Southern Baptist college in Siloam Springs, Ark., that had offered a free ride and was favored by his mother.
He hated it. "It was very lonely," he recalls. "It was at the height of hippies and free love, and I go to Arkansas, where you can't wear jeans, no hair over your ears, chapel three times a week and no carousing." He left after a year and a half and enrolled at Riverside University, a small business school with high ideals, where Ross Perot was a dean and Jack Benny was an honorary dean.
Heiting majored in business with an emphasis on accounting and was valedictorian and student body president, but the school was beset by accrediting problems and when he graduated, its doors closed. He put in four years as a night student at Western State University and received his law degree in 1976. Married by then and with a son, James Jr. whom they call Jo-Jo, Heiting hung his shingle at a 12 foot-by-12 foot office in Riverside, with Cindy as his secretary. The office was so tiny that Cindy had to walk the halls when her husband met with clients. The couple had two more boys, Hans and Aaron, and Heiting began to enjoy success as a personal injury and medical malpractice lawyer.
But he had started to drink in earnest.
He was 17 when he first took a drink, but that initial experience had all the hallmarks of what was to come: he drank to get drunk, passed out, hid his drinking from his mother. What started as weekend drinking gradually, and insidiously, increased. It provided enjoyment and escape. While in law school, Heiting worked the graveyard shift at Anaconda Wire & Cable and was so keyed up when his shift ended at 7 a.m. that he couldn't sleep. So he climbed into bed with a 40-ounce bottle of Colt .45 and downed what he called his sleeping potion. He never drank at work or during the day.
In 1983, Heiting's mother and five other people close to him died, said Cindy, and "I think he just collapsed. The drinking was sporadic before that, but it became the only way to relax and to sleep."
At his lowest point, Heiting drank at least a fifth of gin daily, although he believed it did not affect his work. During a trial in 1984, for example, he stopped at a liquor store at day's end, drank until he passed out and got up at 3:30 a.m. to prepare for trial. He won.
"I was tortured every day," he says now. "Every day was hell. I'm praying in the morning not to drink. At night, I'm feeling self-pity, guilt. I had such a revulsion for my inability to control this that I would get the dry heaves.
"It was a very bad time, a very dark, isolated time. I didn't feel like anyone could help me. I wanted to get sober so badly and I just couldn't do it."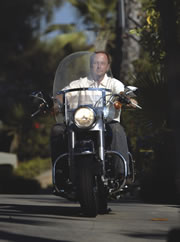 Heiting's Harley-riding days are over, but he occasionally takes the bike out for a spin
After winning a trial in 1982, Heiting rewarded himself by buying a Harley. Thus began a series of promises: "I promised myself that I would not drink again once I bought the Harley. I kept my promise for two weeks. Then I promised I would not drink and then ride. That lasted a few weeks. Then I promised I would not get drunk and then ride. Well, in the end, what I would do is tie my helmet, open side up, on the side of the bike and put my bottle of gin inside it."
In 1986, he lost control of the bike and wound up in the emergency room; every rib on his left side was broken twice and he had a collapsed lung, bruised heart, broken collar bone and a concussion. He remained in a hospital bed at home for a month.
Just two months later — July 17, 1986 — came the night that changed his life. Although he'd consumed a bottle of whiskey, a friend needed his help and he left home, despite Cindy's threats to finally leave him. Two miles from home, he jumped the median strip of a major street, hit an oncoming car head-on, demolished the car and seriously injured the driver. Hauled off to jail, Heiting was charged with felony drunk driving.
Riverside attorney Steve Harmon said he would defend Heiting only if his client enrolled in a recovery program. Heiting began a 28-day stay at the Betty Ford Clinic on Sept. 1, 1986.
Four months later, he pleaded guilty, was placed on five years of probation and was ordered to pay an $850 fine and make restitution to his victim, with whom he settled a civil suit. He also was given a five-year probation by the State Bar. Years later, the felony was reduced to a misdemeanor and expunged from his record.
As part of his criminal sentence, Heiting was ordered to serve six months in jail, which at the time was attached to the Riverside County courthouse. "I worked in the laundry in the courtyard of that courthouse," Heiting said. "I'd been a well-respected lawyer for some time and I could see my buddies walking by." He recalled the humiliation of being taken to a hospital for a medical problem in an orange jail jumpsuit, ankles chained together, wrists manacled to a chain around his waist. "I was embarrassed, ashamed. I had friends take over my cases, a couple of lawyers left my firm."
Irwin, his partner, stuck with Heiting. "We have a mutual respect for each other in terms of personal and professional integrity," he said. "That's what kept me with Jim when he was at his lowest."
When he returned to work, Heiting recalls, he "was an unknown quantity. Most people treated me with courtesy, but cautiously. They didn't know what to expect."
Gradually he began to share his experiences by writing about them in a local paper. He started a Riverside branch of The Other Bar, a State Bar-affiliated recovery program for lawyers and judges. He became active with the Betty Ford Center's advisory board and Cindy, whose father died of cirrhosis of the liver at age 47 and whose family is afflicted with a good deal of alcoholism, was elected president of its Alumni Association, a support group for families. Heiting also became active in the Riverside County Bar Association and was elected its president in 1996.
Regretting that he had never told the victim of the accident that he was sorry and against his attorneys' advice, he met with the woman nine years later and apologized. Every year, on July 17, he sends her a card to tell her he's still sober.
Heiting rejected the suggestion that his many volunteer activities, particularly his work as a high-profile champion of alcohol treatment programs, are a search for redemption. "I do have those emotions and I do want to give back, but I think I was always that way," he says. But he admits, "I never forget about it."
Adds Cindy, "I think AA is really important, but I wouldn't say that's what most of his energy is about."
Heiting notes he has a resume filled with non-recovery-related activities, including co-founding the local chapter of the Federal Bar Association, serving on the board of the Leo A. Deegan Inn of Court, membership in the American Society of Law and Medicine and serving as a judge pro tem, arbitrator and mediator.
Elected to the State Bar Board of Governors three years ago, Heiting worked with former Sen. John Burton, D-San Francisco, to win legislation that created the Lawyer Assistance Program (LAP) for attorneys with substance abuse and mental health problems. He even applied to be director of the program, at the same time his wife applied to be alumni director at Betty Ford. A strong supporter of the bar's drug court, he believes the goal for attorneys whose misbehavior is related to substance abuse should be recovery, not just punishment. "We can help save lives, careers, money and clients," he explains.
Heiting's offices are in a large, southern plantation-style building he bought three years ago. His firm, Heiting & Irwin, employs 23 people; in addition to the name partners, there are three other lawyers who handle personal injury, medical malpractice and workers' compensation matters.
The maintenance man, Alfredo Tafoya, is an ex-con whom Heiting has helped through VIP Mentors, a State Bar-supported program that matches lawyers and ex-offenders in a Big Brother-Big Sister relationship. They were the Riverside County Match of the Year this year. "Jim's the big brother I never had," says Tafoya, who once was homeless and went to prison for voluntary manslaughter. "He gave me an opportunity to be part of society again. I tell him every day I love him. He's a good man."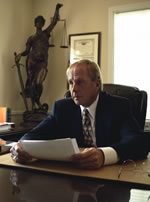 Heiting outlines his hopes for the coming year. A collector of sculpture, he placed Lady Justice behind the desk in his Riverside office
Heiting proudly guided visitors through the building, which sits on almost two acres maintained by Tafoya. Cindy manages the office and the couple rents out the property for weddings, fundraisers and other community events. Scattered around Heiting's office are small gifts and mementoes from "happy clients"; the wall bears eight framed degrees, a framed but incomplete list of verdicts he's won and a 1776 indenture signed during the reign of King George III. A collector of sculpture (he has Frederic Remington's "Mountain Man" at home), his desk sits in front of a large statue of Lady Justice.
He took the time to list a series of initiatives he'd like to introduce in the coming year:
Coordinate with a coalition of groups a "pipeline" program, aimed at junior high and high school kids, particularly those who are poor, disenchanted or unmotivated, to interest them in the law.
Increase and stabilize non-dues revenue for the State Bar, perhaps through the creation of a virtual warehouse, in which the bar would partner with Big Box stores and use its buying power to nail down discounts for lawyers on a wide variety of products.
Create an ethics and advocacy school. Instead of or in addition to court-imposed sanctions, he proposes a four-hour traffic school-like program to instruct potentially at-risk lawyers about ethics, professional responsibility, the State Bar Court and the history of the law. Heiting created a similar program in Riverside while he was the local bar president and believes it works because attorneys are (1) embarrassed to be required to attend, (2) forced to pay with both money and time and (3) are bound to learn something. "They'd learn about the history of law, its grandeur, its honor," he said. "You get done and you're inspired and realize this is a noble profession."
Create retirement and quitting practice programs.
Provide security cards to enable lawyers to bypass long security lines at the courthouse.
Establish courts dedicated exclusively to unrepresented litigants.
"And here's a good one!" he says. Create a program similar to MediCal — perhaps called LawCal — to provide legal services for the indigent.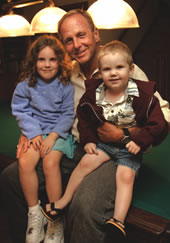 Heiting relaxes at home with grandchildren Briana and Jacob
Heiting also can't stand lawyer advertising because he believes it contributes to a bad reputation, but he admits he doesn't know how to discourage it without violating people's rights. He's thinking of a major PR initiative to let the public know about the good things lawyers do. Pointing to an electrical outlet in the wall, he says child-proof covers protect children because "some kid got electrocuted" and a lawyer stepped in. "Why aren't you getting beaned at the ballpark?" No more lead paint in walls? Child restraints in cars? "Every part of society is built on laws, but the public doesn't see all the good things lawyers do," he says.
Acknowledging that his time as president will be short, Heiting insists he's not looking for a legacy. He has no illusions that any of his proposals will bear fruit within a calendar year so he'll be content to plant the seeds for change. "I might set some things in motion but the time is too short to get a lot done. I want to improve what's there and think creatively.
"I don't know if that means a legacy."