Legal heroes win pro bono honors
A coalition of lawyers from northern and southern California spent thousands of hours on winning a statewide class action lawsuit that protects schoolchildren's fundamental right to equal educational opportunity. Another group of attorneys managed to prevent closure of a Los Angeles rehabilitation hospital that serves nearly 10,000 people with disabilities each year. And a lawyer in a two-person firm mentors law students who intern at a workers' rights clinic.
These are just a few of the attorneys honored last month with the 2005 State Bar President's Pro Bono Service Award. Created in 1983, the award is presented annually to California attorneys and law firms credited with making significant contributions in pro bono legal services to those with little income, as well as to organizations that serve the poor.
They come from small, medium-sized and large law firms. There is a newly admitted attorney, a retired public defender and a family law facilitator for a superior court. Their legal specialties differ, but all have found ways of helping impoverished Californians in need.
The awards, said former bar President John Van de Kamp, represent the good done by lawyers that too often goes unrecognized. "The recipients are standouts who we honor for their dedication to the needs of the less fortunate in our society," said Van de Kamp.
"Pro bono work is one of the most important things we can do to supplement the legal aid programs. Not only does it provide great assistance to people, but it is very satisfying for lawyers. We simply need to do more of it."
The 2005 award recipients are:
CORPORATE

Pickett
STEPHEN PICKETT lives by example. By showing how committed he is to pro bono work and giving his colleagues opportunities and support, he encourages the 80 members of Southern California Edison's law department to also take the time to use their expertise to help nonprofits and those who might not otherwise be able to afford competent legal counsel.
"Our company is very focused on giving back to the community," says Pickett, 55, the company's senior vice president and general counsel.
Southern California Edison's ongoing pro bono activities include aiding in the process of Adoption Day, in which children are adopted out of the foster care system, advocating for children who have been abused or neglected, providing legal assistance to child care organizations and other nonprofits, representing victims of home equity fraud and advocating for clients in immigration and asylum proceedings.
Pickett, who serves on the executive committee of Public Counsel in Los Angeles, handles a number of the cases himself.
EMERITUS ATTORNEY

Mowrer
GLEN MOWRER could have rested on his laurels when he retired in 1999. He left behind a 41-year legacy on how to represent those without the means to hire their own counsel, as well as a 1969 successful court case known as the "Public Defender Magna Carta," which accorded attorneys appointed for indigent clients the same respect and consideration that retained counsel enjoyed.
But Mowrer, 65, had other ideas. Immediately upon retiring after 24 years as chief of the Public Defender's Office of Santa Barbara County, he started The Legal Project.
The Legal Project was a direct result of watching defendants, many of them homeless and living in campers, lose cases or enter pleas that were not to their benefit because, as defendants charged with infractions, they weren't entitled to appointed counsel.
In the more than five years of the project's existence, Mowrer has counseled hundreds of people and enjoyed a 139-9 trial record representing poor people charged with infractions, including many convicted of "habitating" in their campers because they can't afford the area's high rents.
While the consequence of convictions for the people he has represented are usually small fines, "since the defendants are indigent, these fines regularly escalate into more serious matters and ultimately result in such persons serving jail sentences," Mowrer has said. "This is a quiet tragedy that operates below the radar of our legal system."
SMALL FIRM

Taube
When attorney RUTH SILVER TAUBE mentors young lawyers or advises clients at the South Bay Workers' Rights Clinic at Santa Clara University, she is not speaking from an ivory tower.
Silver Taube, who has an employment and labor law practice with her husband Melvyn Silver in San Jose and does pro bono work as special counsel at the clinic, once worked on a lathe at ITT Jennings, where she became shop steward and then the first female president of the International Association of Machinists and Aerospace Workers, Local 547.
She worked to achieve pay parity for women and then moved on to become business representative at the Service Employees International Union Local 535.
Silver Taube, 58, was honored for the extensive unpaid work she does for the clinics, which are run by the Legal Aid Society Employment Law Center in San Francisco and Santa Clara University's School of Law.
Mike Gaitley, senior staff attorney at the Legal Aid Society in San Francisco, said Silver Taube "has made her mark in the quiet, day-to-day alleviation of injustice through helping provide free services to the most vulnerable members of our community. Her leadership and dedication have inspired a new generation of law students — more than 300 in the last 10 years — to community service, and illuminated for them the profound importance of a just and fair workplace, particularly those who are subject to exploitation."
As special counsel at the clinic, Silver Taube trains and supervises law counselors and mentors law students, conducts workshops, answers questions by phone and represents many of the 400 clients a year who tend to be the most desperate working poor.
The clinic offers counseling, information and referrals on employment-related problems such as denial of wages, discrimination, work and safety issues, unemployment benefits, harassment and wrongful termination.
MEDIUM FIRM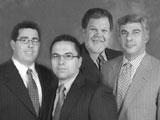 Sonnenschein Nath & Rosenthal
When acclaimed author Dave Eggers wanted to get a writing program for disadvantaged children up and running, the San Francisco law firm of SONNENSCHEIN NATH & ROSENTHAL LLP was at his side, donating its services to get the project, named 826 Valencia, off the ground.
Firm partners and associates offered services that included helping acquire nonprofit tax exempt status, advising on corporate structuring and leasing issues, preparing an employee handbook, drafting licensing agreements and chapter agreements and assisting the organization open chapters in five cities.
That commitment to pro bono work by Sonnenschein includes a long list of projects — 53 in 2004 and thousands of volunteer hours.
According to members of the Bar Association of San Francisco (BASF), Sonnenschein partners lead by example when it comes to pro bono work. "Not only does the San Francisco office take pro bono cases in a variety of litigation and transactional areas, but it has done stellar work in the housing and landlord/tenant area," a BASF nominating paper said.
In a case referred by BASF's Volunteer Legal Services Program, Sonnenschein lawyers worked for eight members of a non-English-speaking family who faced eviction from the Chinatown apartment they had lived in for 20 years. Ten Sonnenschein attorneys and paralegals worked on the case, which was resolved in favor of the clients.
Sonnenschein attorneys also represented a former inmate who said he suffered from eye pain and photophobic headaches as a result of being sprayed with mace in a Contra Costa County detention facility; they won a favorable settlement for a low-income client who had obtained a $330,000 default judgment for wrongful eviction and breach of lease, and firm attorneys did research and provided a memorandum of law for California Housing, an affordable housing organization aimed at preventing homelessness.
LARGE FIRM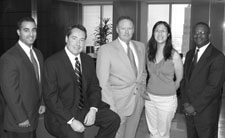 Kirkland & Ellis
When the County of Los Angeles threatened to close the area's only rehabilitation hospital serving low-income people with disabilities, attorneys in the Los Angeles law firm of KIRKLAND & ELLIS sprang into action.
Joining the Western Law Center for Disability Rights, Western Center on Law & Poverty, Protection and Advocacy Inc. and National Senior Citizens' Law Center, Kirkland & Ellis attorneys Jeffrey Davidson, Tony Richardson, Joseph Graham Jr., Christopher Heck, Eve Crowell and Stephen McClain donated hundreds of hours of their time and expertise to making sure that plaintiffs like Antonio Gaxiola, who has muscular dystrophy, and Susan Rodde, who has cerebral palsy, quadriplegia, scoliosis and leaking heart valves, could live as productive lives as possible.
They argued that closing Rancho Los Amigos National Rehabilitation Hospital would violate the county's obligations under the Americans with Disabilities Act because the facility is the only one in Los Angeles County to provide rehabilitation services to Medi-Cal recipients dealing with spinal cord injuries, strokes, traumatic brain injuries, post-polio syndrome, limb amputation, diabetes and arthritis.
"These services often mean the difference between life and death or between life in the community and life in a nursing home," according to the Western Law Center for Disability Rights.
An injunction preventing closure was issued by U.S. District Court Judge Florence Marie Cooper, and the Ninth Circuit Court of Appeals upheld the decision when it was appealed by the county. Not only were services for Rancho patients saved, precedent was established for other communities with disabled individuals.
"I cannot imagine a law firm more deserving of this prestigious award," said Pegine E. Grayson, executive director of the Western Center on Law & Poverty. "Legal services (direct and support) programs could not function nearly as effectively [as] we do without the support of local law firms. Kirkland & Ellis is in a class by itself in this regard."
RECENTLY ADMITTED

Roderick
If not for attorney TRINA RODERICK, the number of homeless in the San Francisco Bay Area would be higher. Roderick continually goes the extra mile for the low-income people she represents, many of whom are avoided by other attorneys because of the clients' complicated and sometimes threatening mental and physical problems.
Through her dedicated efforts, Roderick, an associate attorney with Kletter & Peretz in San Francisco, has succeeded in maintaining or finding housing for every one of her pro bono clients. But she doesn't stop there. She makes sure that her clients get the social services necessary for them to stay in the housing she finds for them. And when they need something extra, like the cerebral palsy client with mental health problems who needed someone to rent a moving van and pitch in with moving, she's there.
Roderick, 36, was admitted to the bar in October 2003 and by January 2004 had joined the Bar Association of San Francisco's Eviction Defense Project, part of the Volunteer Legal Services Program (VLSP).
She also joined VLSP's Family Law Project and is a volunteer attorney for the Eviction Defense Collaborative and the San Francisco Tenants Union.
Roderick's cases have included helping a mentally disturbed Russian man with limited English-speaking skills who was thought to have threatened an employee at his subsidized housing project. By enlisting a social worker to accompany the man to meetings with housing program employees and taking the unusual step of hiring a Russian interpreter for a civil court proceeding, Roderick enabled the man to avoid eviction.
She is known for her patience and willingness to give whatever time it takes to explain difficult legal concepts to her clients. "Trina is not only patient and caring with these clients, but she often takes cases at the last moment, such as the week before trial," BASF wrote in a nominating letter.
"Trina's pro bono work has impacted the homeless situation in San Francisco. By either securing another residence for her clients or keeping them in their current residences, Trina has helped her clients avoid homelessness."
SOLO PRACTITIONER

Ratzkin
The head of Ventura County's Volunteer Lawyers Services Program (VLSP) has this question about family law attorney SUSAN RATZKIN: "One wonders how she finds time to sleep and take nourishment."
Program manager Verna Kagan's appreciation for Ratzkin's dedication to her family law pro bono activities is multiplied because she sees how busy Ratzkin also is with her own Thousand Oaks practice, with serving on the advisory board of VLSP, with leading the Mexican American Bar Association as its president, with serving as a regular pro tem judge for the Superior Court and with being an active member of the Family Law Bar Association. Ratzkin, 59, also organized a program to provide free psychological evaluation reports to low-income litigants in cases that require such evaluations.
"Not only is she very active in everything she does, but she is also very competent," Kagan says.
Ratzkin, who speaks English and Spanish, provides legal help in the high-demand and time-consuming area of family law. Her "courage in accepting these assignments, not knowing how long the case would last or how much time over years she would be called upon to give, has allowed six families in 2004 to access the justice system in a meaningful and effective way, which would otherwise have been closed to them," said Tina Rasnow, an attorney with the Ventura County courts.
The cases are not high-profile in that they are not large class actions nor do they have great public impact, "but they are everything to the parents trying to keep their children safe and secure," Rasnow added.
GOVERNMENT ATTORNEY

Guerra
Every Thursday, after a full day's work as a family law facilitator with the Ventura County Superior Court, attorney ROBERT GUERRA hops in his car and makes the 40-minute drive to the agricultural community of Fillmore to help Spanish-speaking immigrants who have problems that require a family law expert.
A single mother of two thought she might lose her house, bought through a subsidy program, when she went through a divorce, but Guerra worked with her so she could keep it. A distraught woman who had just lost a son to cardiac disease wanted a divorce from her husband, who had long ago disappeared, and Guerra helped her get the divorce without the husband's presence.
Whatever the issue — child custody, child support, change of venue — Guerra makes it his job to get help for the clients who are largely minimum-wage farm workers, day laborers and food service workers.
"He has had a profound impact on the rural, poor, immigrant community," said Deborah Vierra, a founder of Santa Clara Valley Legal Aid, which runs the night clinic. "He is an enormous asset to the court and to our community."
Besides directly helping 90 clients at the night clinic, Guerra mentors younger lawyers who seek his counsel on complex legal matters and acts as an interpreter for other attorneys at the clinic who handle labor, employment and consumer law cases.
At the Ventura County Superior Court, Guerra staffs an on-site Family Law Self-Help Center as well as self-help centers at locations throughout the county. He has been in private practice and also has served as executive director of Channel Counties Legal Services Association.
DISTINGUISHED PRO BONO SERVICE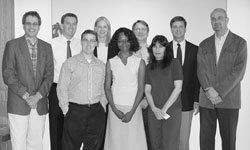 Morrison & Foerster
Without the pro bono help of the San Francisco-based law firm of MORRISON & FOERSTER, students in California's poorest schools may have been sentenced forever to their unfair share of unqualified teachers, outdated textbooks, dilapidated facilities and pervasive overcrowding.
Instead, the students were the winners this year when a judge agreed to a $1 billion settlement in favor of schools as the result of a class-action suit against the state charging that many students were being denied their constitutional right to a free and equal public education.
"Neither we nor any of our co-counsel would have been able to take on a case of this magnitude without the pro bono services of a large law firm like Morrison & Foerster," said Robert Rubin, legal director of the Lawyers' Committee for Civil Rights of the San Francisco Bay Area, one of several public advocacy law groups involved in the suit.
In August 2004, the case, known as Williams v. State of California be-cause of Eli Williams, a 12-year-old student at the time the suit was filed in 2001, was settled in favor of the plaintiffs. In 2004, Gov. Arnold Schwarzenegger signed into law several pieces of legislation implementing the settlements, and in March 2005, San Francisco Superior Court Judge Peter J. Busch approved the final settlement agreement.
The settlement provides as much as $1 billion over a period of several years for 2,400 low-performing schools to repair deteriorating facilities and $50 million to assess such needs. It also provides $139 million for instructional materials.
Starting in 2000 and continuing today, more than 160 Morrison & Foerster attorneys and legal assistants in San Francisco, Los Angeles, Denver and Palo Alto have contributed more than 74,000 hours to the case. Rubin lauded the "magnificent effort [Morrison & Foerster] put forth in seeing this case to fruition" and noted that "few law firms are willing to put in the tremendous effort needed for a case like this."