Making laws relevant to kids
By Diane Curtis
Staff Writer
The subject was Internet scams, and the discussion in Joann Petersen's Sociology and Law in Action course was spirited. Speaking of the aftermath of Hurricane Katrina, one of the students at San Diego's West-view High School said angrily, "Web sites were asking people to donate money for hurricane relief that weren't legitimate organizations." "That sucks," responded a classmate.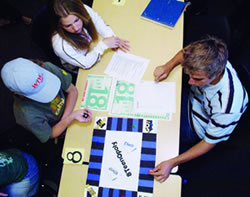 (Click to Enlarge)
When the subject turned to laws relating to underage drinking, identity theft, the draft, the Miranda warning, express and implied warranties, domestic abuse and the advantages and disadvantages of credit cards, the students were equally engaged, and Petersen gives credit for the enthusiasm to a State Bar publication, When You Become 18: A Survival Guide for Teenagers.
When You Become 18 is written and published, along with Kids and the Law: An A-to-Z Guide for Parents and Seniors & the Law: A Guide for Maturing Californians, by the bar with the goal of informing the general public about laws that affect them. When You Become 18 is a 16-page newspaper-style document, written in easy-to-understand language and broken into sections that deal with alcohol, money, jobs, crime and other relevant subjects.
Increasingly, teachers like Petersen are finding the guide a useful classroom tool, especially because it provides context and relevance for academic themes relating to law, sociology, democracy and government. Petersen and Westview registrar Kim Carroll started the Sociology and the Law in Action class — and went through a vetting process that included school board approval and designation as a University of California-approved elective — in response to what they saw as a dearth of humanities electives compared to all those offered in math and science.
They knew that students probably wouldn't sign up for the course without UC's guarantee of elective credit. They also knew that a new course had to be especially interesting to draw students. A respected history teacher, Petersen told students about the course last spring and hoped for enough interest to generate one section. By this fall, when the class began, there were four sections of 35-38 students each.
One of the major reasons for the interest, Petersen believes, is relevance. "It's something they know they can use," she says of the course, which uses the textbooks, Sociology: Understanding Society from Prentice Hall and Street Law: A Course in Practical Law from McGraw-Hill/ Glencoe, and incorporates When You Become 18 into the instruction. "A good educator always tries to make the curriculum relevant and show current-day applications," said Petersen.
A local attack on a Mexican immigrant led to a discussion about the "Hate Crimes" section of 18. Random classroom drug checks by police officers and their canine sniffers sent students to the "Alcohol and Drugs" section of the legal guide. Reports of gang activity in San Diego sparked a discussion on how close such incidents are to Westview students and the "Crimes and Consequences" section of 18. Although, as a veteran teacher and mother of three, Petersen says she is hardly "naïve" about the lives of teenagers, she admits that some of the discussions have been "eye-opening."
Ultimately, though, her students come away with a clearer understanding of how the system works, of the consequences of actions, of making laws and enforcing them. "This helps our students be better prepared for the outside world," Peter-sen says. "It makes them better citizens."
A new survey concurs with Petersen's conclusion. The study, conducted by Mills College Pro-fessor Joseph Kahne for the California Campaign for the Civic Mission of Schools, found that "in classes where students frequently talked about current events, 61 percent reported they were interested in politics compared to only 32 percent in classes with no discussion of current events." The campaign, made up of the Constitutional Rights Foundation, the Center for Civic Education and a coalition of nonprofit educational, business, governmental and civic groups, is trying to strengthen civics education throughout the state.
The survey also found that California students get a "D" in civics knowledge. Only half of those students surveyed could identify the function of the Supreme Court, and 33 percent could not correctly identify even one of California's two U.S. senators. California students, the survey added, "also show limited commitment or capacity to become politically involved." Only 47 percent of high school seniors felt that it was their responsibility to be involved in state and local issues.
However, the survey found, there may be an antidote to political apathy. "A curricular emphasis on the importance of civic engagement and relevant content regarding civic and political structures and functions help students develop the skills and knowledge they need for effective citizenship. In addition, as students develop knowledge and interest in issues, their commitment to participate grows."
According to Petersen and other teachers, students do get interested in civics more when they can see how such a seemingly remote document as a Supreme Court decision can trace back to a law that affects, say, their rights to rent an apartment or to carry a weapon — laws that may have been written by the politician campaigning in their neighborhoods and asking for their votes.
The State Bar obtained the rights for When You Become 18 from the California Law Advocates in 2002 and updates and revises the guide every three years. It is free and may be ordered by sending an e-mail to 18@calbar.ca.gov. Please include a complete mailing address, phone number, the number of guides requested and language (English, Spanish, Chinese and Korean). Kids and the Law may be ordered by sending the same information to kids@calbar.ca.gov, and Seniors & the Law orders should be sent to seniors@calbar.ca.gov. Seniors is also available in Tagalog and Vietnamese.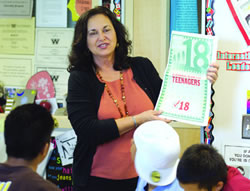 (Click to Enlarge)
On a recent morning, one of Petersen's classes was doing the preliminary work of brainstorming about an assignment to turn When You Become 18 into a board game. Pairs of students had mastered a section of the guide and presented their summaries to the class. Their assignment was to take what they'd learned and put it in a board game.
"This is actually interesting," said a surprised-sounding Drew Ness of the course. "I'm actually paying attention," added Andy Wiens, who said he was impressed with speakers from the district attorney's office and local law enforcement who offered firsthand accounts of carrying out the laws the students are learning about. Senior Vicki Lindem said she learned a lot from the "Money Matters" section about signing contracts, opening a bank account and the advantages and disadvantages of ATMs and credit cards.
Still, as eager as they were to hit that 18th birthday, most of the students focused on what they saw as the dark side of turning 18 rather than the newfound independence and advantages of hitting adulthood. Senior Mike Piechota said 18 gave him the unhappy news that he has to register for the draft on his next birthday. Another student lamented that he could lose his license if he was caught drinking even if he were nowhere near a car. And senior Chris Peters summed up the knowledge gleaned in When You Become 18 this way: "I learned I have four more months to get away with stuff."