Bar benefits attract interest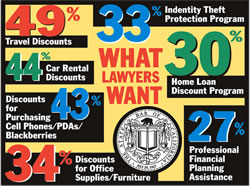 (Click to Enlarge)
Although most California lawyers are not aware of State Bar-sponsored insurance and corporate discount programs, a substantial number say they would be interested in offerings such as discounts on travel, car rentals and computer and other electronic purchases. And, a recent survey of California attorneys found, the state's lawyers are so wired that 93 percent have high-speed Internet access, with a majority indicating a preference for receiving information and communications via e-mail.
As a result of the survey of randomly selected lawyers, undertaken by the State Bar in December and January, the bar will step up its efforts to monitor demographic changes in the membership to assist the board of governors in setting policy and ensuring that member benefits and services are directed to, and tailored for, member diversity in practice, age, income and ethnicity.
The bar last surveyed its membership in 2001. The new results, based on 1,038 respondents with a margin of error of 3 percent, indicate:
The bar is older and less ethnically diverse than it was in 2001, and the percentage of women continues to climb, although slowly.
More members work as sole practitioners than they did five years ago, and fewer are working more than 50 hours a week.
There are more members at both ends of the economic spectrum, with increases in those making less than $50,000 or more than $300,000 a year from their law practice compared with five years ago.
Significantly more lawyers identify themselves as civil litigators than in 2001 (16 percent, compared with 4 percent).
The survey, conducted by Hertz Research of Petaluma, was commissioned by the board of governors to determine the extent to which existing benefits and services offered by the State Bar were being utilized and to find out what sorts of programs members would find useful. The results will be used to enhance the range of value-added programs and products available to bar members.
The survey found that 41 percent of respondents have used the bar's Ethics Hotline, a free service that directs callers to resources for resolving ethical dilemmas, 22 percent take online MCLE courses and 22 percent have called the recently launched Member Services Center. But fewer than 4 percent use other existing programs, including discounts on credit cards, computers, magazine subscriptions and student loan consolidation.
Once told about the programs, there was strong interest in signing up for them, particularly online continuing education courses, discounts on computers, overnight UPS delivery services, and legal research and publications through Thomson West, a large legal publisher.
In addition, one-quarter of the respondents said they might buy professional liability insurance from a State Bar-sponsored provider and 24 percent said they might be interested in long-term care coverage.
"Right now people do not have a perception that programs are of greater value or greater quality than programs they can obtain elsewhere," said Richard Hertz, who conducted the survey. "What remains to be done is to convince people they are a better value or better quality." He said the findings indicate that a large number of bar members are not familiar with existing programs.
Starr Babcock, senior executive for member services, added that the findings provide a good opportunity for the bar to select a range of value-added products to offer its members.
Revenue from some existing programs partially funds the bar's Member Services Center and the Lawyer Assistance Program (LAP), which helps lawyers afflicted with addiction or mental health problems. All bar members contribute a portion of their dues to fund the LAP, but the law permits pursuit of alternative revenue sources to replace that money. The LAP funds acquired through dues may then be used for other purposes, helping keep future bar dues within a cost-of-operations increase.
The survey supports planning by bar executives to explore a range of benefits, including health savings accounts, vision and dental programs and various discounted services. The bar already sponsors professional liability and life insurance programs through Marsh Affinity and recently agreed to sponsor an auto and homeowner insurance program underwritten by Liberty Mutual.
More than half the respondents to the survey said they were interested in setting up a health savings account (HSA) in conjunction with a qualified high-deductible health plan and 46 percent expressed an interest in obtaining a bar-sponsored vision health plan.
About a quarter of sole practitioners or attorneys working in a small firm said they would be interested in using administrative, technical or marketing support services if they were offered at discounted rates to bar members.
Among the attorneys who said they have accessed the State Bar Web site, 83 percent used it to search for other lawyers. In second place, at 48 percent, is the number looking for information about MCLE.
The survey also revealed that 65 percent of the respondents would be agreeable to future surveys targeted to performance of old and new programs as well as member concerns about the profession. Babcock said the staff will bring a proposal to the board in the near future to pursue real time input from members about bar programs and member concerns.
Complete survey results can be found at calbar.ca.gov > about the bar > reports.